The Quang noodle is yellow or white in color and made from rice flour. It is mixed with shrimp, pork and vegetables, and topped with grilled rice paper and spices. This noodle dish is a complex mixture of flavors and texture. The vibrant wide yellow tumeric noodles, sesame rice crackers, roasted peanuts, fresh herbs, and flavorful. Unlike these noodle soups, Quang noodle  is served with very little broth and almost like a dry noodle dish or noodle salad with the broth serving to bring all the flavors together.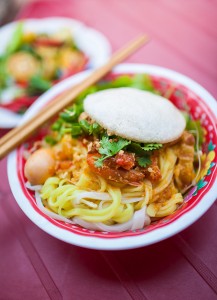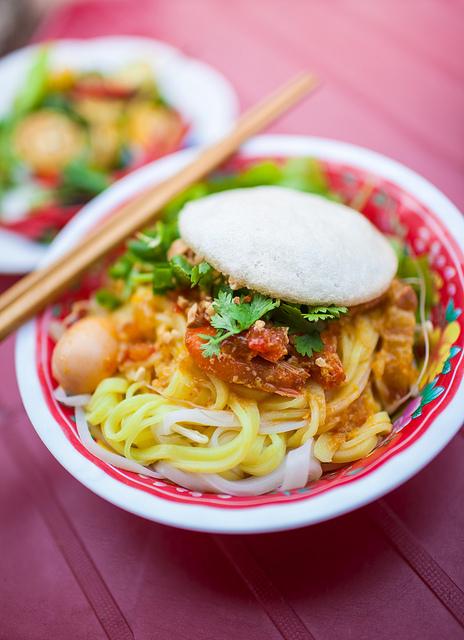 Quang Noodle Hoi An
Quang soft noodle soup tastes best when being served with a variety of herbs, such as mint leaves, houttunya, cabbage, onion, coriander and so on.
What makes Quang noodle soups unique is the richness of the broth, the lack of it and the crushed peanut toppings on the noodles.
Where to try Quang Noodle in Hoi An
You can try Quang Noodle at Mr Hai restaurant- 6A Truong Minh Luong (from 6.00 AM to 10.00 PM)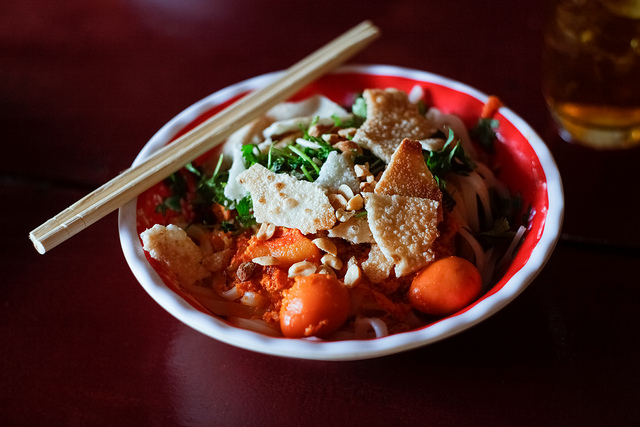 Quang Noodle Hoi An
In Hoi An, Quang noodles are sold everywhere, from urban restaurants to small shop along the street, but eating in the noodle shop on the moss sidewalk is the most interesting .