The islands constitute the Cham Islands including Hòn Lao (Pearl), Hòn Dài (long), Hòn Mồ (tomb), Hòn Khô mẹ, Hòn Khô con (dry), Hòn Lá (leaf), Hòn Tai (ear) and Hòn Ông (east wind). The Cham Islands are under the administration of Tân Hiệp Commune of Hoi Ancity in Quang Nam province, The population of this island is about 3,000.
Archaeologists claim that Cu Lao Cham was first settled by Cham people about 3,000 years ago. However, business contacts with other countries were established about 1,000 years ago. Many architectural monuments dating to the 18th and 20th century are reported such as Than Yen Sao shrine built in 1843 at Bai Huong, and Hai Tang Pagodas built in 1753 on the western hillside of Hon Lao…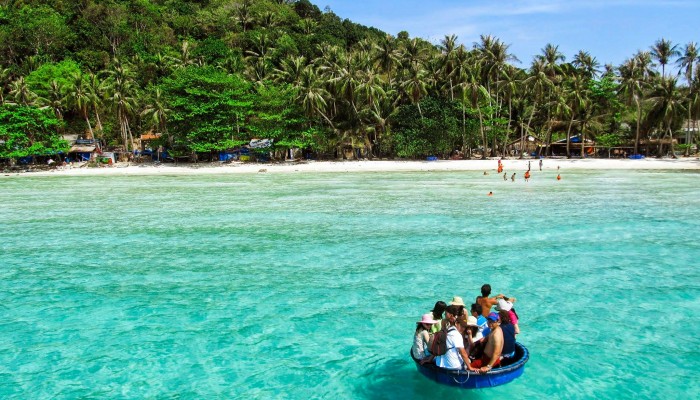 Option 1: Cham Island

Snorkling

Tour

Important Information
Pick up time: 8.00 AM- 8.45 AM
Tour end 2.00 PM

What to bring: swimwear, a change of clothes, sunscreen and sun hat

Your exact pickup time will be re-confirmed by the operator in advance.

Tour may be canceled due to bad weather and you will get full refund

Menu: Scallop grilled onion; Grilled squid; Grilled shrimp; Fish in tomato sauce; Meat stew; Forest vegetables with fish sauce; Fried eggs; White rice; Dessert; Iced tea. Note: Menu is subject to change without notice
Itinerary:
08:00 AM: Pick you up at your Hotel in Hội An City go to Cửa Đại quay. Our staff will check in at Cua Dai Quay's defending post
08:30 AM: Depart to Cham Island by speedboats. Within 20 minutes on the boat, you can enjoy the cool wind, beautiful Cham Island's landscape and high speed of speedboat
09:00 AM: Visit Bai Lang with our exciting tour guide. The places to visit include Hai Tang Pagoda (built in Canh Hung period in 19th century), Old well (built by Cham people), the local market where a variety of special seafood is sold and the local fishing village where the fisherman are living
10:00: Relax in the fresh cool wind and enjoy the beautiful landscape on the way back to Bãi Ong to prepare for snorkeling.
10:30: Transfer to Bai Xêp for Snorkeling.
11:30: Back to Bai Ong to have a shower with fresh water and enjoy a special lunch at the restaurant with fresh seafood and then relax in the cool wind.
14:00 : Say goodbye to Cham island, back to mainland drop to your hotel and finish the tour.
Include: Pick up and drop off service (hotel center); English speaking tour guide; Cham Island Entrance fees 40,000 VND ; Speedboat & snorkeling equipment; Lunch with seafood; Mineral water, Insurance
Exclude: Tips, drinks
Option 2: Sea Walking and Snorkeling
Cham Islands: Sea Walking and Snorkeling Tour– "Sea-walk" is, simply and literally, walking under the sea. Not swimming, not diving, but walking. Visitors will have the chance to walk on the seabed and observe the colorful coral reefs and marine ecosystems in Cham Island Hoi An. It is very easy to do even though that you can not swimming. Soon as you hit the ocean floor there are hundreds of different size fish of all colors and then when you feed them even more. You don't need to have diving skill. Cham Islands: Sea Walking and Snorkeling Tour will be your best experience in Vietnam
PRICE OF WALKING SEA
Adult: 62 USD/ 1 pax

Child 8-12 years-old: 44 USD/ 1 kid

Child 5-7 years-old (Snorkeling only ): 30 USD

Child < 5 years old: Free, share seat and meal with parents
Highlights
3 in 1: Sea Walking, Swimming and snorkeling.

Explore marine life in Cham Island – the World Biosphere Reserve (Cu Lao Cham Marine Park).

Experience Vietnamese wooden boat with free coffee.

Seafood lunch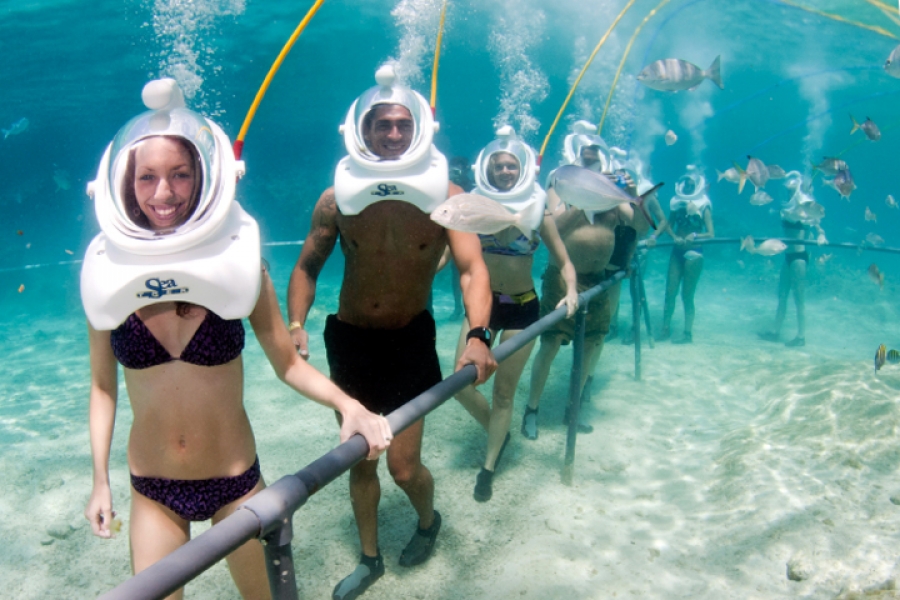 Important Information:
Sea walk excursion lasts for 20 minutes, consisting of about 2-5 minutes of training.

Minimum age is 8 years. Below 8 years old: snorkeling only

Not recommended for pregnant women

Non-swimmers and Non-Divers welcome.

Video of your underwater experience is available to buy: 250.000 Vnd/ 1 group/ /memory card

All visitors will be required to complete a health questionnaire prior to diving. Some pre-existing medical conditions (eg asthma, heart conditions, etc) may prevent you from diving.

Tour may cancel last minute if the weather is bad. We will refund all money to you.
Tour detail
7.00AM- 8.00 AM: pick up guests from Da Nang hotels

8.10 AM: Depart for Cham Island by wooden boat

9.10 AM: Arrive at Cham Island and take part in the " Sea Walking", Swimming and snorkeling.

10h30: Seafood lunch. After lunch, guests can swim or just relax in the hammocks.

14h00: Return to the boat for the journey back to Da Nang

15h30: Arrive your hotel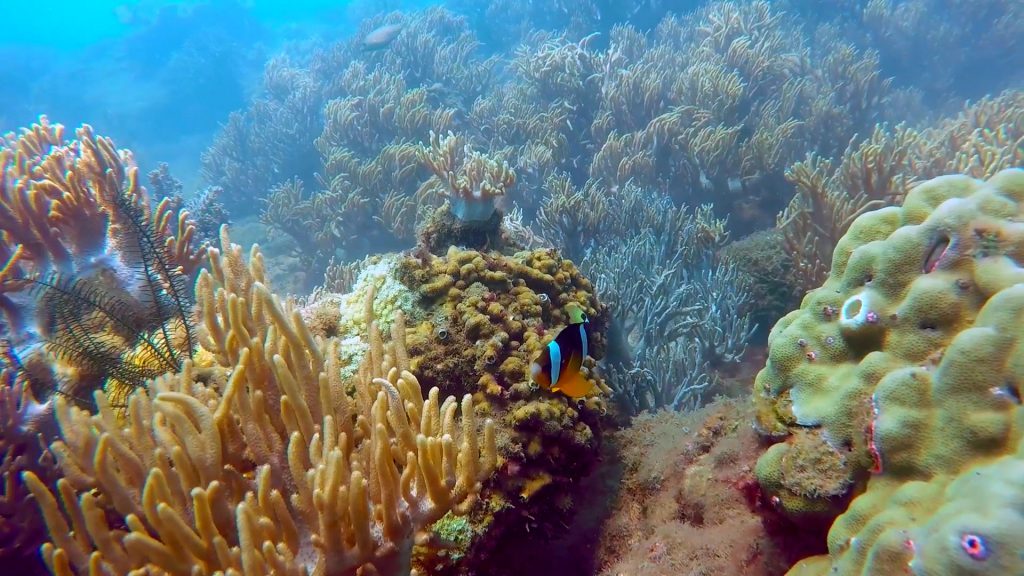 Inclusion:
Hotel pickup and drop-off in Da Nang

Entrance fee.

Lunch

Professional guide

Use of snorkel equipment: mask, fins, snorkel

Sea walking equipment: helmet, special shoes

Sightseeing cruise
Exclusion: Micro SD: 250,000 vnd