You've been told not to visit Hoi An during Tet, is this true? Do all tours and attractions close? Think again? Hoi An Food Tours are open during Tet. Here are the best things to do during Tet.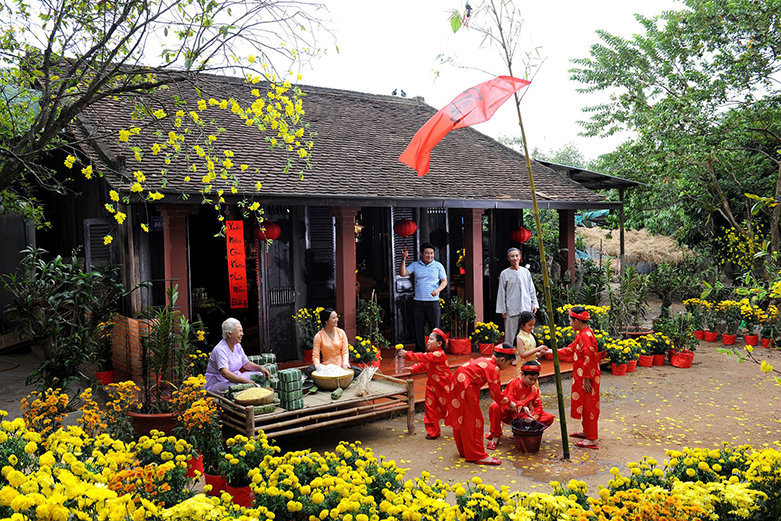 For the Vietnamese. Tet is like Thanksgiving or Christmas in Western culture. Traveling in Vietnam During Tết can be tricky, but the travel experience is unique. You do not need to go all over Vietnam to see the whole view of the Vietnamese Tet celebration atmosphere. It will be an amazing Food Tasting experience! Tet is a great chance to discover Vietnamese culture and its cuisine.
Holiday Food Tasting, Spring Roll Making Class and Experiencing Tet tour is the perfect tour for you to do during Tet. You will see how the locals prepare for their biggest, the most expected holiday of the year, and then get to celebrate it right alongside them. A special menu has been prepared especially for you! You will eat your lunch/ dinner with local hosts, share Tet traditional custom's story and get try to make our signature dish Vietnames Spring Roll. You also have a chance to paint bamboo trays which will later be handmade gifts to you and get to laugh a lot while playing traditional games.
That's a unique tour as it is only available for 10 days only from 19/1/2020 to 30/1/2020.
Tour A- Before New Year Eve: Time: 8.00 AM- 1.00 PM . Price: 79 USD/ adult. Kid 5- 9 years old: 59 USD
Tour B- After New Year Eve: 3.00 PM- 8.00 PM . Price: 89 USD/ adult. Kid 5- 9 years old: 69 USD
The ultimate aim of our tour is to provide an opportunity to unlock your adventurous cultural spirit and experience the delights of the Vietnamese Tet. You will have the most memorable travel moments ever.
Let's find out how Tet is celebrated in Hoi An – Vietnam with Hoi An Food Tour through Holiday Food Tasting, Spring Roll making class and Tet Experiencing Tour. Sign up now. We only accept advance bookings and limit slots. Money-back guarantee!
Highlight of The Experiencing Hoi An Tet Tour
This tour is unique and specially designed for the Tet festival.

Holiday Food Tasting:

15 special dishes

only available during TET.

Taste Hoi An local specialty food –

Cao Lau noodle

Celebrate Tet with Locals in the countryside of Hoi An

Hand on cooking signature dish

: Vietnamese fried spring roll

Handmade souvenir:

bamboo painting workshop

Visit the

oldest Pagoda

– most reserved Buddhist pagoda in Hoi An

Play Tet traditional

folk games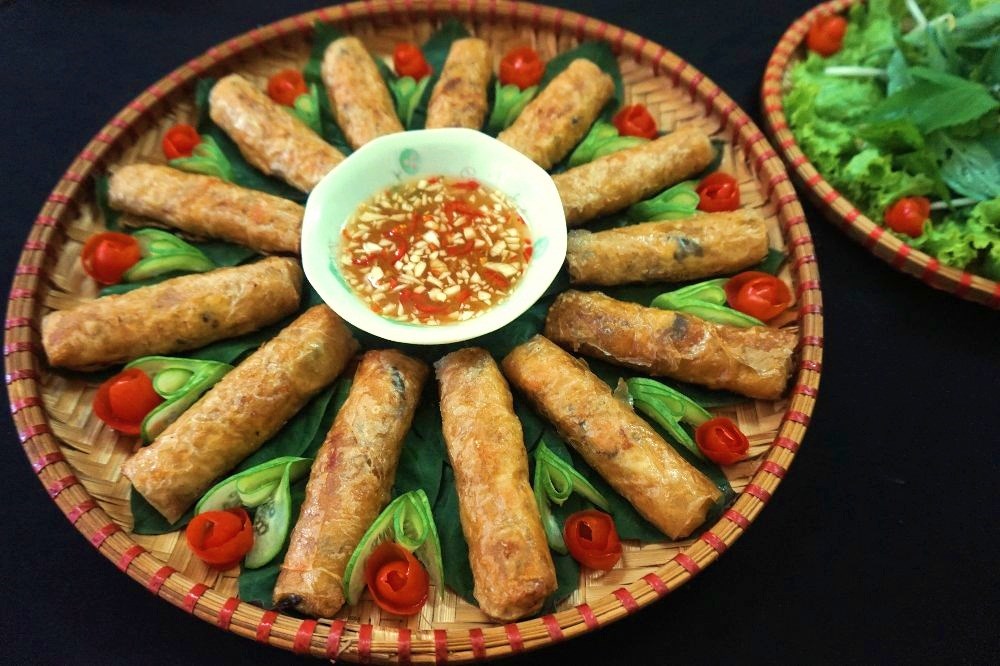 Important Information
Tour A- Before New Year Eve: Time: 8.00 AM- 1.00 PM . Price: 79 USD/ adult. Kid 5- 9 years old: 59 USD
Tour B- After New Year Eve: 3.00 PM- 8.00 PM . Price: 89 USD/ adult. Kid 5- 9 years old: 69 USD

Duration: 5 hours

Pick up: Hoi An hotels center only. No drop off service

Tour type:

Join Tour.

ONLY accept advance bookings

Additional information: Please inform your local guide about any food allergies you may have. Vegetarians can be catered for

Group size: maximum of 15 pax

Weather Condition: Tour takes place rain or shine

Tour style: Local Life & Culture, Local Food

Transport by: Walking, Van

Please wear long pants to visit Pagoda (Tour B- After New Year Eve)

Available ONLY 10 days (19/1 —> 30/1). Tour closes on 24 & 25 Jan 2020
Tour detail of Tour A- Before New Year Eve: 19/1/2020 —> 23/1/2020
7.45 AM- 8.00 AM: Pick up at Hoi An hotel center

8.15 AM: Our real local foodie will take you to try Hoi An specialty noodle – Cao Lau

8.45 AM: Visit Hoi An local market to feel the atmosphere: you can see the cool things people do before Tet: hundreds of types of beautiful flowers, traditional food, decoration pieces of stuff, and fresh vegetable

9.15 AM: Take a van and go to a local house in the countryside- Off the beaten path of Hoi An.

10.00 AM: Hand On making

Vietnamese Spring Roll

10.45 AM: Enjoy special homemade food that you barely get from normal restaurants

11.15 AM: Play Tet traditional game and drink beer

11.30 AM: Bamboo painting workshop for handmade souvenir

12.15 Noon: Say goodbye to locals and depart to Hoi An old town.

1.00 PM: Tour ends!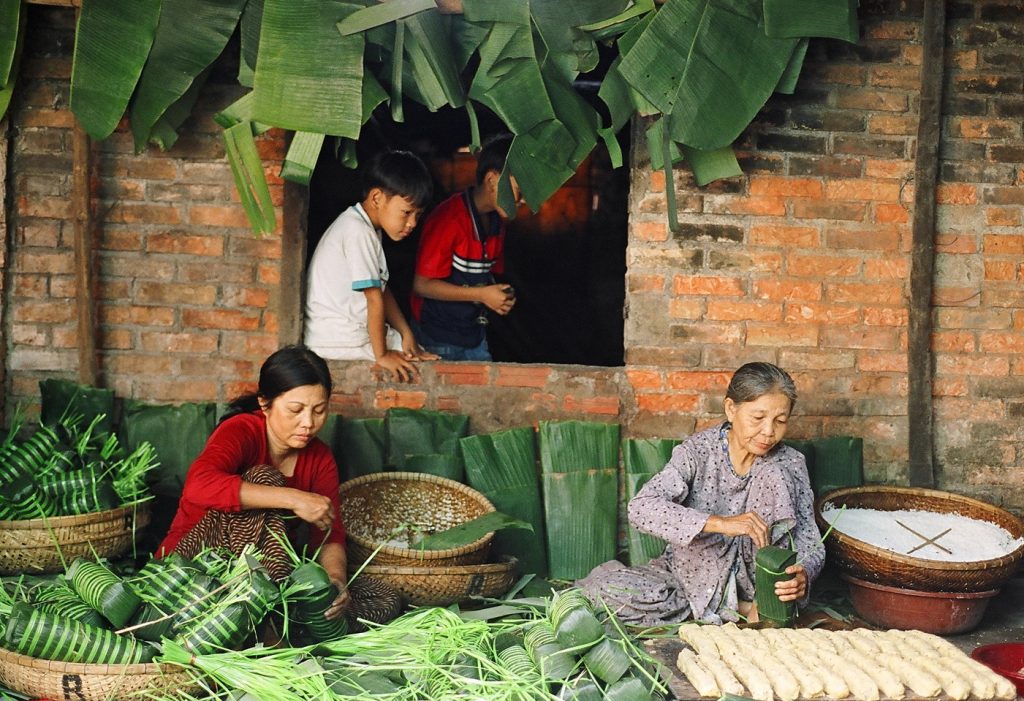 Tour detail of Tour B- After New Year Eve: 26/1/2020 —>30/1/2020
2.45 PM- 3.00 PM: Pick up at Hoi An hotel center

3.15 AM: Our real local foodie will take you to try Hoi An specialty noodle – Cao Lau

3.45 PM: Visit Phap Bao pagoda

4.00 PM: Take a van and go to a local house in the countryside – Off the beaten paths of Hoi An.

4.30 PM: Hand On making Vietnamese Spring Roll

5.15 PM: Enjoy special homemade food that you barely get from normal restaurants

5.45 PM: Play Tet traditional game and drink beer

6.00 PM: Bamboo painting workshop for Tet decoration and drink beer

6.30 PM: Experience " li xi" and "chuc Tet" in Vietnamese ways. Say goodbye to the locals and depart back to Hoi An old town.

7.30 PM: Arrive in hoi an old town, enjoy a boat ride on Hoai river and release floating paper lantern as a local tradition.

8.00 PM: Tour ends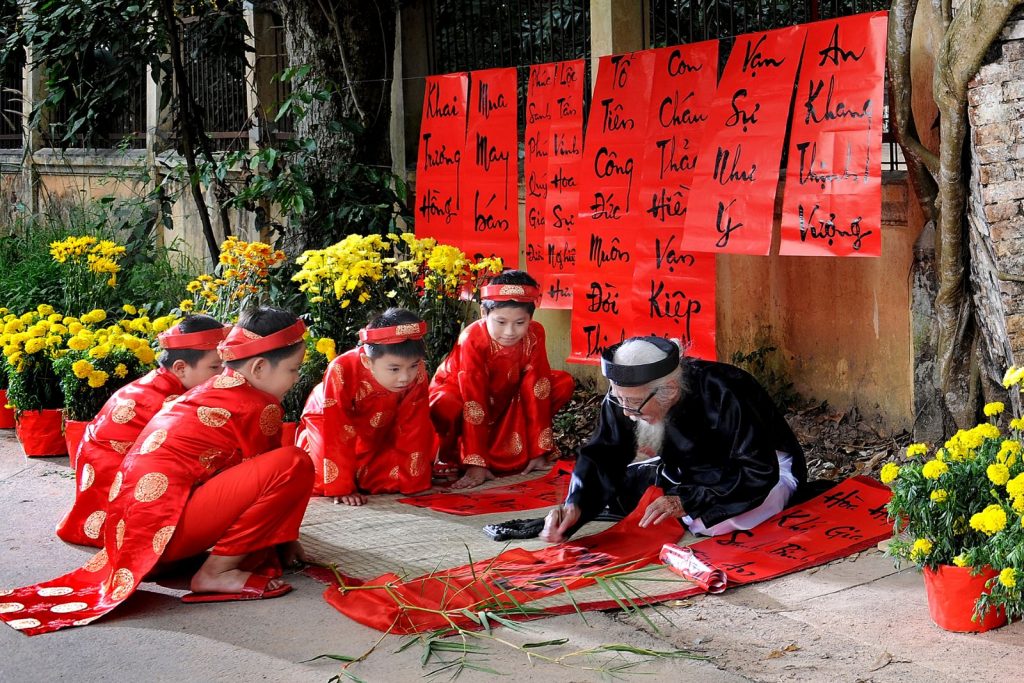 Includes: high surcharge during Tet Holidays; Best English speaking tour guide (passionate about showing how a meaningful Tet really is like to travelers); All food and drink items as per itinerary; Lunch/ dinner included; Entrance fee; Pick up service; Transportation
Excludes: Drop off service; Tips; Personal expenses
PICK UP POLICY: No pickup service for hotels in An Bang Beach area, Cua Dai Beach, Tra Que village area, Cam Ha Area, Nam Hai Resort, Vinpearl Resort Golf Nam Hoi An
Meet up time: 8.00 AM/ 3.00 PM
Meeting point: Our office – 119 Tran Quang Khai, Cam Chau, Tp. Hội An, Quảng Nam, Vietnam