There are a number of local delicacies specific to Hoi An that travellers must eat when they visit Hoi An, especially 4 Best Local Foods in Hoian. You can get authentic taste for a dollar a plate. You cannot leave Hoi An without trying Cao Lau- Hoi an's signature dish,  chicken rice, white rose and quang noodle. These foods are the 4 Best Local Foods in Hoian
1. Cao lau- Hoi An's signature dish
Cao lau is  a delectable dark pork broth with fat yellow noodles, slices of juicy pork,  served with bean sprouts, green vegetables, slices of and crispy croutons. The noodles must be made with the water from one of the closely guarded ancient Cham wells hidden throughout Hoi An.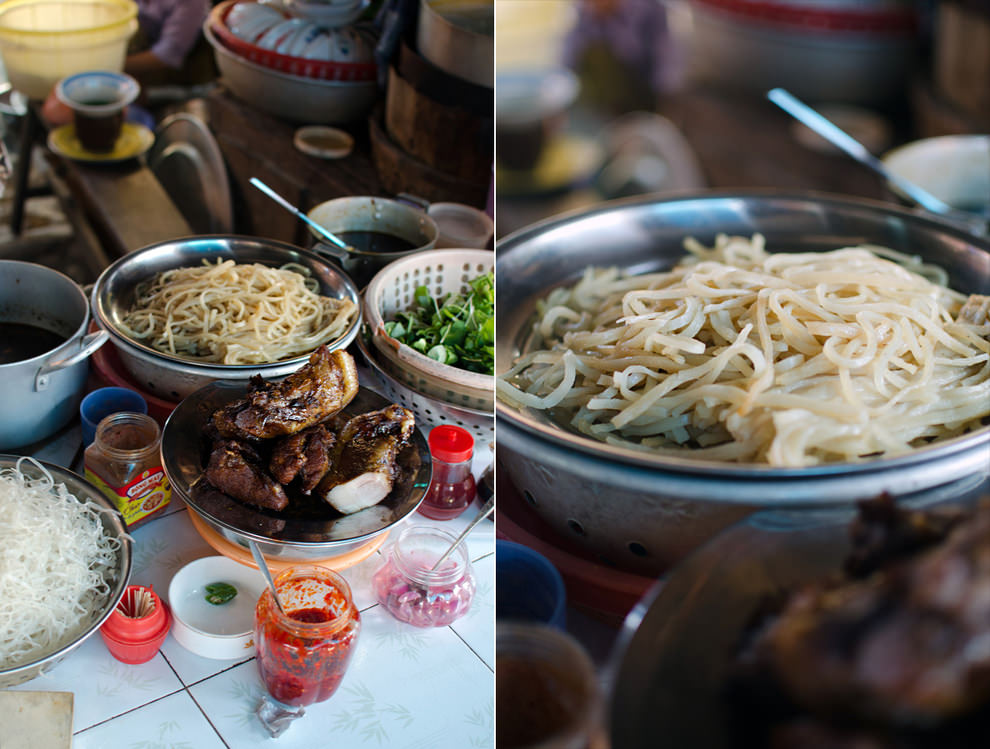 4 Best Local Foods in Hoian
Why Cao Lau is so special and one of the 4 Best Local Foods in Hoian?
Water as it must come from an ancient Cham wells around Hoi An

Vegetable have to be taken from Tra Que vegetable village

The ashes which use to soak the noodle have to be taken from Cham Island
Related: Cao Lau Receipt
Please check our video " How to make Cao Lau noodle?"
Where to try Cao Lau in Hoi An?
If you are looking for local taste and local price, you should go to Thanh Cao Lau (24 Thai Phien St). Price: 25,000 VND. Open hour: All day but they will close very soon in the noon and night if the ingredient is over.

If you prefer the comfort of a restaurant with air con, walk down to Ms Vy's Morning Glory restaurant on 106 Nguyen Thai Hoc Street in the centre of town.
2. Hoi An Chicken Rice – Com Ga  Hoi An
Hoi An chicken rice -Com ga is delicious fluffy rice cooked in chicken stock with a tiny bit of turmeric for colour, thrown in a wok and served with boiled, coarsely shredded chicken Chicken in this dish is torn into small pieces and then mashed with crushed onions, Vietnamese coriander and the other spices. This mixing step is important and clearly shows the delicacy of the cooker.. The dish is then served up with very spicy chili sauce, pepper to slow the heart various coating mix chicken liver hard, extremely attractive. Before being served to customers, the springy chicken pieces and fragrant rice are decorated with peppermint, papaya, and salted onions.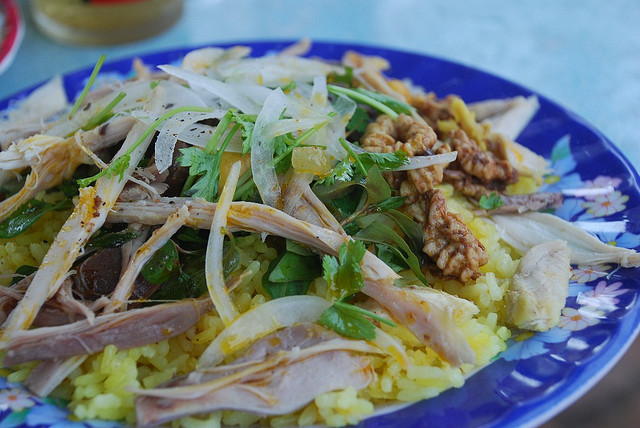 4 Best Local Foods in Hoian
Video: Interview Ba Buoi owner shop
Where to try a dish of Chicken rice in Hoi An?
In Hoi An center: try Com Ga Huong on the pavement outside 48 Le Loi Street (near Thu Thuy Cloth Shop). Huong's opens daily at around 14:00 and stops serving once the pot is clean.

Outside center: Com Ga Ba Buoi at 22 Phan Chu Trinh. It is family-run restaurants and have been set up in the 1950s. Prices here vary (for tourists) but expect to pay around 30-40,000 VND depending on their mood.

In tourist's restaurant, yoi can try Mermaid – 2 Tran Phu and Miss Ly's Cafe on 22 Nguyen Hue.
Please check video for How to make Hoi An Chicken Rice
3. White Rose  Hoi An
White rose – an appetizer named for its shape when presented properly – White Rose is a type of shrimp dumpling made from translucent white dough bunched up to look like a rose.
Ingredients such as shrimp and pork are placed on top the carefully folded noodles and topped with crispy shallot. The unique dipping sauce is made of shrimp broth, hot chilies, lemon and sugar.
Water must be drowned from the old Ba Le well, which is filtered and purified 15-20 times before being mixed with the rice paste to form airy dough.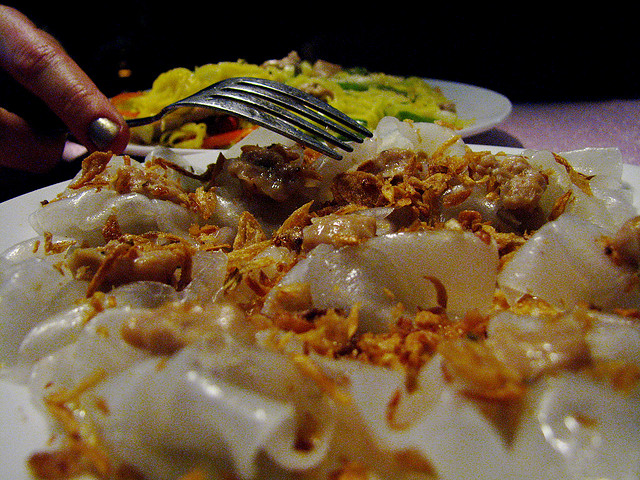 4 Best Local Foods in Hoian
Where to try a plate of White rose in Hoi An?
Local Restaurant: Banh Bao Banh Vac: 533 Hai Ba Trung St. Price: 4 USD/ 1 dish
The recipe for these dumplings is secret, held by one family in Hoi An who supplies all the restaurants. At 533 Hai Ba Trung Street, Tran Tuan Ngai is a third generation secret keeper of the traditional white rose recipe.
Check our vide: How to make white rose Hoi An?
4. Quang Noodle
The noodle is yellow or white in color and made from rice flour. It is mixed with shrimp, pork and vegetables, and topped with grilled rice paper and spices. This noodle dish is a complex mixture of flavors and texture. The vibrant wide yellow tumeric noodles, sesame rice crackers, roasted peanuts, fresh herbs, and flavourful. Unlike these noodle soups, mì Quảng is served with very little broth and almost like a dry noodle dish or noodle salad with the broth serving to bring all the flavors together.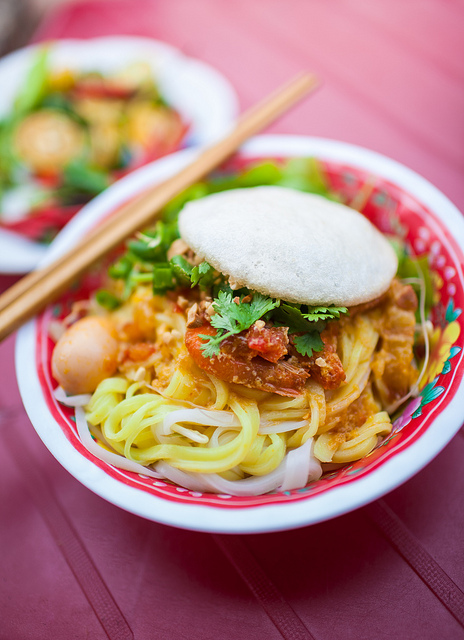 4 Best Local Foods in Hoian
Quang soft noodle soup tastes best when being served with a variety of herbs, such as mint leaves, houttunya, cabbage, onion, coriander and so on.
What makes Quang noodle soups unique is the richness of the broth, the lack of it and the crushed peanut toppings on the noodles.
Check Quang Noodle's receipt: 

How to cook quang noodle:

Are you looking for a cooking class in Hoi An? Try Hoi An Mama Home Cooking Class
You will learn how to cook Vietnamese daily food in the cozy house with warm and fun Mama who had 20 years of experience of selling street food for a living. Mama Nở (Flower, 1954) who is not a professional chef but passionate and has a large knowledge of Vietnamese cuisine and culture. Born in Hue ( food capital of Vietnam) and she knows many recipe secrets that have handed down from her family generations. If you don't like to do a very touristic but a hand on cooking class with authentic food- try Hoian Mama Home Cooking Class. No market tour. 19 USD/ 1 pax. Money back guarantee! 
More detail at Hoian Mama home cooking class