Vietnamese Lunar New Year – Tet is not only extremely significant to every single Vietnamese in the country but also somehow deeply impressive to foreign tourists who have a chance to experience the most special and important holiday in Vietnam. Tet in Hoi An has its own bustling atmosphere in every corner of the ancient town. People work in big cities far away from home now return to their hometown for the most important family reunion in the year. Come to Vietnam during Tet celebration, you will be offered a No.1 opportunity to witness, as well as immerse yourself in a unique cultural experience within this beautiful country, meanwhile taking part in every traditional activity and local custom. Being a part of the local traditional life during Tet, you will absolutely never forget brand new cultural and spiritual discoveries, as well as the amazingly peaceful countryside scenery of Hoi An, an ancient town.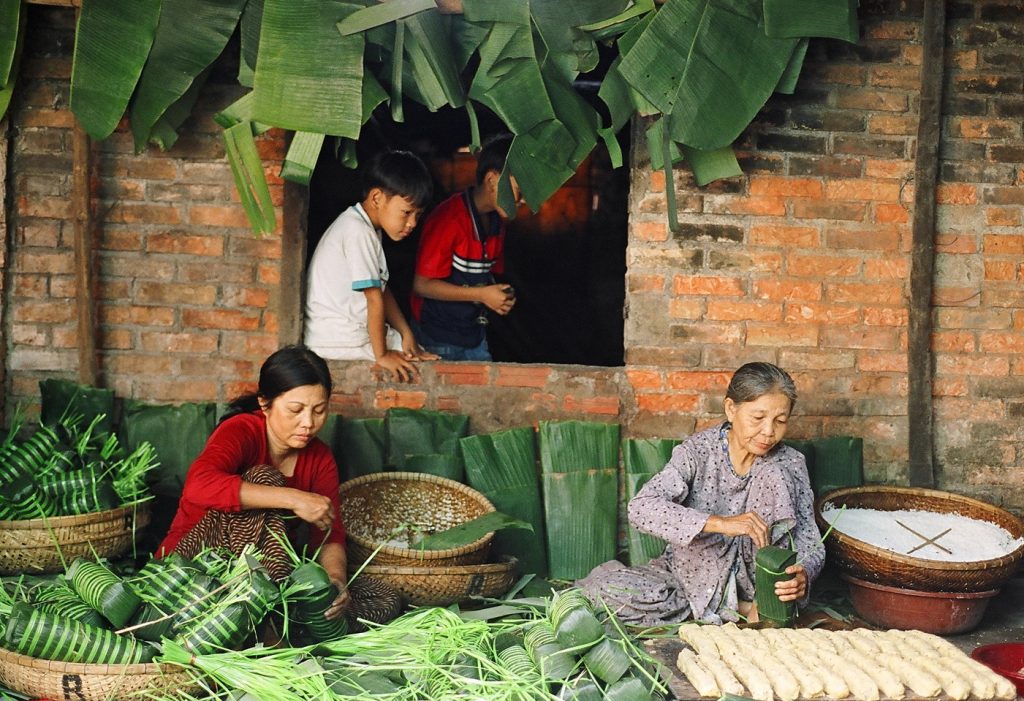 Vietnamese Lunar New Year – Tet on the town streets
Celebrating Tet with local people has always been an unforgettable experience for international tourists. In comparison to normal days in Hoi An, the atmosphere in parts of this small, but bustling city, becomes increasingly more vivid and animated with traditional games taking place such as Bai Choi, Human Chess, Sac Bua dancing, etc. To serve tourists and local people's entertainment as well as maintain Tet tradition, most of the traditional games and cultural practices that were once only be seen in old documentaries and childhood memories of many locals now have the chance to be reflected and celebrated as if they never faded into obscurity. Such spirit will give you an accurate picture of Vietnamese Lunar New Year celebration, and will give you much satisfaction as you witness this incredible sight.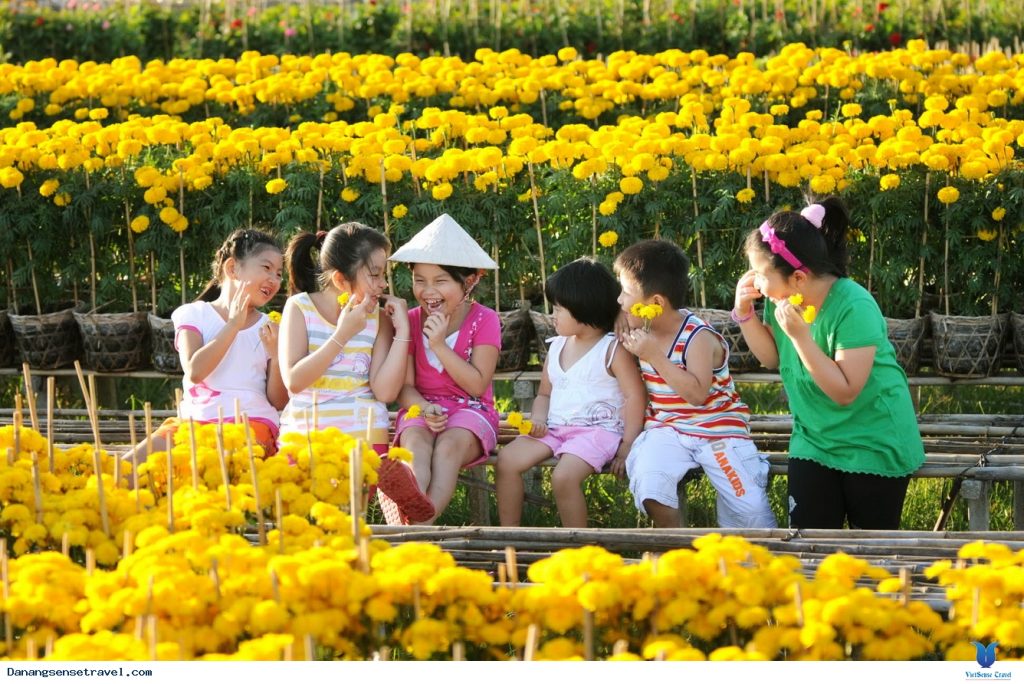 Vietnamese Lunar New Year – Traditional customs during Tet
Right after "Offering table", a local ancestor spiritual ritual that takes place on New Year's Eve (a table prepared with flowers, fruits, sticky rice cake wrapped in banana leaves – Chung cake, offering papers to be burnt later, candles, rice wine, boiled chicken, some candies and cakes, etc), begins the first moments of the New Year morning when family members will exchange Tet wishes and give of Red envelopes containing Lucky money to each other according to the family hierarchy (aging order).
The whole family will then gather to offer each other cups of hot tea, enjoy sweet candied fruits and different kinds of seeds (watermelon seeds, sunflower seeds, pumpkin seeds, etc).
There are four indispensable kinds of traditional cakes that have been found for hundreds of years in Hoi An and still are seen in every local house on Tet as well as the whole Quang province. The cakes are labelled, "Banh tet, Banh to, Banh no and Banh in". It is believed that the inside of each "Banh tet" and "Banh to" keeps the gratefulness and commemoration of our people's origin, while "Banh no" and "Banh in" contain hope of a new year that is full of luckiness, satisfaction and fulfilment.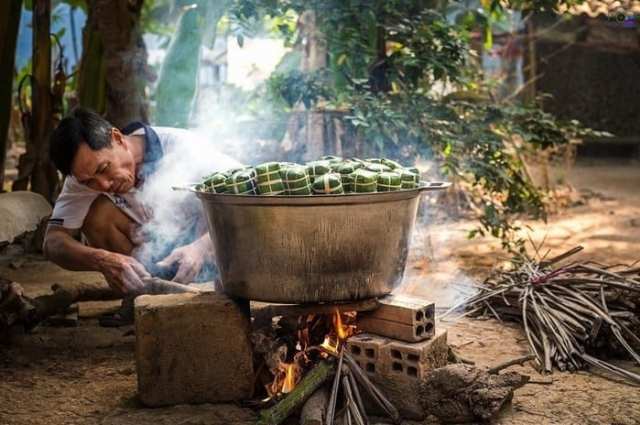 There are also particular taboos that people in Hoi An are serious about during this festive season. For example, people never give others fire (for smoking or cooking) because this means luckiness will be blown away with fire.
Furthermore, first-footing is also a big matter to local people. They consider the first- footer to be invited into the house to be the one to define a year of fortune or bad luck for the host family. The first person visiting the family may bring luckiness or bad things with him/ her. Because of this, some hosts will invite people to their house as first-footers in advance, while others just let it be in accordance with destiny so that later on they could guess how the family would become based on lunar age and personality of the first- footer.
Traditionally, when it comes to "where-to-go-first" on the Tet holiday, locals usually visit pagodas, temples and graves of their ancestors to pray for a year of peace and achievement, and then visit homes of relatives and friends.
Visiting people on Tet must follow the "list of hierarchy and priority", starting with your grand parents' house, then your parents', relatives', later your teachers', friends' and neighbours'. You should dress up tidily and politely as well as be nice in your communication while visiting others' houses during Tet.
How could you ever forget these unique culture features, that are only captured and maintained in our peaceful and nostalgic Hoi An town, by taking part in this memorable experience by celebrating the holiday with locals?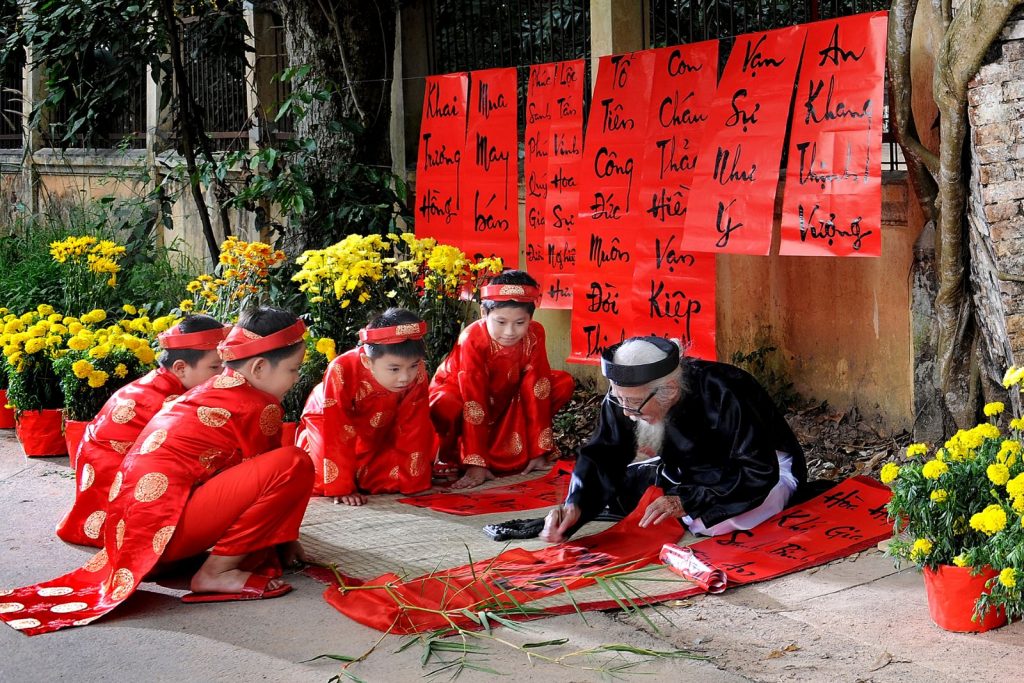 Vietnamese Lunar New Year – Tet- Things you should know:
Duration of Vietnamese Lunar New Year – Tet
– From February 14th to February 20th, 2018; and from February 2nd to February 25th, 2019.
– On March 2nd, 2018: Hoi An Lantern Festival (full moon day).
Key events during Vietnamese Lunar New Year – Tet
See how lucky you are to take advantage of this chance where you are able to celebrate our amazing Tet holiday together with local people in Hoi An. Don't hesitate to book the Hoi An Food Tour, "Discover Vietnamese culture on Tet," to give yourself the most distinctive experience ever in Hoi An. More details would be revealed here:
2.1 Setting an offering table of sacrifices to Kitchen God:
There are three kitchen guardians in each Vietnamese household who protect the family and are usually worshiped in the kitchen, which accounts for their name- Kitchen God. Because Kitchen Gods stay in the kitchen for an entire year, they know everything that happens with the host family. On 23rd day of the twelfth month by lunar calendar, the Gods will fly to Heaven to give their annual report on family members to the Jade Emperor. Vietnamese people believe that when they offer a good ceremony of sacrifices to the Kitchen Gods to use on their journey to heaven, the host family will be blessed by the Kitchen gods with good fortune.
2.2 Old-year-ended celebration (Tat Nien):
This ritual marks the end of the previous year and the arrival of a new year, which is usually celebrated on the 29th and 30th of the twelve month according to the Lunar calendar. On this day, family will gather for together parties and celebrations to reflect upon the previous year, and celebrate New Year's Eve and the first moments of the New Year.
2.3 Cooking Chung cake:
"Chung cake" is a traditional cake made in a square shape from glutinous rice, mung bean and pork, in addition with many other ingredients, and is covered by green leaves (usually banana leaves). It is meant to symbolize the Earth. The deeply- rooted rice cultivating culture makes Vietnamese people dependent on weather conditions most often. Therefore, this kind of cake has been seen on every tray of food offering during Tet since long ago, which serves as a means for people to express their gratefulness towards Mother Nature who gives them favourable weather conditions, abundant harvests and good lives.
2.4 Celebrating the offering table on New Year's Eve:
New Year's Eve is the transition between the last year and the New Year which is celebrated right at 00:00 on the last night of the 30th of the twelfth month according to the lunar calendar. The meaning of this celebration is to throw away bad luck from the previous year as to welcome better things to come in the New Year. Therefore, New Year's Eve is considered as a time of rest, sadness relief, and a night of quietness and mystery.
2.5 The first day of New Year:
This day is believed to be the most important day of the entire year to many Vietnamese people. There is a great deal of traditional customs held during this special occasion such as "Writing for the first time of the year", "Going out for the first time of the year", first- footing and exchanging Red envelopes of lucky money. These customs were created based on traditional beliefs and have been maintained for thousands of years. This helps to showcase the unique cultural values that our country still possesses.
2.6 Full moon day of the first month of lunar New Year:
This is the best time to pray for peace for the entire next year. This is the reason why many followers of Buddhism as well as the public, choose this day to make their best wishes for the upcoming days of the New Year. On this day, in every house, people carefully and considerately prepare an offering table of sacrifices with the hope that their prayers will come true.
Special dishes on Vietnamese Lunar New Year – Tet
"Bánh chưng" and "Bánh dầy" (traditional cakes made from glutinous rice).

"Hạt Dưa": roasted watermelon seeds

"Dưa Hành": pickled onion and pickled cabbage.

"Củ Kiệu": pickled small leeks.

"Mứt": These dried candied fruits are rarely eaten at any time besides Tết.

Trái cây "Cầu Dừa Đủ Xoài" (Mang Cau, Coconut, Papaya, Mango)

"Thịt Kho Nước Dừa": Pork poached with coconut water.
Must-do list for everyone during Vietnamese Lunar New Year – Tet
– Clean and decorate house.
– Visit and clean ancestors' graves (dead family members or relatives).
– Prepare Red envelopes and put some lucky money in.
– Buy Apricot Blossom, Peach Blossom, Kumquat tree or yellow chrysanthemum used for beautifying the house with brighter colours, which symbolyze luckiness.
– Cook Chung Cake (square glutinous rice cake wrapped in banana leaves), Tet Cake (same ingredients as Chung cake but in a cylinder shape).
– Prepare "Five fruits tray" to offer on family altar.
– First- footing.
– Exchange with each other best wishes for a lucky new year.
– Visit temples and pagodas.
– Visit ancestors' graves on the first morning of the New Year.
Some useful tips and information if you are travelling to Hoi An during the Vietnamese Lunar New Year – Tet
– Transportation: Tet is the time for family reunions, so travelling services tend to easily become fully booked. Therefore, you should book trains, planes or coaches and confirm the service early in advance. The ticket price for all of these services may double or even triple, in comparison to other days of the year. The busiest days include the two days before the first day of the New Year and three days following.
– It may take you 5 hours to wait at the airport, instead of normally 3 hours, for your flight. And don't be shocked or get upset because of flight delays, everyone is in the same situation at this busy time.
– Train ticket reservations may be more difficult to book than a plane ticket, so book it as soon as possible.
– If you cannot buy travelling tickets in advance, you should divide your journey into smaller parts. For example, instead of booking tickets to travel from Ho Chi Minh city to Da Nang, you can book tickets for a trip from Ho Chi Minh to Nha Trang and then from Nha Trang to Da Nang.
– Hotel and resort reservations should be made a long time in advance, as the prices for this service can also be more expensive than normal days of the year.
– Restaurants and shops are not a big deal for you to worry about, because though many of them will be closed, some others stay open to serve tourism in Hoi An. Remember that service charges during Tet may increase by 30%.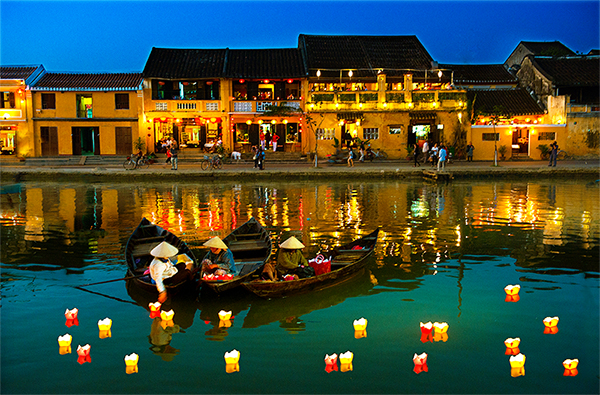 5. Greetings used on Vietnamese Lunar New Year – Tet as New Year wishes
Traditionally, everyone is one year older on Tết, so children wish their grandparents health and longevity in exchange for mừng tuổi or Lì Xì.
Chúc mừng năm mới (Happy new year)

An khang thịnh vượng (Security, good health, and prosperity)

Vạn sự như ý (May a myriad things go according to your will)

Sức khoẻ dồi dào (Plenty of health)

Cung hỉ phát tài (Congratulations and be prosperous)

Tiền vô như nước (May money flow in like water): used informally
6. Tour of discovering Vietnamese culture during the Vietnamese Lunar New Year – Tet
For those of you who are curious about and interested in Vietnamese culture, are there any other tours with such an ideal recommendation?
Hoi An is one of the most wonderful destinations to visit due to the fact that local people here celebrate their lunar new year sophisticatedly and follow their traditional etiquettes closely. The atmosphere of every corner in Hoi An, the ancient town, before and during Tet is very lively, bustling and vivid with many people on the streets selling and buying different kinds of goods for the big holiday. The streets become more colourful with sparkling decoration.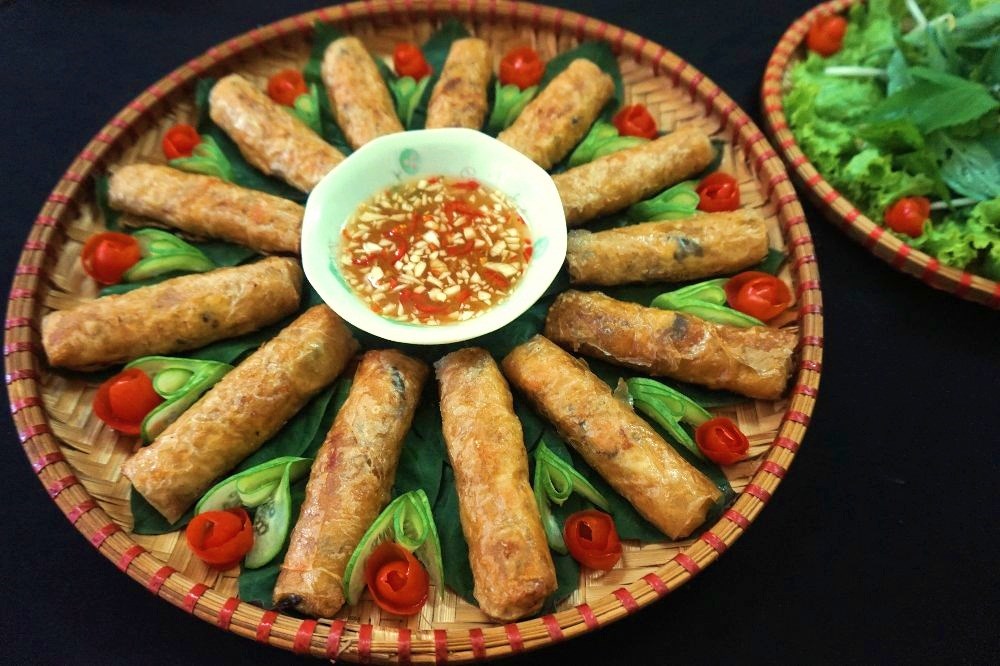 However, many tourist service agencies are closed at this time. Because of this, many of tourists who have joined our food tour, shared with us an interesting and promising idea to open a tour during Tet for tourists to experience the most important and distinctive holiday with local people at their own houses. Therefore, "Hoi An Food Tour" now delightfully introduce to you a brand new tour which is available in Hoi An for the very first time ever: Tour of discovering Vietnamese Tet for foreigners in Hoi An.
What is special in this tour?
Experience

the boisterous atmosphere in local markets

which are crowded with buyers and sellers with thousands of traditional items and food for Tet that you may not have ever seen before.

Eat the special dish of Hoi An:

Cao Lau and drink the best original Vietnamese coffee in Vietnamese style.

Celebrate Tet in local people's houses:

together you will eat Chung cake, pickled small leeks, pickled onion and cabbage, and sliced pork rolled in rice paper.

Learn to

cook two special dishes for Tet as a local:

fried spring rolls and dried candied fruit with the host (short cooking class).

Play

Vietnamese traditional games

with local children.

Experience and discover many other

distinctive Vietnamese traditional customs and practices during Tet

from hospitable local people and our informative helpful tour guides.

Eye-witness the

peaceful villages in the countryside

of Hoi An and

local grave yard, temples, and local houses.

Festivals during Tet in Hoi An:
Read more about the itinerary here: