Our guide Top 10 things to do in Hoi An with kids will give you some ideas and make your holiday with your love one more enjoyable. Hoi An is very nice place for family and kid. Hoi An has beach, river, sightseeing, museum and easy to walk or ride bicycle around to explore.
Here are top 9 things to do with kids in Hoi An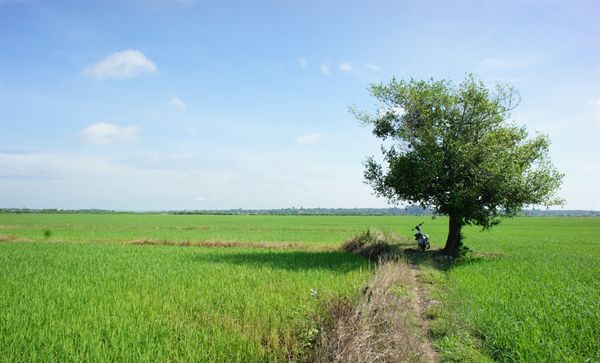 Hire a bike and take your kids around Hoi An city
1. Hoi An Free Tour
Hoi An Free Tour is free bike tour – done by volunteer students who want to practise their English. It is a great day for both children and adults. It is very easy cycling through very quiet countryside, no traffic to worry about and plenty of stops to see life along the way. You will visit a boat yard and learn about the different skills required to build and repair a boat which was very interesting. You also visit a family who showed  the long process of making rice crackers and rice noodles which your kid will enjoy very much.  Hoi An Free Tour  is great cycling opportunities to the countryside of Hoian.  Hoi An Free Tour is voted top 1 of things to do with kids in Hoi An
2. Thanh Ha pottery village and Tra Que village
The Thanh Ha Pottery Village is located by the Thu Bon river,  3 Km to the West of the Hoi An ancient town Yo.ur kids will have plenty of time to play with mud and made some cup… The kids enjoyed the wander and the places were a great place for photographs. The scenic trip to the village is the highlight and it is interesting how the locals live. You can sign up for boat tour to Thanh Ha Village and tour guide will give you interesting insides about Thanh Ha Pottery village
In the afternoon, you can visit Tra Que village. Kids can play by the field, they planted some vegetable. You also can sign up for Tra Que half day tour with Hoi An Free Tour. Come here, you will have a chance to discover the art of cultivating and water plants, tasting and doing a cooking class with local dishes prepared by host. You can see a wide variety of organic vegetables growing as well as flowers and other produce. You can be taught how to make traditional Vietnamese foods at local people's houses. Besides, you can enjoy the food you made and have lunch with local people.
3. Ride a boat on Thu Bon River
Sunset is the best time to visit Thu Bon River
You can enjoy riding boat long Thu Bon river then stop go on the restaurant to take cooking lesson and go to the beach, enjoy meal with local family, take risk saw riding around the old town safe for child and fun. A rickshaw ride around town. Enjoy the houses and people along the waterfront.  Watch people fishing and living on the water.
If you are not scared of travelling by motorbike, you can get a food tour with lovely young tour guides. They love kids and can make kids happy. You will discover some hidden Hoi An streets at the back of our tour guides 'motorbikes. Enthusiastic tour guides will show you best place to eat with Hoi An styles of eating as well as offer much insights to the street food than meets the eyes. Hoi An Local Food Tour is only available in the afternoon, visited more than 5 places and try more than 10 dishes. Sandwich, sweet snack, sea food main course and desert are included
Tra Nhieu Eco Tour is a great family tour. Kids love paddling the traditional bamboo basket boats (thung chai) through the water coconut jungle and discover the natural beauty by the charming bamboo bridge –an extremely memorable adventure. Kids can try their hands at fishing and lunch afterwards is very delicious, which serve by the peaceful river. It will be a great educational trip for your kids
6. Dingo Deli
Make sure you go to Dingo Deli for a lunch or coffee great playground for kids. It is half way between Cu Dai beach (229A Cua Dai Road) and town. it has a brilliant play ground out the back and it certainly amused our children for a few hours during the middle of the day while mum and dad enjoyed a couple of ales in chilled glasses in a shady gazebo. Great flying fox, basket ball rings, trampoline and more. Food was western. There is a fun Playgroup upstairs too! upstairs too! Kids play in the playground together, do art projects, music, go on nature hikes and field trips to local places like the pottery village, temples and the market. If you want to take part just inquire within. Great place to drop your kid off for the day.
Go out to An Bang beach where has great restaurants and bars for a drink. An Bang is an awesome place for body surfing or boogie boarding. Kid can enjoy running in and out of the waves and playing in the nearby tidal pools. You also need to be careful about sand toys being taken out to sea in the strong current.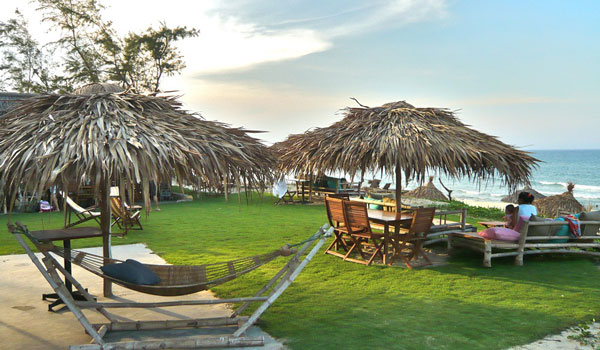 It has great chairs, lounge sets, pool table
8. Ice cream for kid at Cargo Club
Cargo Club is great to stop by after a hot excursion around city with kids and eat ice cream. You try to get seats on the balcony which, in part has views over the river. Don't miss strawberry tarts, Frassier, Coconut Tart, and Chocolate Cheesecake
9. Enjoy the morning Hoi An Fish market!  
Your kids will love exploring market to see all the interesting foods people are selling.  It's worthwhile to wake up early to visit the Hoi An fish market, located on the Thu Bon River, behind the main market area. When the fishing boats arrive and the local activity starts, the place is a real photographer delight.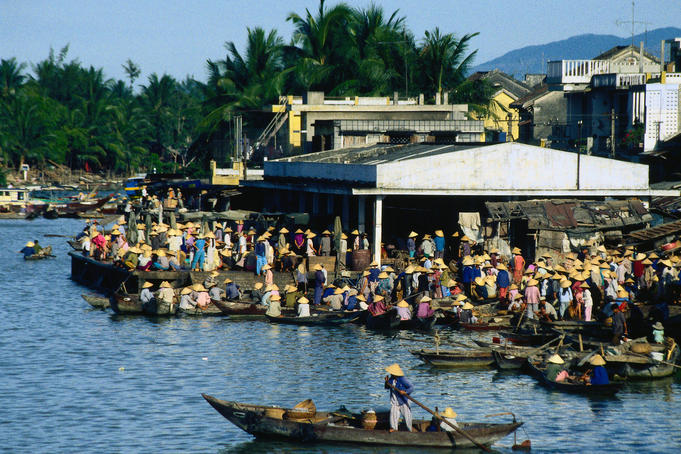 Hoi An fish market situated on the bank of Thu Bon river, near the town centre.
Check video of Hoi An Fish Market
Tips:
Pack your kids' favorite portable or disposable toys and activities. Don't pack too much.
Favorite activities for ages 1-3: stickers, coloring books and colored pencils, character Band-Aids