Vietnamese Crab Soup, simply called súp cua , is one of the most popular street food in Viet Nam. The crab soup is a combination of crab meat, chicken bones broth and eggs which make this dish have a wonderful taste. If you have any chance to try it once, you may never forget this fantastic dish.
How to make Vietnamese Crab Soup
Ingredients
Yields: 8 servings
10 cupschicken stock
1 whole fresh crab (or store-bought, see tips)
1 tablespoonvegetable oil (or any neutral oil)
1½ cupsfrozen corn
1 teaspoonred chili powder
1½ teaspoonsmushroom seasoning salt (or salt)
3½ tablespoonscorn starch
½ white onion, chopped
2 green onions, sliced
2 tablespoonscilantro, chopped
4 eggs
1 teaspoonwhite pepper, freshly ground
½ cupnước mắm (fish sauce), for drizzling
Wash the crab, brush and rinse thoroughly. Put them in a bowl then add half cup of water and boil for about 10 minutes. Transfer to an ice water bath for some minutes to stop the cooking process. Drain and discard all the liquid.
Take away and discard the abdominal flaps. Continue to lift and separate the back-fin by placing a large tablespoon at the bottom of the crab. Then remove and discard the "lungs".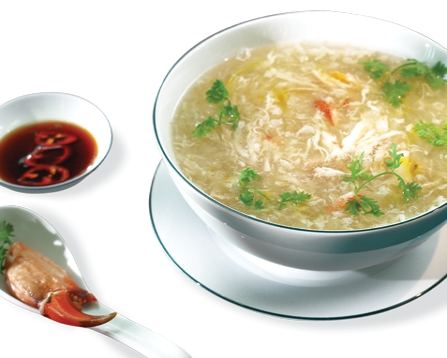 Vietnamese Crab Soup
Gently take away the crab meat from the back-fin, crack the claws using a meat tenderizer mallet and gather all the crab meat in a large mixing bowl.
In a saucepan, boil the oil then add the onion and cook until it become slightly golden. Put the crab, corn and green onions. Add red chili powder and mushroom seasoning salt. Sauté for about 2 minutes until fragrant. Add cilantro. Stir well and set aside.
Dissolve the corn starch into nearly cup of water in a small bowl.
In a large bowl, bring the chicken broth to a full boil and crack the eggs in a small bowl. Gently break the egg yolks by a fork. Make sure that the soup is boiling and add a little bit of lightly beaten eggs at a time while stirring the liquid. The egg will slightly cooked by the heat from the soup create yellow and white threads.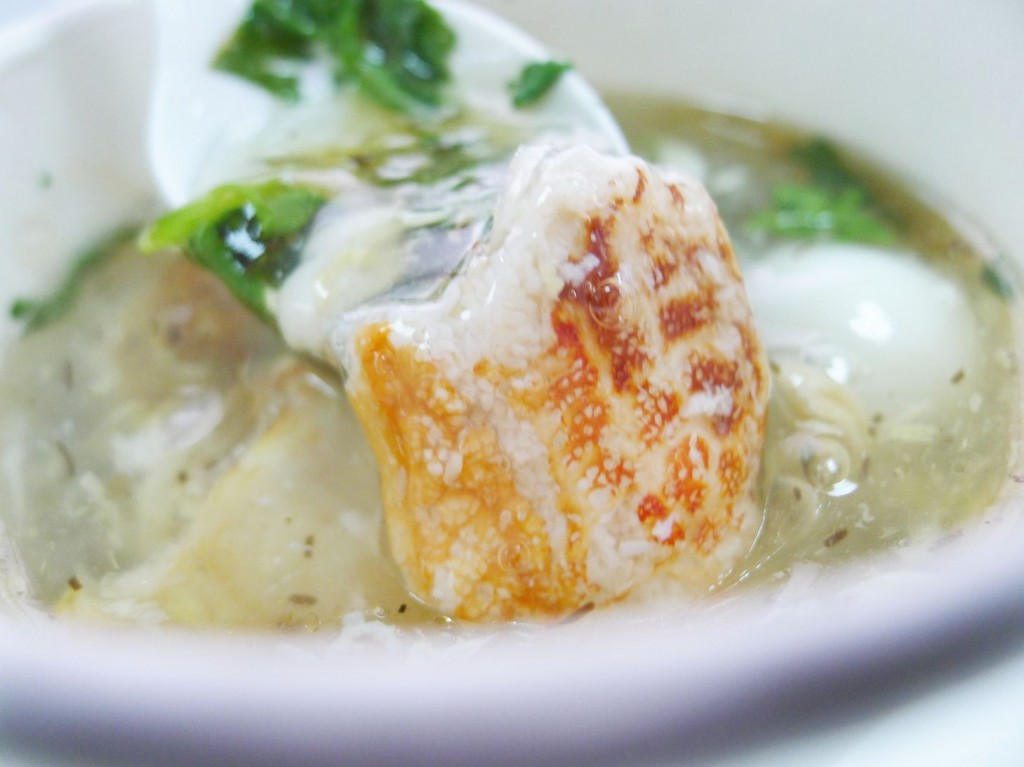 Vietnamese Crab Soup
Blend the corn starch liquid many times and put them to the boiling broth to prevent the starch from sticking to the bottom of the pot. Continue to stir the broth as it will thicken very quickly. Mix the corn, onions and crab together. Check the texture of the sauce; it should be thick and velvety. If you find the soup to be too thick, add more water. Cook for about 2 minutes. Stir gently.
Sprinkle with white pepper. Aerve with fishsauce on the side.
Normally, the local people use Vietnamese Crab Soup  in party or celebrate special days like wedding or birthday. However Crab soup also is also cheap price street food and easy to be found. Beside, it's not really hard to cook this kind of dish by yourself is certainly more delicious than others cooking, therefore let's try this by your own cooking now.