Vietnam is among the countries that have the most delighting food in the world. Different areas in Vietnam bring you different experiences about the food since Vietnamese culinary tradition differs from region to region. In this article, we take you to get closer to the food in the south of Vietnam, typically Sai Gon.
While the food of the north is heavily influenced by China with its stir-fries and noodle-based soups, there is more flavor-blending in the food of the south with nearby Thailand and Cambodia. The hot weather of the South make its people don't want to eat very spicy food like in the Central. However, the tropical climate in the south bring it advantages in growing lots of kinds of fruits and herbs. As a result, the food in southern Vietnam is typically sweet. People tend to add more sugar into the food, coconut cream/milk is also used a lot in adding more flavors. If you are traveling or are going to travel to Sai Gon, the list of food below will show you what and where to try most of the delicious food in Sai Gon. All are amazing!
1. Snails
Add: Ốc Đào at 212 Nguyen Trai street, District 1 or Ốc Gái at 82 Hung Vuong street, District 10
2. Goat hot pot – Roasted goat
Add: Tri Kỷ restaurant at 236 Le Van Sy street or Lâm Ký restaurant at 47 Nguyen Thi Nho street.
3. Mudskipper hot pot
Add: Mưa Rừng restaurant, Ba Huyen Thanh Quan  street
4.  Nam Bo Pancake
Add: Banh xeo Ba Hai at 64 Nguyen Trong Tien, Phu Nhuan district.
5. Violet glutinous rice
Add: Xôi lá chuối at 83A 3/2 street, Ward 11, District 10.
6. Mixed rice paper
Add: Nguyen Thuong Hien street, District 3
7. Grilled cake
Add: Thanh Da stone jetty
8. Broken rice
Add: Ba Ghiền restaurant at 84 Dang Van Ngu or Cơm Tấm Đêm at 251 Cao Dat street
9. Pha Lau – Vietnamese stew with organ meat
Add: Chú Ba at Duong Dinh Nghe street, 92B/20Bis, Ton That Thuyet street or 200/20 Xom Chieu street
10. Deep-fried rice cake
Add: Bột chiên Đại Thành at 277 Vo Van Tan street, District 3.
11. Rice porridge with pig's tripe
Add: Cháo lòng Tiều at 51/33 Cao Thang street, District 3.
12. Chinese noodle and dumplings soup
Add: Ha Ton Quyen street, District 11
13. Deep-fried fish balls
Add: 90 Suong Nguyet Anh street. District 1
14. Grilled skewers/kabobs
Add: Trung Son area
15. Noodle/ hot pot with fermented fish sauce
Add: Lẩu mắm Nam Bộ at 94A Cao Thanh street, District 1.
16. Bánh tằm bì – Vietnamese rice noodles in coconut cream
Add:  370 – 459B Hai Ba Trung street, Ward 8, District 3.
17. Bánh ống lá dứa – glutious rice and tapioca cake with coconut and pandan leaf juice
Add: At the corner of Nguyen Trai and Nguyen Van Cu street; or at the corner of Phan Dinh Phung and Phan Dang Luu street
18. Mì kéo sợi – Mì hoành thành xá xíu or Wonton noodles with pork
Add: Khải Lý at 116 -118 Ha Ton Quyen street, District 11
19. Young papaya salad with dried beef
Add: Le Van Tam park
20. Stewed beef
Add: Bò kho P.T.T at 08 Au DUong Lan, Ward 3, Diistrict 8.
21. Noodles with grilled pork
Add: ba Tám restaurant at 299 Vo Van Tan, District 3
22. Trang Bang wet rice paper with pork and vegetables
Add: Hoang Ty restaurant at 70 -72 Vo Van Tan street, District 3
23. Cu Chi steer
Add: Co Tranh restaurant at 22 Nguyen Thi Dieu, District 3
24. Fresh spring roll
Add: Cô Hà restaurant at 7 Nguyen Tri Phuong street, District 5
25. Bò pía – Popiah
Add: 280 An Duong Vuong street,  in front of the gate of Pedagogic University
26. Chè- sweet soup
Add: Khánh Vy restaurant at the corner of Sư Vạn Hạnh street and Nguyễn Chí Thanh street, District 5
27. Ginseng juice
Add: 124 Le Hong Phong street, Districr 5
28. Thick noodle soup with crab
Add: Nguyen Tri Phuong market
29. Goat curry
Add: Musa restaurant at Block B,  Su Van Hanh tenement, District 5
30. Beefsteak 
Add: Nam Son restaurant at 157 Nam Ky Khoi Nghia street, District 3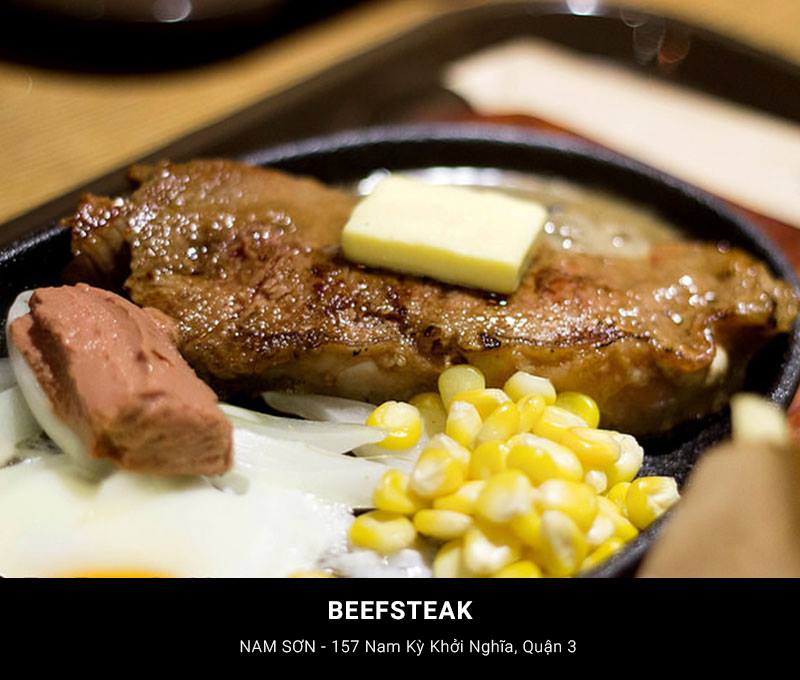 31. Phnom Penh clear rice noodle soup
Add: Lien Hua restaurant at 312 An Duong Vuong street
32. Rice porridge
Add: 211 Hai Thuong Lan Ong street, Ward 13, District 5
33. Duck salad
Add: Thu Nga restaurant at 108 Binh Quoi, ward 27, Binh Thanh district
34. Grilled banana and sticky rice
Add: 115b Tran Dinh Xu street, District 1
35. Roasted snakehead fish in Vietnamese style
Add: Lang nuong Nam Bo at 546 Cach Mang Thang 8 street, District 3
36. Simmered duck in Chinese style
Add: Lương Ký Mì Gia restaurant at Huynh Tinh Cua street, Ward 9, Binh Thanh district
37. Banh mi/ bread with meat
Add: Huynh Hoa restaurant at 26 Le Thi Rieng, Ben Thanh, District 1
38. Sticky rice
Add: Xôi Tám Cẩu at the corner of Dien Bien Phu and Cao Thang street, District 3.
39. Deep fried quail with butter
Add: Cô Năm shop at 54 Dong Nai street, ward 15, District 10
40. Grilled beef in piper lolot
Add: Phan Xich Long – Phan Dang Luu, Phu Nhuan district
41. Noodle soup with climbing perch 
Add: Hải Tứ Quý restaurant at 235 Nguyen Trai street, Nguyen Cu Trinh ward, District 1
Photos by: Hoàng Khải.
If you are a foodie and want to discover Vietnamese food from different areas of Vietnam, Hoi An in Central Vietnam is a must – visit. Different from Sai Gon or Hanoi, Hoi An's cuisine is unique with some food that you hardly find in other areas such as cao lau, white rose, xi ma,…Hoi An's food is diverse in quantity and unique in flavor. Coming to enjoy the cuisine in Hoi An, you will never forget this beautiful ancient town with its authentic food and culture. Let us become your local buddy who are willing to bring you around to help you discover the food, the culture and the local life in Hoi An better. With our diverse kinds of tours and excellent service, we are sure you won't be disapointed.
Hoi An Street Food Walking Tour
Hoi An Evening Walking Food Tour
…