After a Memorable Tour with a couple from Australia , they said that it is a fantastic way to discover local foods,with unique experience. Last Saturday, we had three guests, a couple from Australia and the other one from Indonesia. We took them around Hoian and tried the local foods as the way the local often do.
Firstly, we let them try Madam Phuong's bread. They ate the whole bread and paid it compliments on its taste nonstop. It was the first time they had ever tried an excellent kind of bread like that.
Then, we went round Hoian market and stopped at a Cao Lau food stall. The three guests felt very excited with the way people make Cao Lau. The couple seemed elated with Cao Lau because they had enjoy them in the morning and even more elated when they had chance to eat "Banh Phu The", a special cake which symbolizes the loyalty of a husband and wife after their recent 30 wedding anniversary. What amazing!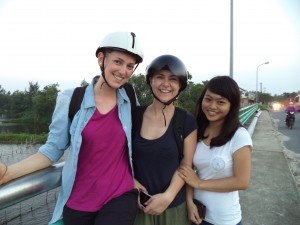 Memorable Tour with a couple from Australia
After that, we left the market and went forward the savoury coconut pancake, Vietnamese name is "Banh Khot". They were all again amazing with the name "Banh Khot" since "Khot" is the sound rang out when the cake pan begins to boil. They enjoyed it and did not forget taking pictures about "Banh Khot".
Next, we went and tried balut eggs which were sold not far from the "Banh Khot" stall. Our guests were so astonished about this dish of Vietnamese and felt hard to eat it because they also had chickens and ducks at home and they were so friendly to them. After all, they did it though they were so scared to try to eat part of a balut egg.
Go out of the ancient town, we came to An Bang beach to relax and play some games. Because of eating quite a lot, the guests could not play games. We just took a rest and then went to a seafood restaurant to try the special seafood of Hoian.
On the way back to hotel, we ate sweet soup as dessert and finished a great and memorable tour with a couple from Australia. What a wonderful afternoon!