Madam Phuong Banh My Hoi An is approximately the most famous local restaurant in Hoian. When you want to try Banh My or Vietnamese Sandwich, dont miss this place ! Madam Phuong serves Banh My from a cart on Huong Dieu Street and has been doing so for 25 years. The baguettes are perfect, unbelievable fresh, crisp on the outside and soft in the middle
Madam Phuong Banh My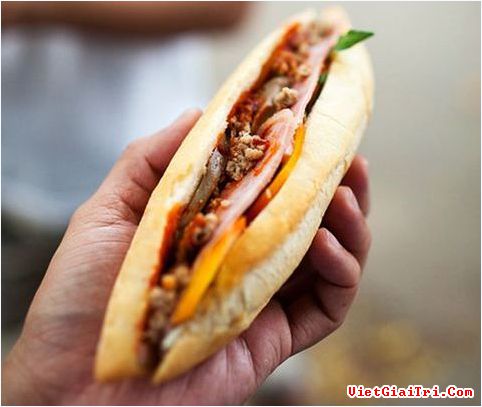 Madam Phuong has been doing so for 25 years
It is the great mixture of baguettes in the western and Vietnamese way with many favors and raw vegetables. Combining French ingredients, the baguette, pate and mayonnaise plus native Vietnamese ingredients including cilantro, hot peppers and pickled carrots, that's a lot of history in one delicious roll
The term banh mi refers to the baguette itself. In the classic version, the pâté – a rich, velvety, spread – is paired with smoky barbecued pork and / or some charcuterie. Filled to overflowing with mayo, pâté, cold pork, tomato, pickled vegetable, herbs and a freshly fried egg and spicy chilli sauce, it is the perfect breakfast or lunch. With just the right amount of meat to bread to veggies, plus the spices and the juiciness of the ingredients, this sandwich can't be compared to any banh my in Viet Nam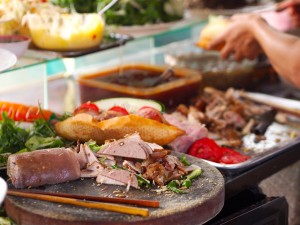 Madam Phuong Banh My Hoi An
Tourists almost always end up paying more than locals so couldn't get too fussed about that. It is closed over lunch time (maybe 12-3 pm).
What should you order?
Madam Phuong does a delicious pork hamburger — her most popular dish is her original bahn mi kep thit heo, four types of pork, fresh herbs, salad and the magic dressing coming in at just 20,000 VND.
For vegetarians she does an incredible banh mi opla for just 10,000 VND. It's so good you will wear the smudged egg yolk you've dribbled down your top with pride for the rest of your day.
One last tip
Madam Phuong Banh My Hoi An now move to new address : 2b Phan Chau Trinh Street, Hoian. With new and more comfortable table sets, this is the best and most reliable local food restaurant for you !
Cold Drink , Ice cream and Free Wifi are available now !