Hoi An wonton is one of local specialty. Hoi An wonton comes from China but has been adapted by the inhabitants to suit the local taste. Similar to ravioli, wonton is made with rice flour and filled with ingredients such as shrimp, pork, egg, and spices. There are many kinds of wonton dishes: fried wonton, wonton soup or wonton and noodle soup are a few examples.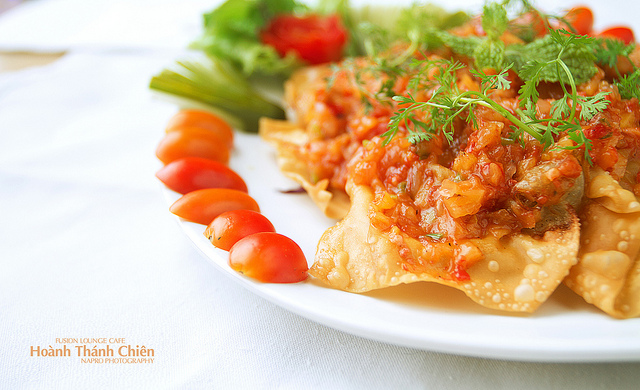 Fried wonton
Hoi An fried wonton is covered in a salsa-like topping of vegetables and sweet and sour shrimp are crispy, mouth-watering works of art. People often added fried tomatoes and coriander on the fried wonton dumplings to make it more good-looking and tasty.
Where to eat wonton in Hoi An
22 Nguyen Hue Street, Hoi An, Vietnam
106 Nguyen Thai Hoc St, Hoi An,
Vietnam Laugh Cafe Restaurant
126 Tran Cao Van St, Hoi An, Vietnam
Hoi An wontons are really fun to eat and can make a great appetizer and finger food snack.
How to cook Hoi An wonton?
To make the Hoi An wonton, makers need to be skillful. Fresh shrimp will be peeled off covers, then grinded and mixed with husked pork and sliced onion as well as spices for about 30 minutes. The next move is to spread wonton, put the mixture of shrimp, pork and spices on it and wrap them. And makers then just cook them in oil.