Everyone knows about Hoi An with its ancient town, the hundred-year-old houses with mossy roofs, but little do they know that Hoi An is also famous with its variety of unique street food which rarely exist in other places.
Walk along streets in this ancient town, you can see and enjoy the taste of several distinctive dishes that only can be found in Hoi An such as Quang noodle, cao lau, white rose, chicken rice,…
Moreover, Hoi An also owns a few dishes that you want to try them as soon as you hear their names: rice cracker, corn sweet soup, charcoal grilled meat, roasted corn with fish sauce, sweet potato cakes,…
Below are some of Hoi An's delicious dishes that you cannot resist. Keep reading and you will find how mouthwatering these dishes are!
1. Cao Lau – Hoi An's signature noodle dish
Cao lau – this dish is special from the name to the taste. Its name originates from Chinese letter: cao, in "cao luong my vi", means delicacies; lau means upstairs; so cao lau means delicacies eaten upstairs. In the past, this dish was considered a kind of delicacies for people to eat at high position in the restaurants (upstairs). A bowl of cao lau is a mixture of cao lau noodle, char siu (Chinese barbecued pork) and Tra Que vegetables, topped with deep-fried cao lau in square shape. Cao lau is unique and authentic in Hoi An which you shouldn't miss when being in Hoi An.
More about cao lau at Cao lau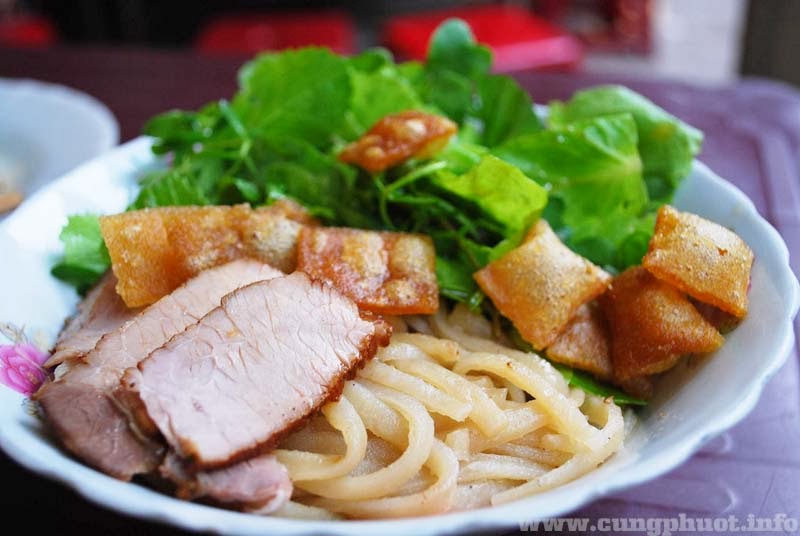 Where to try Cao Lau in Hoi An?
If you are looking for local taste and local price, you should go to Thanh Cao Lau (24 Thai Phien St). Price: 25,000 VND. Open hour: All day but they will close very soon in the noon and night if the ingredient is over.
You can also eat Cao Lau at the food court inside Hoi An market, come to Ms. Ha's stall. Price: 20,000 VND/bowl
It's also easy to find cao lau at most of restaurants in Hoi An.
2. Quang noodle
Quang noodle – its name shows its origin – Quang Nam province. Quang noodle is a specialty of the Quang people. It is well-known in most of restaurants and food stalls in Hoi An with the shape of flat white noodles served along with vegetables, rice cracker, and a variety of choices: pork and shrimp, quail egg, beef, snakehead fish, frog, eel, chicken,…The basic version is Quang noodle with shrimp, pork, quail egg and vegetables topped with rice cracker or Quang noodle with chicken. Different from other kinds of noodle soup, Quang noodle is served with just a little bit of broth which will be absorbed into the noodles if you leave it for a long time.
Want to know more about Quang noodle? Visit Quang noodle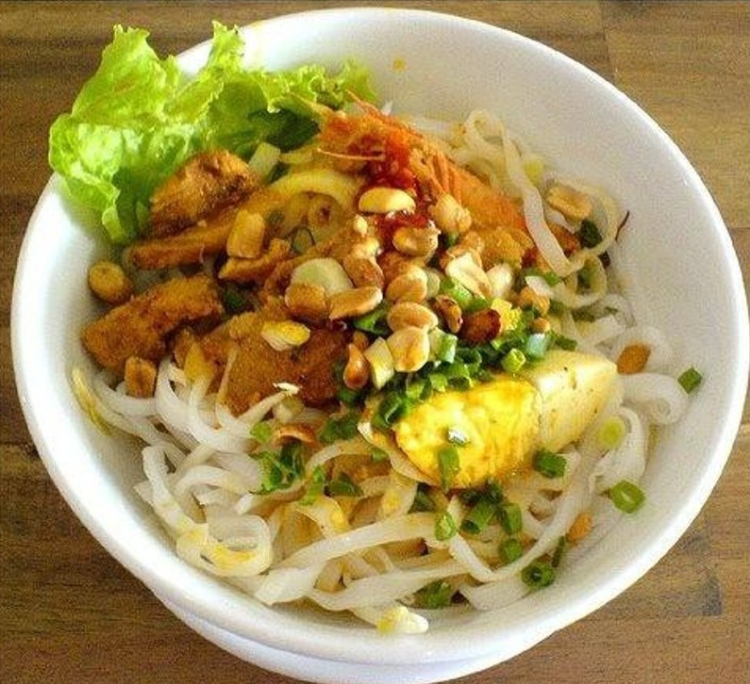 Where to try Quang Noodle in Hoi An
Mr Hai restaurant- 6A Truong Minh Luong (from 6.00 AM to 10.00 PM).
Ms. Bich restaurant at 272 Hung Vuong. Street vendors in Thai Phien street
Price: VND 20,000-25,000/bowl
3. Madam Phuong's Banh Mi
If you want to eat the best banh mi in Vietnam, you must go to Banh mi Phuong shop (madam Phuong's bread shop), Hoi An. There is no doubt that this is the best banh mi in Vietnam since if you search on google with the phrase "The best banh mi in Vietnam", the first result will be Banh mi Phuong, Hoi An. The quality of the banh mi here was also proved by the famous American chef Anthony Bourdain in his famous travel show "No reservations".
Want to know more about banh mi Phuong as well as banh mi in Hoi An? Visit Banh mi Phuong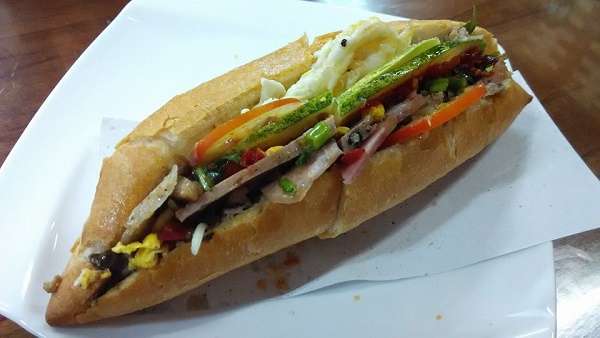 What should you order?
Number 9 or number 3 in the menu. Local taste, fabulous taste!
Open time:  6 a.m -10 p.m
Price: 15,000 VND – 25,000 VND/loaf (price depends on the type of ingredients inside the banh mi)
4. Hoi An chicken rice
Chicken rice is not just famous in Singapore, it's famous in Hoi An, Vietnam as well. The chicken to make chicken rice is carefully chosen, normally it is the raised at home chicken, not the industrial ones. Rice is cooked with chicken broth and a little bit of turmeric powder which makes it yellow. A bowl of chicken rice is served with shredded boiled chicken on top, sliced onion, Vietnamese mints and pickled papaya, along with a small bowl of chicken broth with chicken's organ inside. You can add chili sauce, lime juice inside if you want then mix everything up and enjoy. The taste is really good.
Read more about chicken rice at Hoi An chicken rice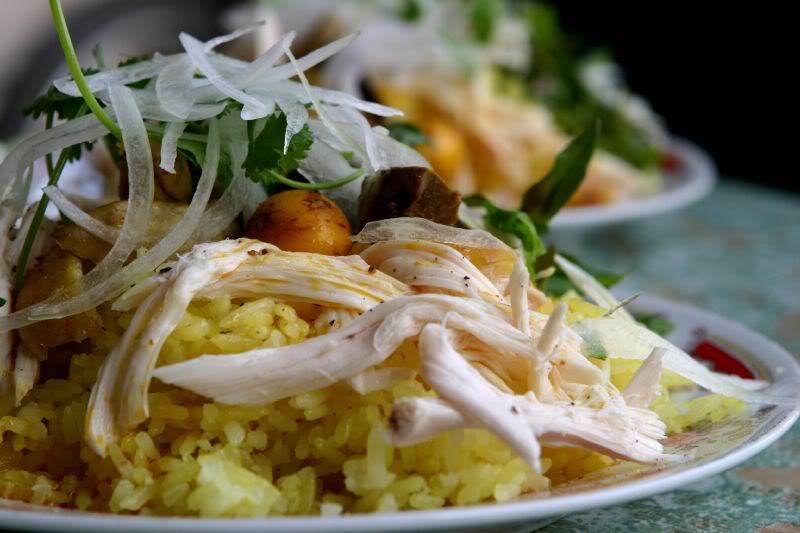 Where to try chicken rice in Hoi An?
Chicken is sold a lot on Phan Chau Trinh street and around the old town. Below are some famous place where you can have very good chicken rice in Hoi An.
– Ms. Ty at 27 Phan Chau Trinh street, only available in late of the afternoon till 8:30 p.m
Price: 25,000 VND – 40,000 VND/dish
– Com ga Ba Buoi at 22 Phan Chau Trinh street
Open time: all day till sold out
Price: 35,000 VND – 80,000 VND/dish
5. White Rose
Originated from Chinese but white rose has become one of Hoi An's specialties. Made from the rice in Mekong Delta, the flour is really white and sticky. The water to make white rose also comes from a special well in Hoi An called Ba Le. The name "white rose" make anyone of you curious what it is. That name was put to the cake when a French journalist came to Hoi An in 18th century, enjoyed the cake and thought of the shape of the dumplings like a rose in white.
What is white rose, please read more at Hoi An white rose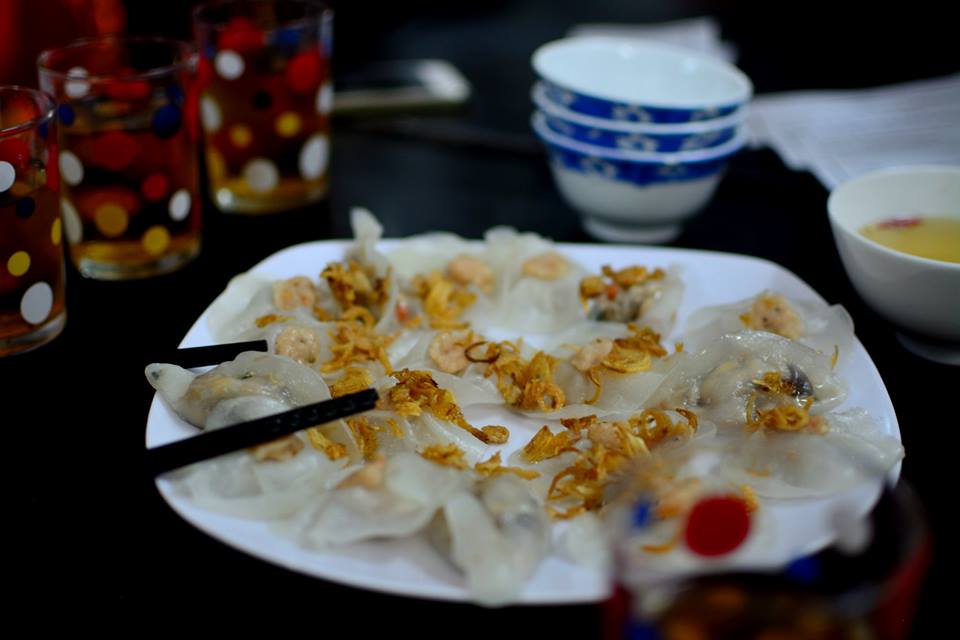 Where to eat best white rose in Hoi An?
– The most famous restaurant for white rose in Hoi An: White Rose Restaurant at 533 Hai Ba Trung St. Price: 70,000 VND/plate
– Morning Glory run by Mrs. Vy at 106 Nguyen Thai Hoc Street.
You can also find some stalls in Hoi An market selling white rose or at some street vendors.
6. Sweet soup
You can find many sweet soup carts on the busy streets of Hoang Dieu, Bach Dang, Phan Chu Trinh, Pasteur, Nguyen Chi Thanh. Some popular kinds of sweet soup are: Che bap (corns weet soup), che troi nuoc (sticky rice cake and green pea paste), che khoai mon (taro sweet soup), che dau ngu (kidney beans sweet soup), che dau xanh (green bean sweet soup), che dau do (red bean sweet soup), che bot loc (cassava sweet soup), che hat sen (lotus seed sweet soup),….They are usually served in glasses or small bowls. These kinds of sweet soup are usually used when they are still warm. Otherwise, you can tell sellers to put ice into it. Sweet soup is a very popular kind of snacks and desserts in Vietnam. You shoulnd't miss it.
It's easy to see lots of street vendors selling sweet soup with their mobile carts around the town. Price varies from dish to dish, from 5,000 – 10,000/glass or bowl.
Read more at Enjoying sweet soup in Hoi An
7. Grilled pork (Thit Nuong)
Going along Hai Ba Trung street which is close to the entrance to the old town, it's not difficult to see lots of street vendors selling grilled pork on the pavement. Small tools are stretched on the side walk, Hoi An street vendors, with a hot char coal, a handmade fan and bunches of pork skewers, will attract you to come inside and enjoy their food. This dish is extremely good in winter when everybody want something barbecued. The smoke coming out from the hot charcoal mingled with the smell of grilled pork make it irresistible. The grilled pork will be served along with wet rice paper, dry rice paper and some herbs with the special dipping sauce. All combine together perfectly, which make this dish so tasty.
Read more Hoi An grilled pork
Price: 10,000 VND/skewer.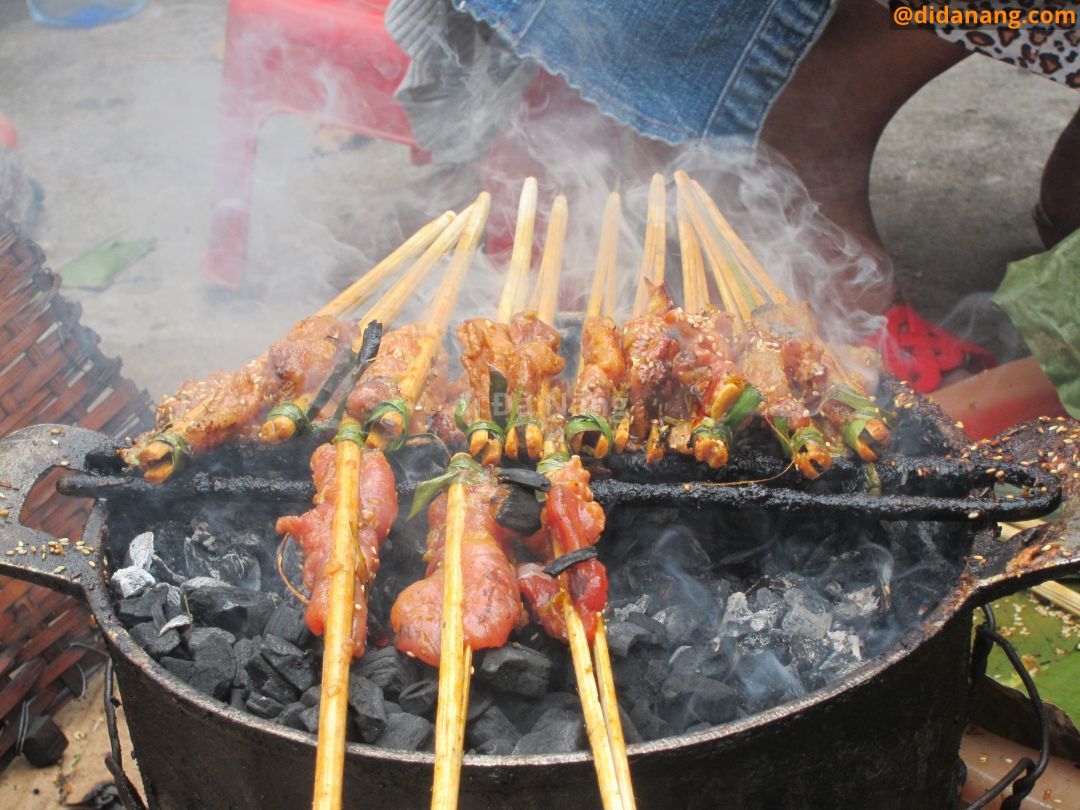 8. Water fern cake – banh beo
Banh beo (literally water fern cake) is a kind of rice cake topped with minced pork and shrimp along with deep-fried cao lau (chen link cao lau). The name is put under the water fern since it is shaped like a water fern leaf. This is a very popular kind of snacks in Central Vietnam. In Hoi An, water fern cake often served in a small bowl along with dilute fish sauce. When you are in Vietnam, this is definitely a must which shows you one of Vietnamese rustic dishes.
More information at Banh beo Hoi An
Where to eat:
– Aunt Tai's with her mobile banh beo cart. Some streets she often passes through: Ly Thuong Kiet, Ngo Gia Tu, Tran Hung Dao. She finishes on Nguyen Hue street. She starts at 3 o'clock in the afternoon.
– Aunt Bay's: at the corner of the old wall on Hoang Van Thu street.
– " Banh beo Rung" at 17 Dinh Tien Hoang (near Tan An market), only opens in the morning
– Aunt Lan's at 62 Phan Dinh Phung (near Tan An market), opens at around 4 pm in the afternoon.
You can also try this at some local carts around town.
9. Banh It La Gai (A little cake with ramie)
Banh it la gai is a kind of rural sweet cake which originates from Binh Dinh. This cake is often served on ceremonies and holidays like lunar new year, death ceremony, wedding, etc.
Banh it la gai is served like a kind of snacks or dessert accompanied with a cup of hot green tea. Also the cakes are given to the guests as take-home present after attending a ceremony or event. It's the Vietnamese custom for the bride to make these cakes and bring back to her house 3 days after the wedding. She needs to put these cakes onto the altar of the family and to give some to her parents to show her gratitude.
"Cake" means "banh", "it" means "a little" or "not enough". The humble name of the cake impresses people since the cakes are small and their name are "a little" but they contain the big heart of the girl to her parents.
You will be impressed by the color of the cake as well: black. This color is from the ramie leaves when they crush them with glutinous rice. The cakes are filled with mung bean paste which make its sweetness.
Want to know more about Banh it la gai? Read this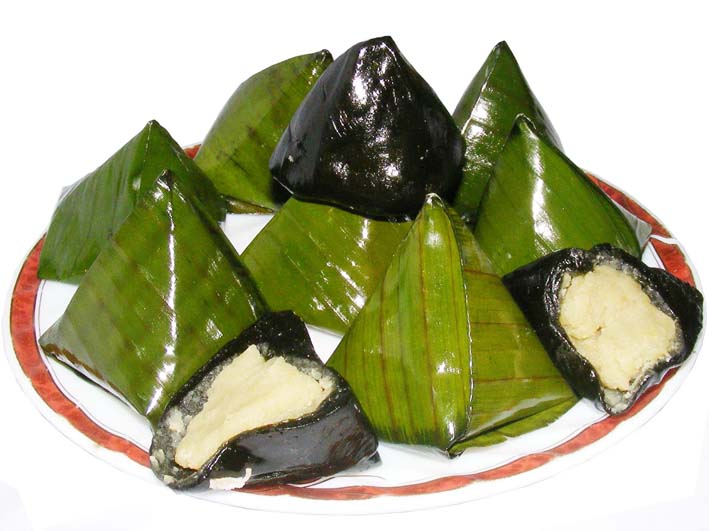 Where to try banh it la gai?
You can see them a lot when wandering around the Central market. The cakes are wrapped in banana leaves with triangle shape.
10. Other special street food
If you are a food lover and want a safe way to try Hoi An Street food, Hoi An Food Tour is a great initiation. You will discover plenty of great stalls and really get a feel of the area and its food history – all accompanied by a friendly English-speaking guide who is willing to answer any questions related to Hoi An's food, history and culture. Most of foods are not available in restaurant. The tours run every afternoon for five hours (3.00 pm- 8.00 pm).
If you want to join a food tour in the evening, an evening walking food tour will be perfect in which you can enjoy not only best Hoi An local food but also be able to mix with local people playing some traditional games and having fun while discovering Hoi An night life. Details about the tour at https://hoianfoodtour.com/holiday/evening-walking-food-tour/