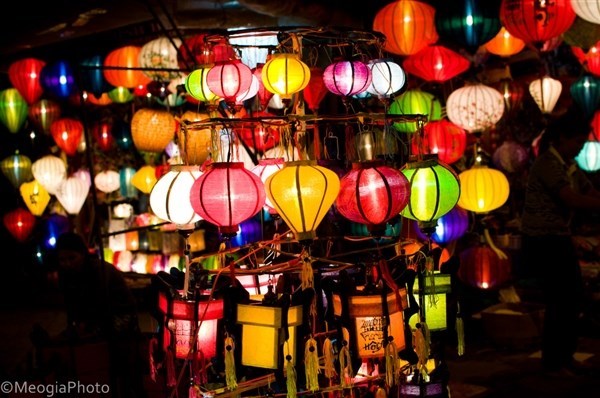 Colorful lanterns in Hoi An, which are more glowing during a full-moon night. Photo: Meogia
"Best Day on Earth," a new book from UK travel publisher Rough Guides, has listed the world's most extraordinary travel experiences and among the top are Vietnamese street food and Hoi An's full-moon festival.
The book depicts a vivid picture of Vietnamese street food scene from vendors with cauldrons of soup hanging from shoulder poles, to pushcarts, market stalls and makeshift kitchens.
Street food is available almost anywhere in Vietnam and has won global fame. There are especially more choices in large cities, where safety and hygiene is sometimes still a concern.
Rough Guides recommended that one of the best places to try specialty foods is Hue in central Vietnam.
The former royal city is known for bun bo, a spicy beef noodle soup which has been adopted in many places across the country, and banh khoai, which is fried pancake with pork, shrimp and bean sprouts, served with a sesame and peanut sauce. It also has delicious che, a sweet soup dessert usually made from fruit, lotus seeds, mung beans and coconut milk.
Banh khoai, vietnam, Hue, specialty. Photo: Tuyet Khoa
More than 130 kilometers to the south of Hue is the ancient town Hoi An, which according to Rough Guides offers a "sophisticated" Full Moon Festival every month.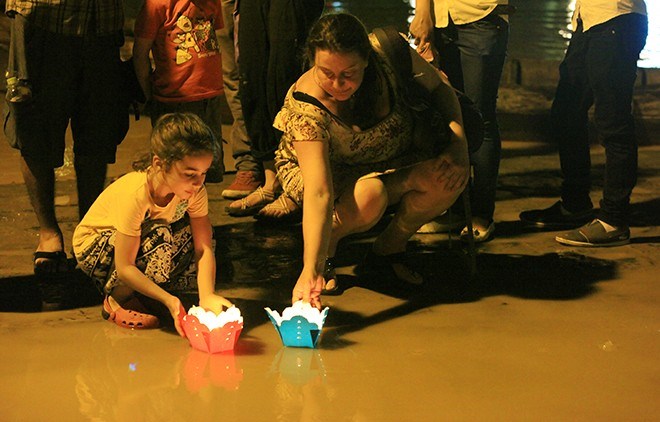 A Hungarian tourist and her daughter leave candles on paper flowers down a river in Hoi An during a Mid-Autumn Festival. Photo: Hoang Thanh/Zing
Lanterns are symbols of Hoi An. On the night of the fourteenth day every lunar month, tourists can watch hundreds of lanterns glowing along narrow alleys and the banks of the Thu Bon River. Paper lanterns can also be floated along the river.
"Best Day on Earth" was published on October 1 in the UK and November 3 in the US, giving a 24-hour snapshot of global travel. Other top experiences include seeing dawn break over the enchanting ancient capital of Myanmar, Bagan, taking a boat along the Ganges in India, exploring the jungle paradise in Guatemala, and hitting the Las Vegas Strip after dark.
Source: thanhniennews