Eight delicious street dishes you must try in Hoi An
Hoi An is not just famous for its ancient beauty that has been recognized many times worldwide but also for its authentic cuisine. Hoi An is one of the 25 most attractive destinations for foodies all over the world. This city is considered as a heaven of street food since most of the food here is sold on the streets or in small alleys. Besides delighting and expensive food in some fancy restaurants, Hoi An street food is a highlight of Hoi An cuisine. What a shame if you came to Hoi An but have never eaten street food. Eating street food will bring you an interesting and unforgettable experience. Below are eight delicious street dishes you must try when being in Hoi An:
1. Cao lau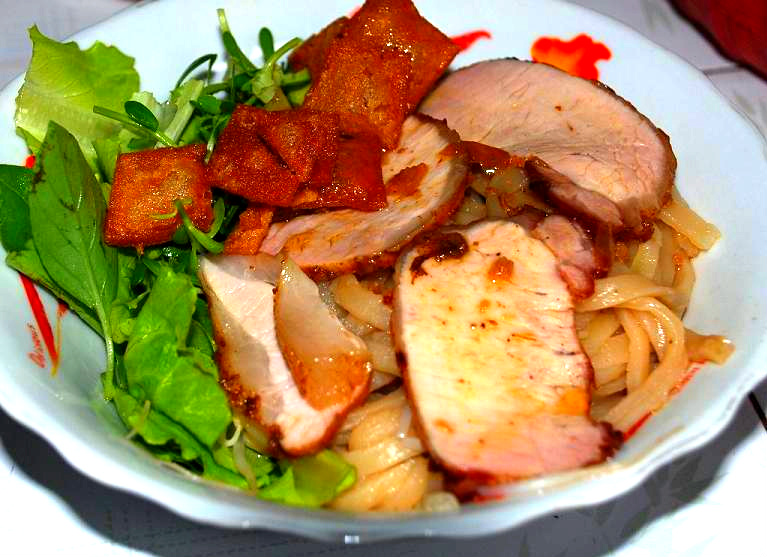 One of the most famous dishes in Hoi An is cao lau which is called Hoi An's secret noodle. Cao lau is the best when being enjoyed in Hoi An and almost just available in Hoi An. To make cao lau, people have to take water from a thousand – year – old well in Hoi An called Ba Le, the rice to make cao lau must be soaked in ash water from Cham island, and the vegetables to eat along with the noodles must be from Tra Que organic vegetable village. This is a kind of noodles with just a little of the broth and being enjoyed upstairs (high floors) by the merchants from all over the world in the past.
A bowl of cao lau at street vendors' costs from 20,000 VND – 25,000 VND/bowl. It's easy to find cao lau in the old town or around Hoi An. Some good places to have cao lau:
– Ms. Ha, stall E035, Hoi An central market.
– Ms. Thanh, 26 Thai Phien St.
– The first stall in the front of an alley near 69 Phan Chau Trinh St..
– Hat's stall at the crossroad of Tran Phu St. and Hoang Dieu St.
2. Hoi An banh mi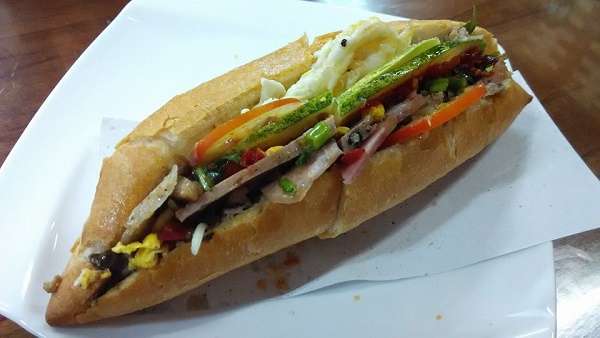 Banh mi is everywhere in Vietnam and not specific to a particular place. However, banh mi in Hoi An is just fantastic! The banh mi here is so good that it is well-known all over the world. Every tourist coming to Hoi An must try its banh mi at least once. There are a variety of things inside a banh mi sold in Hoi An: pork liver pate, pork floss, boiled shredded chicken, pork belly, ham, tomato, cucumber, some herbs,…A banh mi costs from 10,000 VND – 25, 000 VND/loaf. It depends on what you want to put inside it. Some famous banh mi shops in Hoi An:
– Banh mi Phuong at 2B Phan Chu Trinh St.
– Banh mi Khanh at 115 Tran Cao Van St.
– Banh mi Phi at 88 Thai Phien St.
3. Quang Noodle – Mi Quang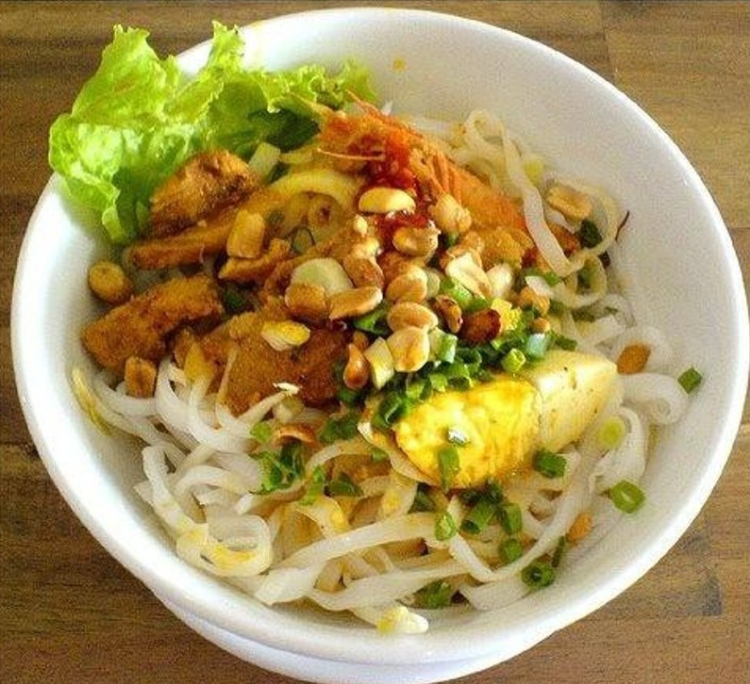 Once you visit Hoi An, you cannot skip Mi Quang. Mi Quang is a noodle dish typical for Quang Nam province (Hoi An belongs to Quang Nam). Like cao lau, Mi Quang is served with just a little bit of broth. There are many kinds of Mi Quang. Mi Quang can be served with chicken, pork, shrimp, quail egg, snakehead fish, beef,…with vegetables and topped with peanuts and rice cracker. A bowl of Mi Quang just costs from 20,000 VND – 25,000 VND and mostly available in many street vendors in town. Some recommendation places to have Mi Quang:
– Mr. Hai restaurant- 6A Truong Minh Luong (from 6.00 AM to 10.00 PM).
– Ms. Bich restaurant at 272 Hung Vuong St.
– Street vendors in Thai Phien street.
4. Grilled pork wrapped in rice paper with vegetables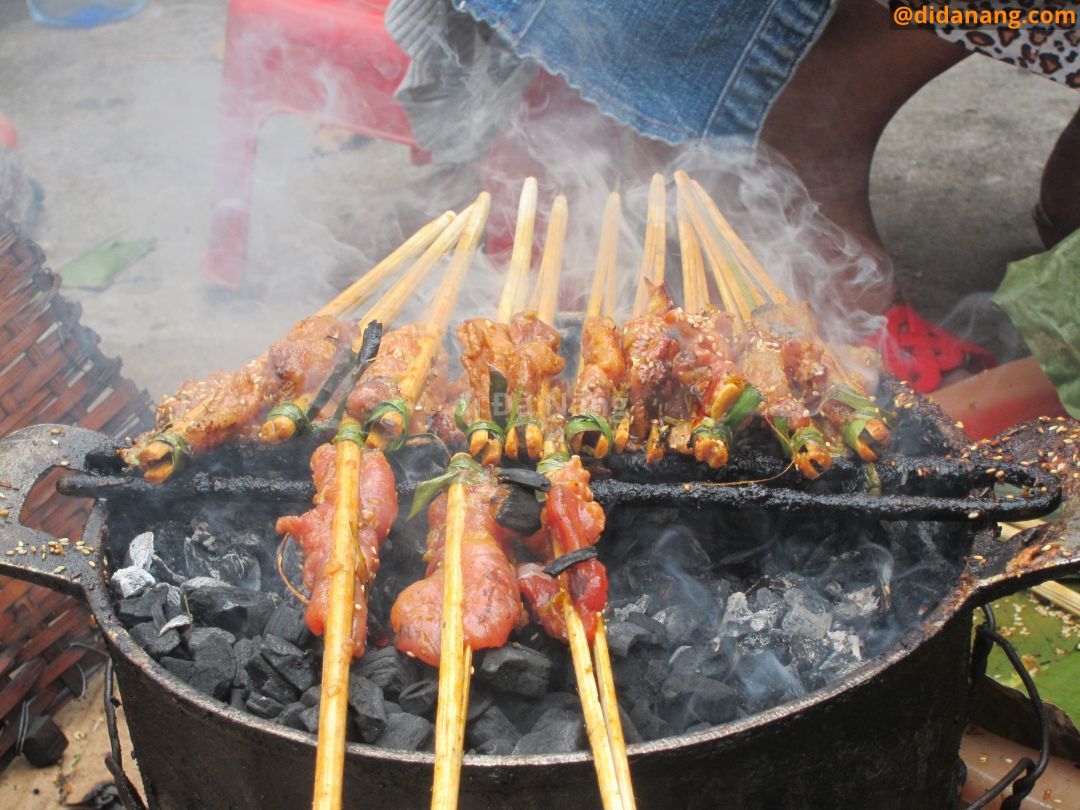 If you are a fan of BBQ, this is a must try. Grilled pork in Hoi An often served along with rice paper, vegetables and a special sauce made from pork liver pate, peanut, sesame and some other ingredients.
Vegetables eaten along with grilled pork skewers are a mixture of lettuce, fish herb, sliced star fruit, cucumber, mango, young banana, cilantro, basil,…All of these will be wrapped along with the grilled pork in two layers of rice paper: one is wet rice paper and the other one is dry rice paper.
You wrap it, make it like a roll, and then dip in in the sauce and feel the taste. Um…so good!
With just 10,000 VND/skewer, you have chance to try one of the best street food of Hoi An. You can find some street vendors selling this on Hai Ba Trung St., near the crossroad of Hai Ba Trung and Tran Hung Dao St., or find some on Bach Dang St.
5. Hoi An tofu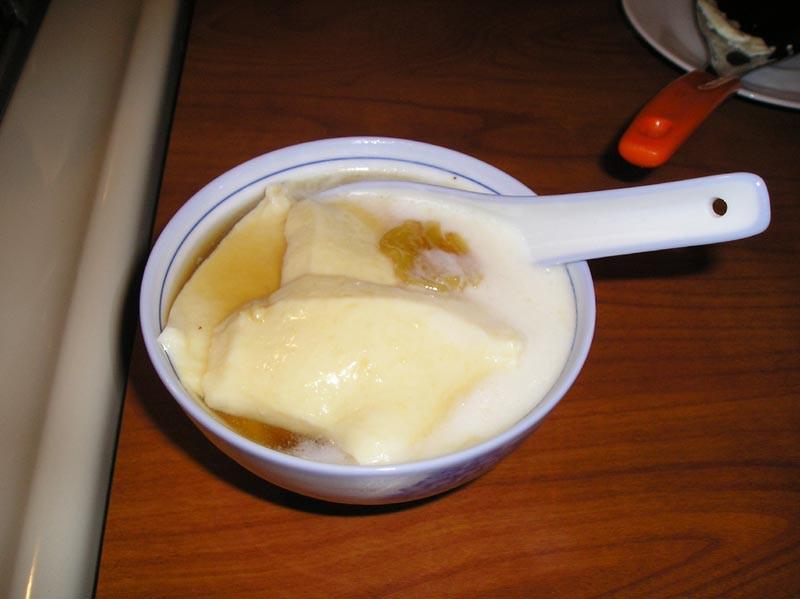 Simple but special, tofu is not a thing that is quite strange to you, but Hoi An tofu is something you should try as a good dessert or snack. Hoi An tofu can be served when it's hot or cold along with some jelly, coconut cream, boiled sugar with water and ginger. Well, if you are searching for a good kind of dessert in Hoi An, you have just found it.
Only 10,000 VND/bowl and available on some streets in the old town like Le Loi street, Nguyen Thai Hoc street.
6. Water fern cake – Banh beo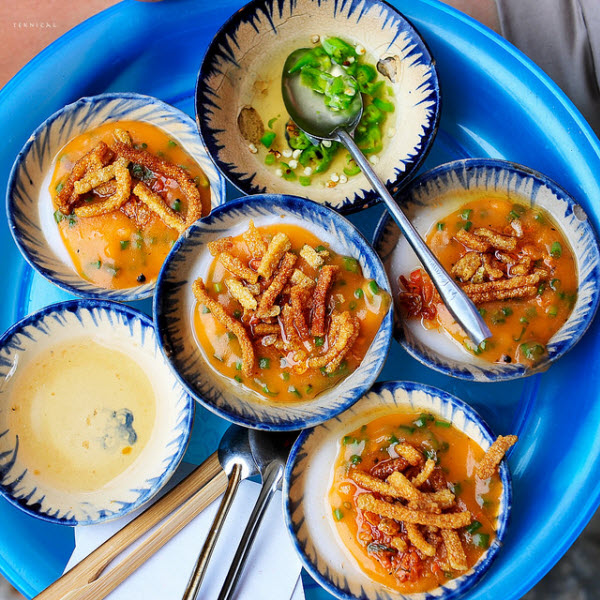 Coming to Hoi An, you should try this cake since it's not very popular elsewhere except some central Vietnam cities: Hue, Da Nang, Hoi An. Hoi An water fern cake is different from Hue water fern cake. The water fern cake here is often served in a small bowl with a wet topping made with minced shrimp, pork, spring onion and dry topping made from deep-fried Cao lau noodles.
Where to eat:
– Aunt Tai's with her mobile banh beo cart. Some streets she often passes through Ly Thuong Kiet, Ngo Gia Tu, Tran Hung Dao. She finishes on Nguyen Hue street. She starts at 3 o'clock in the afternoon.
– Aunt Bay's: at the corner of the old wall on Hoang Van Thu street.
– "Banh beo Rung" at 17 Dinh Tien Hoang (near Tan An market), only opens in the morning
– Aunt Lan's at 62 Phan Dinh Phung (near Tan An market), opens at around 4 pm in the afternoon.
Price: 2,000/bowl
7. Xi ma – black sesame sweet soup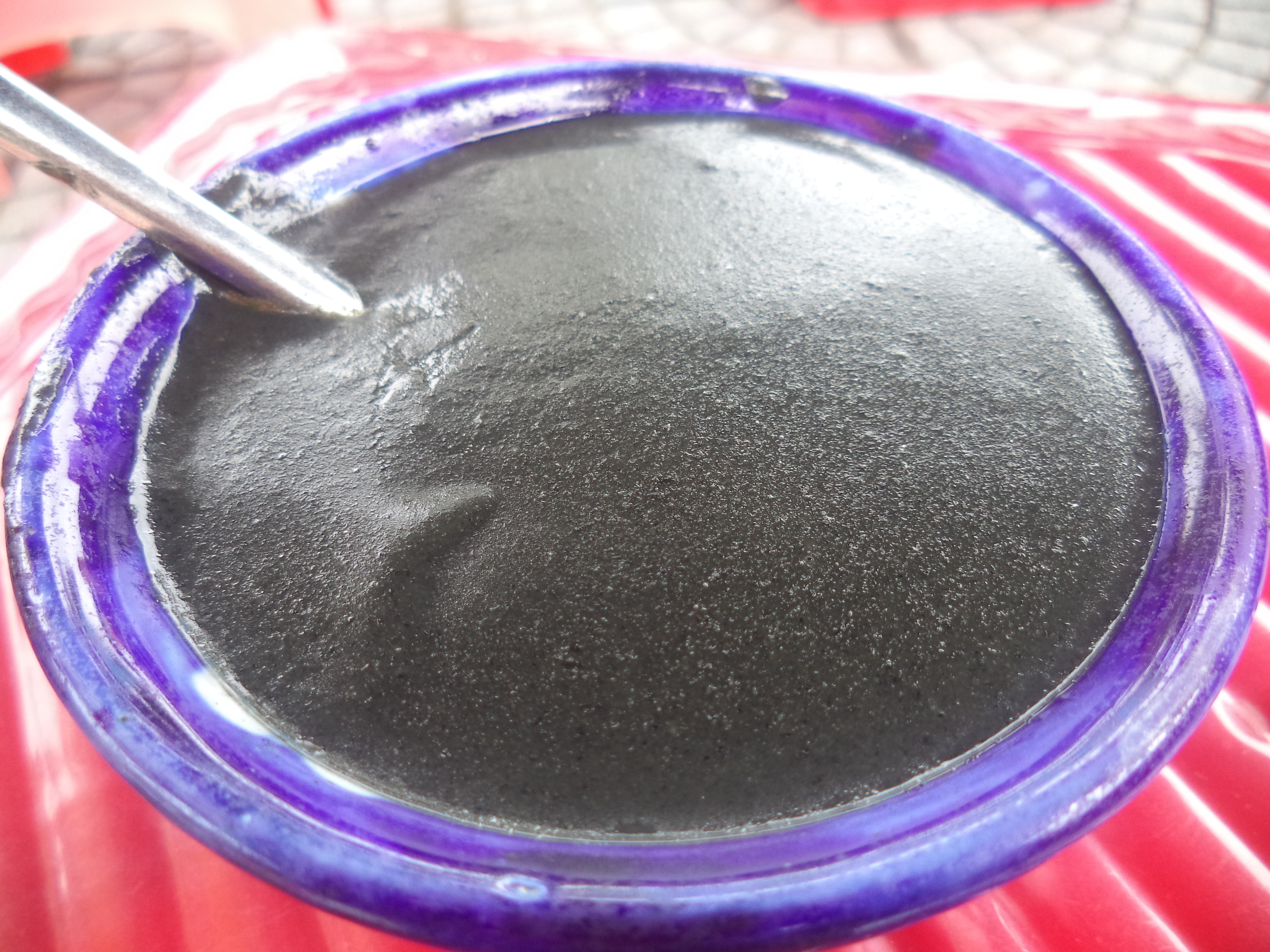 Xi ma is a kind of dessert which is made from black sesame, sugar, pennywort, and a kind of Chinese medicine. With its strange color – black, this is a kind of weird food that you won't try when you are just tourists walking around. However, this is a good kind of dessert that you mostly just can find it popular in Hoi An. Xi ma is often served when it is still hot. With only 10,000 VND/bowl, a bowl of xi ma will make you change your thinking about a kind of food with black color.
Where to try it:
– On Nguyen Truong To St., about 50 meter away from the crossroad of Nguyen Truong To St.and Ly Thuong Kiet St.
– On some streets in the ancient town at night: Nguyen Thai Hoc, Tran Phu, Le Loi.
8. Mango cake – banh xoai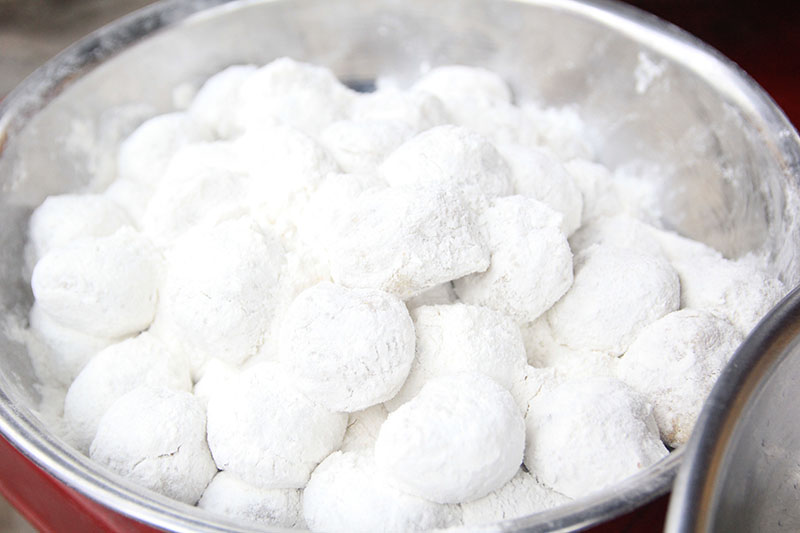 When you hear "mango cake", you may think that it is a cake made from mango. However, this is a cake made nothing from mango. Mango cake is made from sticky rice outside, peanuts and sugar inside. It is a kind of sweet cakes that you can eat as your dessert or like a kind of snacks. It is said that the reason for its name is from the shape of the cake which looks like a mango seed. You might feel it wrong but that's how local people explain for its name. The cake is round, white and small that you can easily hold it in your hand. This cake is sold a lot at street vendors' in the old town at night near the An Hoi Bridge and on some streets such as Nguyen Hue, Tran Phu,…
Price: 5,000 VND/cake
Not just these 8 dishes, there are still more good street dishes sold around Hoi An. We 've mapped all street food stalls on Google map. All you need is just get out of your place, stroll around and dare to try Hoi An street food. Good luck!
Are you looking for a cooking class in Hoi An? Try Hoi An Mama Home Cooking Class
You will learn how to cook Vietnamese daily food in the cozy house with warm and fun Mama who had 20 years of experience of selling street food for a living. Mama Nở (Flower, 1954) who is not a professional chef but passionate and has a large knowledge of Vietnamese cuisine and culture. Born in Hue ( food capital of Vietnam) and she knows many recipe secrets that have handed down from her family generations. If you don't like to do a very touristic but a hand on cooking class with authentic food- try Hoian Mama Home Cooking Class. No market tour. 19 USD/ 1 pax. Money back guarantee! 
More detail at Hoian Mama home cooking class