QUANG NOODLE (my quang) Hoi An
Quang noodle or My Quang is  the popular country dish in Hoian and Quang Nam. The noodle is yellow or white in color and made from rice flour. It is mixed with shrimp, pork and vegetables, and topped with grilled rice paper and spices. Similar to rice noodle and chicken or pork soup (Hu tieu), My Quang is a variety of Pho (rice noodle soup), because the noodles are made from rice and covered with soup as serving. The mystery of the Quang noodle is in that pot above.
Quang noodle dish is a complex mixture of flavors and texture.
How does Quang noodle look like?
This dish's ingredients include rice, vegetables and meat. After being soaked in water, the rice is ground to a fine powder and made into attractive smooth white noodles. Accompanying vegetables are water morning-glory, cress, young banana flowers and herbs. Place in the famous Tra Que savory of Quang Nam Province to give the dish more flavour. You can use pork, chicken, fish, crab or shrimp to make the broth. If chicken is chosen, the meat is separated, seasoned and stir-fried while the bones are stewed. Finish the stock by adding cooked chicken meat.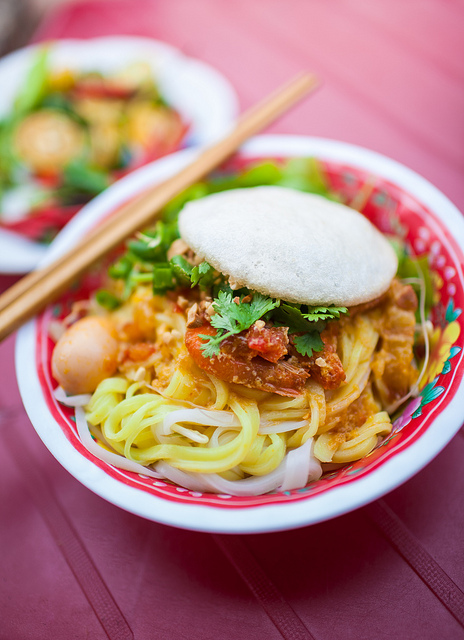 Quang noodle Hoi An is served with very little broth and almost like a dry noodle dish
The noodles are yellow, somewhat distinct from Pho. However, the main reason for having this color is to be in harmony with the colors of shrimps and crabs. There are also noodles for vegeterians. Quang soft noodle soup tastes best when being served with a variety of herbs, such as mint leaves, houttunya, cabbage, onion, coriander and so on. The shopkeeper tells us those herbs and vegetables grown in this region have a hot, acrid, and bitter sweet taste that complements the broth perfectly.What makes Quang noodle soups unique is the richness of the broth, the lack of it and the crushed peanut toppings on the noodles. A traditional version says: I make for you, darling, green tea and Quang noodles to express my feelings. Thus, you can visit a Quang noodle kiosk in Hoi An Town to enjoy the typical flavor of the soups.
Check Quang noodle receipt from blog
The famous Tra Que savory of Quang Nam Province will give the dish more flavour.
Where to try Quang noodle
There are many Quang noodle restaurants in Quang Nam and Da Nang City. Each area is famous for one certain recipe. For example, Thanh Chiem Village in Dien Ban District, Quang Nam Province is known for shrimp noodle, while chicken noodle is at its best in Tuy Loan, Hoa Vang District, Da Nang City.
Quang noodle shop in Da Nang
Ngan Quang Noodle at 108 Dong Da Street
Lu Quang Noodle at Ham Nghi Street
Vi Quang Noodle at 155 Trung Nu Vuong Street