White Rose is one of Hoi An's specialties. So do you want to know where to eat white rose in Hoian ? The little white roses are made from translucent white dough which is filled with spiced minced shrimp or pork, and bunched up to look like little white roses. The recipe for these darling little dumplings, banh bao vac, is a secret held by Tran Tuan Ngai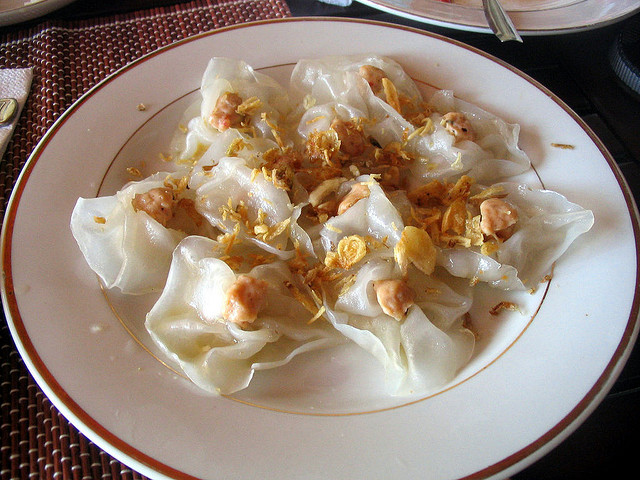 Where to eat white rose in Hoian
Unique White Rose
Known locally as Banh Bao Vac, the name 'white rose' was apparently given by the French. When examining the Vietnamese dish closely it's easy to see how they came up with the name as the outer section certainly could resemble flower petals.
White Rose dumplings are a a specialty of Hoi An and cannot find them anywhere else. It is said that if visitors have not eaten White Rose dumplings they have not yet enjoyed the taste of the ancient town
White Rose
The dumplings are made from two small 2″ rounds of rice paper with a small spoonful of meat or shrimp filling in the center. When the rice paper is steamed, the edges get soft and chewy and warp a little, making the dumpling look like a white flower.
Ingredients such as shrimp and pork are placed on top the carefully folded noodles and topped with crispy shallot. The unique dipping sauce is made of shrimp broth, hot chilies, lemon and sugar.
Water must be drowned from the old Ba Le well, which is filtered and purified 15-20 times before being mixed with the rice paste to form airy dough.
Where to eat white rose in Hoian
The recipe for these dumplings is secret, held by one family in Hoi An who supplies all the restaurants. At 533 Hai Ba Trung Street, Tran Tuan Ngai is a third generation secret keeper of the traditional white rose recipe.
You can try white rose at any restaurants in Hoi An
Check Samuel & Audrey's video Halong bay cruise cost to see how they enjoy white rose when they travelling Hoi An
Are you looking for a cooking class in Hoi An? Try Hoi An Mama Home Cooking Class
You will learn how to cook Vietnamese daily food in the cozy house with warm and fun Mama who had 20 years of experience of selling street food for a living. Mama Nở (Flower, 1954) who is not a professional chef but passionate and has a large knowledge of Vietnamese cuisine and culture. Born in Hue ( food capital of Vietnam) and she knows many recipe secrets that have handed down from her family generations. If you don't like to do a very touristic but a hand on cooking class with authentic food- try Hoian Mama Home Cooking Class. No market tour. 19 USD/ 1 pax. Money back guarantee!
More detail at Hoian Mama home cooking class