bun dau mam tom vietnam or Vietnamese noodle with fried tofu and fermented shrimp paste is one of the most popular dishes in Hanoi cuisine.Its stingking smell is not only challenged to foreigner but also to locals. but if you overcome this challenge, you will be  addicted to the perfect combination within different ingredients, that bring a unique texture for this food.
Ingredients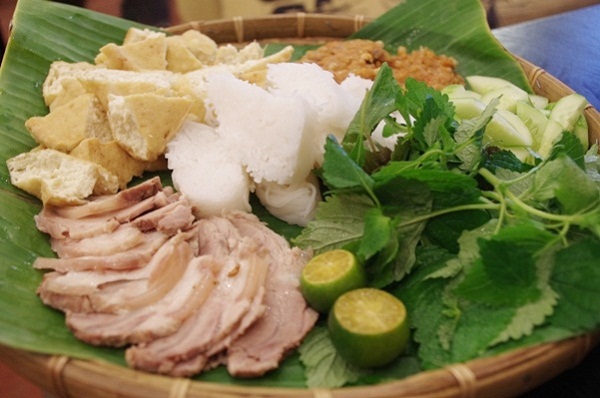 bun dau mam tom vietnam
1 block fresh firm tofu, cubed and deep-fried
fermented shrimp paste (mam tom), sugar, lime/kumquat juice
fresh red chili pepper, diced
vegetable oil to deep fry
rice vermicelli
boiled pork belly, thinly sliced (optional)
cucumber, thinly sliced
fresh herbs: Vietnamese balm "rau kinh gioi" (shiso)/ Asian basils/holy basils

bun dau mam tom vietnam
Directions:
-Cut tofu into large cubes and deep-fry on medium high heat so that the outer is golden brown and crisp, but the inner is soft and moist
-Add sugar and chili to shrimp paste, adjust to taste. Add in some hot oil from frying tofu and squeeze in fresh lime/kumquat juice while constantly stirring until it foams up into a sauce.
– To serve, cut deep-fried tofu into bite-size pieces. Grapse a bit of everything ( tofu, vermicelli, herbs and boiled pork /cucumber) and dip in the sauce. Enjoy!.
bun dau mam tom vietnam