Da Nang is famous for special street food in young generation. If you're in Danang and you'd like to try an inexpensive local street food, make a point of going to Ong Ich Khiem and Le Duan St. Ordering a portion of Da Nang sucking snail after enjoying the beautiful beach with blue and peach sky is interesting experiences.
Da Nang Sucking Nail
How does Sucking nail- Oc Hut look like ?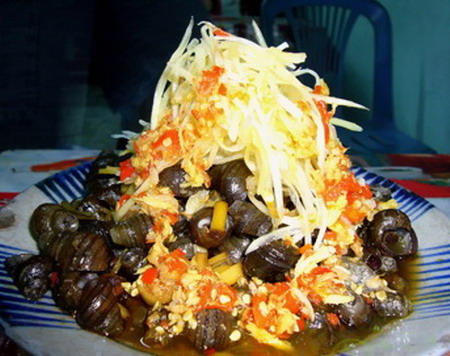 Da Nang sucking snails are small and firm flesh. There is no secret recipe, but lemongrass, chili and ginger play an important role in adding savor or spice and stimulating the gastronomic imagination of people. A plate of sucking snail is served with raw papaya, green mango slice and fish salt sauce with lemon and ginger. Before eating, you only need to mix everything well.
What make sucking nail- OC HUT so special ?
This dish is served all seasons of year; however, no one is tired of fierce flavor. Evidently, it is really popular with young and tourists due to aroma as well as reasonable price. Above all, due to small shape, people in Da Nang also enjoy in a individual way. Taking a snail and sucking the smaller end of the shell before sucking the opening. However, if you can not take it out and heat your lip owing to spiciness, a toothpick is used to solve this problem. That is reason why Vietnamese named Da Nang spicy snail is OC HUT
How to cook sucking nail- OC HUT ?
Initially, snails are soaked in water with squeezed lemon about 2 hours, then washed carefully and dry. The bottoms of snail shells are hit before seasoning with salt and powdered red pepper.
Following this, heat oil in a large frying pan. When oil is hot, add finely cut lightly and hit lemongrass and stir-fry 1 to 2 minutes.
Finally, add snail and a little of salt into that pan and then simmer from 5 to 10 minutes.
Where is the best place to try Da Nang Sucking nails ?
This vendor of cooked snails located on Ong Ich Khiem Street and Le Duan street are favorite one.
Prices compared with similar restaurants in Da Nang are not very expensive. One large plate ranges from 25-30,000 VND enough for 2 people, which will be more enjoyable with 2 glasses of fizzy drink! Since this is a street footstall, the address is next to the crossroad of Ong Ich Khiem and Hung Vuong Street (350-352 Ong Ich Khiem Street), in front of the Western Bank. Shop only sells the evening, from around 7 pm onwards.