One of the most beautiful Beach in Viet Nam; Best Beach in DN; perfect really… are comments, feelings on Tripadvisor from tourists who has ever visited My Khe Beach. It must be that many people are wondering how beautiful My Khe Beach is, or what its specialties are.
You know? My Khe Beach has been honored with many awards:
 Forbes, the leading American economic journal named it as one of the best six beaches in the world.
In Australia, the Sunday paper, the Herald Sun, named it as one of the top ten in Asia, whilst commenting that Asia's beaches are the best in the world
Visiting My Khe Beach Da Nang, you will have a chance:
To enjoy the charming My Khe Beach Da Nang with white smooth sand, cool water, nice wave, and fresh air.
My Khe Beach da nang is located about 1.5km from Da Nang city center. It just takes about 15 minute-drive from the airport, perfect for getting to, even before you check into your hotel.
It is a magnet for sun seekers and those who like the feel of sand between their toes. This is a stunning, tropical island style beach. Silky white sand and delightful palm trees, fringe the turquoise blue waters of the ocean. It is long, as well, seemingly going on forever. The mountains offer the perfect backdrop, making this a very special place, indeed.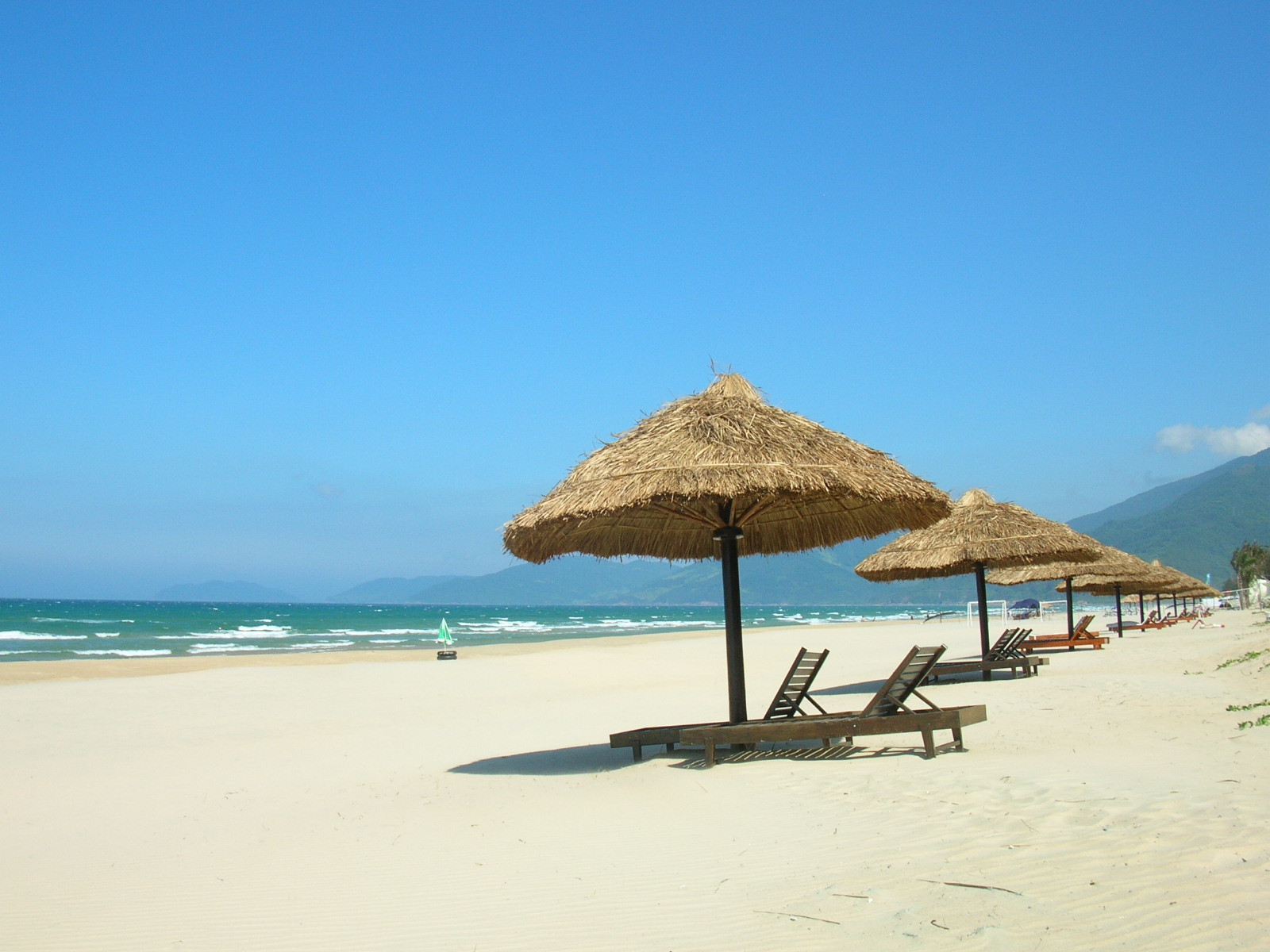 If you want quiet and privacy, go to My Khe during the normal working hours. Furthermore, My Khe beach's natural environment for tourism is quite good. In summer days, a trip to My Khe beach is really ideal. Leaving all the trouble and tiredness behind and resting yourself in the cool water will get you out of the hustle and bustle city life.
Additionally, there are many choices for you to take part in some exciting activities like fishing, water-skiing, diving, a yacht race and so on.
My Khe Beach are good for swimming all year round, but especially in Summer from May to August when the waves are gentle. Besides, lifeguard teams work from 5am to 8pm daily to ensure the safety of swimmers.
 To try typical cuisines in Da Nang City, especially seafood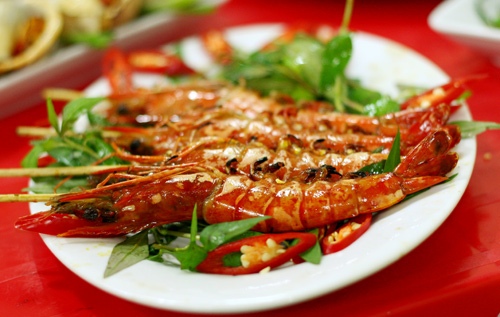 Da Nang is known for its seafood restaurants, mostly located along the water on My Khe Beach. Opposite the beaches across the street is the rows of local food outlets. They have all the fresh seafood laid like in the market. You purchased the raw one and select the cooking ways at reasonable prices. The foods are extremely attractive with cans of beer. You probably can see some unfamiliar seafood specialities and get a chance to try, including prawns, crabs, fish, and cuttlefish …
Where to eat seafood best near My Khe Beach?
There are more than 40 places to choose from, but we've had excellent luck just going to the ones that are the most popular with locals. Here are some popular restaurants such as:
1. My Hanh Seafood restaurant
Address: 17-18 Hoang Sa Street in Da Nang's Son Tra District.
1. Phuoc My 2Restaurant:
Address: My Khe Beach, Da Nang.
Tel: (0511) 3942 399,
Fax: (0511) 3942 399.
Open daily: 08:00 to 22:00
Earns consistent praise from locals and travellers alike, and they have an English menu.
To the north of My Khe beach, The sole restaurant there is Buddha Bay, with seating under palms all along the water, and a fresh seafood market you can wander through to select your meal. The ocean fresh food and tropical atmosphere here are tops, especially in the evenings.
3. Buddha Bay:
Address: Hoang Sa, Da Nang.
Tel: (0511) 3920 399.
Opening hours: 09:00 to 23:00
Related : http://www.buddha.com.vn
There, you can enjoy many delicious seafood dishes with different ranges of price to meet the demand of all types of tourists.
However, with those who want to have a meal and enjoy the poetic scene at sunset, it would be perfect to pick one in the row of local food outlets. In those local restaurants, they have all the fresh seafood laid like in the market and visitors have a chance to purchase the raw one as well as select the cooking ways. Foods are extremely delicious, but the price is rather reasonable, for example, a seafood hot pot will cost visitors around $10 for a set of two people.
To know about the life of local by seeing the fisherman do their work with net on the sampans.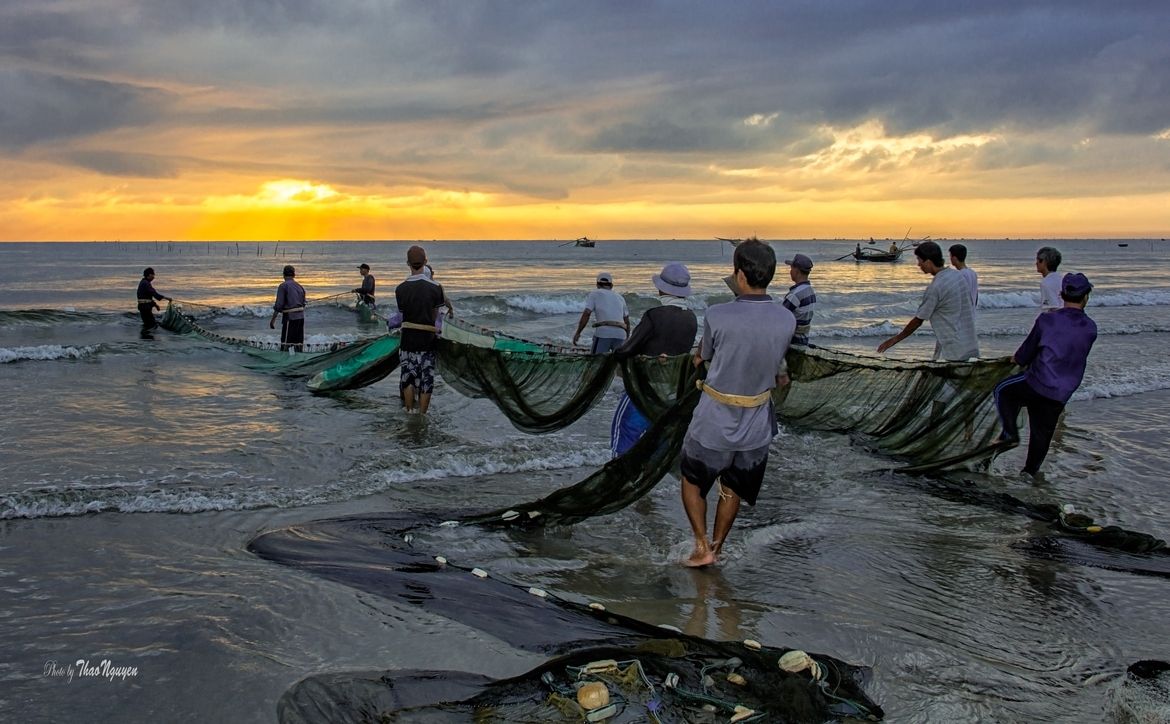 Visitors can join with the locals here and enjoy so interesting experiences!
Enjoying the facilities and comfort of the resort on spa or massage.
There are many comfortable hotels and five-star resorts lining the broad beach to supply visitors with good conditions, standard services during the Holiday Da Nang City.
Where to live near My Khe Beach Da Nang?
Fusion Maia Resort was named by Tatler Travel Guide, as one the best 101 hotels in the world.
Hoang Lan Hotel, 189 Nguyen Van Thoai. Phone 0511.3836777 (near My Khe Beach) Price: about 150k/ a double room
Some other famous 5-star resorts: Hyatt, Furama, ….
More information: http://www.luxurytravelvietnam.com/Vietnamhotels/danang.html
More importantly, you can check Prices for Hotels in Da Nang at Agoda.vn
In fact, My Khe beach is one of the must-see places in Vietnam.
Come and enjoy yourselves.