Fish cake noodle soup or Bún chả cá is one of the most popular dishes of Danang and also of this blog! It's very interesting to see that the key words "bun cha ca" and "bun cha ca recipe" lead a WHOLE LOT of people to this tiny blog of mine everyday! And if you notice, bun cha ca always secures its number one spot of the "most popular dishes" of Danang Cuisine (based on number of views). Well, you want it… you'll get it!
You can join Da Nang Food Tour with us and our tour guide will show you more interesting insights about Fish cake noodle soup
Fish cake noodle soup
How to make  Fish cake noodle soup 
Ingredients:
For fish cake: 400g clown/featherback knifefish paste, 400g catfish fillets, 200g speck, 4tbsp wheat flour, 2 eggs
For the soup: Pumkin, cabbage, tomatoes, pineapple, bamboo shoot
Others: lime, spring onion, paprika powder, fresh greens, beansprouts, garlic, chili…
Make fish cake:
Cut 400g catfish fillets into small cubes and pulse to make a fine paste in a food processor
Cut 200g speck into small cubes
Mince 4 spring onion stems
Unfreeze a pack of 400g knifefish paste
In a mixing bowl, combine fish paste and speck cubes, minced onion stems
Add in 4tbsp wheat flour, 4tsp chicken stock, 4tsp salt, 2 tsp coarsed pepper, 2tbsp sugar and 2 eggs.
Mix well all ingredients together.
Grind the mixture with a pestle till consistent.
Place a large piece of plastic on a round plate and shape the fish paste into round form
Deep fry the fish cake both sides till golden brown.
You can also pinch off the fish paste and form into fish balls or patties, then fry
You can also steam for 20mins to make steamed fish cake.
Then cut the fish cakes into bite size pieces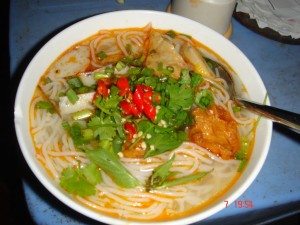 Fish cake noodle soup
Cook the vegetable soup:
Cut pumpkin into large cubes, unpeel the skin.
Cook pumpkin cubes for 20 mins
Cut bamboo shoot into long strips
Cut tomatoes into wedges and pineapple into 1cm thick slices
Add all veggies to the pot and cook for another 15 mins
To make coloring oil, place 1tbsp paprika powder in a bowl and fill half-full with cooking oil, then microwave for 1min 30secs
Add fish cakes and coloring oil to the pot, season to taste with sugar, salt, fish sauce and chicken stock.
In a serving bowl, pour the soup over thin rice noodle
Serve with fine shrimp paste, coarsely crushed fresh garlic and chilli, fresh greens and beansprouts, and a wedge of lime.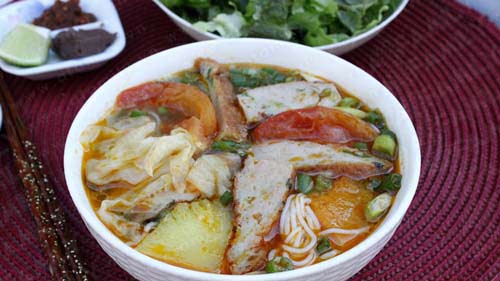 Fish cake noodle soup