Hoi An Ancient Town – one of the most popular tourist attraction in Vietnam not only for domestic tourists but also for foreigners.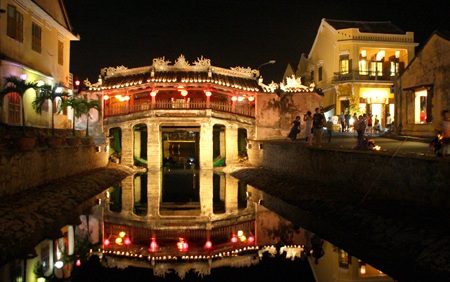 Location
Hoi An is located on the bank of Thu Bon River- in the Central of Viet Nam, only 30 kilometers from Da Nang City. With a good location on the bank of a great river, it used to be one of the major trading port during 16th century.
History
Hoi An has been through a long time of history, but it still remains as in the very first days of its being born. It was divided into 2 main historical landmark: the occupying of the Japanese & Chinese, and the Western (Dutch and Spanish) during the 16th and 17th centuries.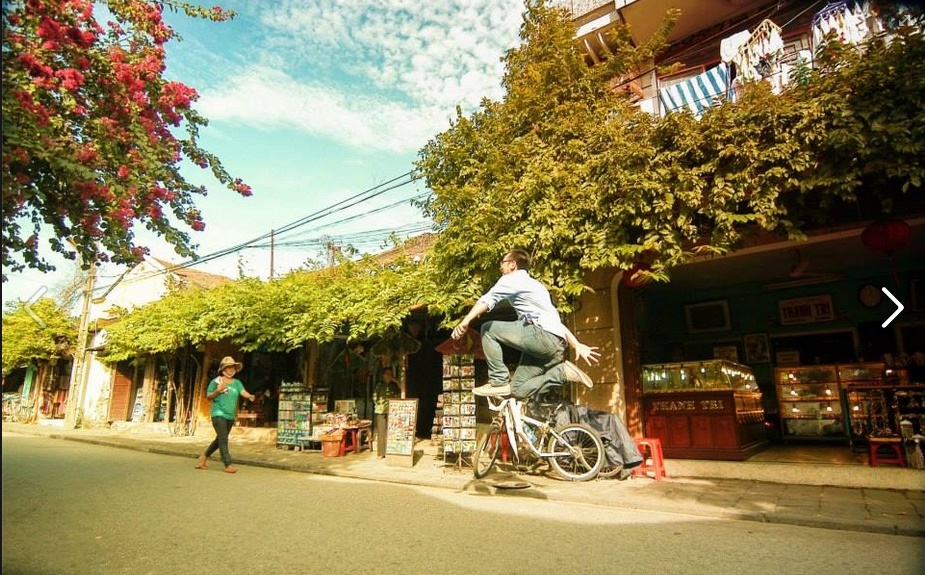 During the Chinese period, Hoi An was called as "Hai Pho" (Sea Town). Hai Pho was a divided town – this side of Japanese Bridge for Chinese and another side for Japanese. Until French and Spanish period, Hoi An was well-known as Faifo – an international port city. Thanks to these days, Hoi An is a wonderful place for tourists due to itsforeign comprehensively positive and special pastimes and culture.
Weather
Hoi An has typically tropical climate. Normally, it is classified into 2 seasons: dry season and wet season – it is not too hot on dry season and not too cold on wet season so that you can travel more without nervous.
What to explore
Coming to Hoi An, tourist are attracted by series of old – architectured lanes and houses with nearly 100% cristinely left from their initial buildings with moss grown walls, deeply plain roofs, old furniture in their cristine past arrangement, etc. Hoi An's architecture was affected by Chinese, French, Japanese Culture.
1. Ancient Town
Since Hoi An is an old Town, its places of interest are of full historically classical meaning and image. Hoi An symbol, the most popular remnant is the Japanese Covered Bridge (Chua Cau or Lai Vien Kieu), on the west end of Tran Phu Street. The bridge was constructed in the early 1600's by the Japanese community. Tourists should spend time on visiting Quan Cong Temple, Musium of Culture. Many ancient style – oriented architects come here to have a direct look into the ancient houses of the town, among which are Phung Hung House, just west of the Japanese Bridge, Quan Thang House, or Tan Ky House. The design of the houses show how local architecture incorporated Japanese and Chinese influences. Cantonese Assembly Hall (Quang Dong), has a calm courtyard with ornate statuary. You could take a peek at the half-hidden back yard and its kitschy pastel dragon statues. Hokien (Fujian) Meeting Hall (Phuc Kien) and Chinese All-Community Meeting Hall (Trieu Chau), are also spanning the block. If you are Buddhist, there are a lot of pagodas to visit. Ong Pagoda, Quan Am Phat Tu Minh Huong Pagoda, etc. are premium places to get in.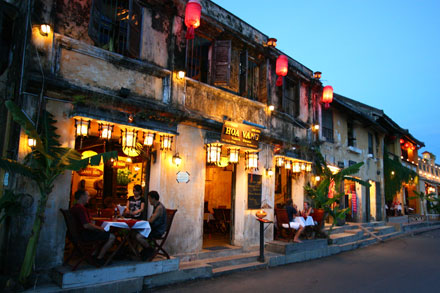 If you want to explore Hoi An Ancient Town with a professional tour guide who can give you all good information about Hoi An history, local life,,..have a look at Hoi An city tour half day
Special note: If you enter the old town, you have to buy entrance ticket which costs 6$/ 1pax as your contribution is to restore and maintain ancient house. You can keep it and use it for anytime you enter the town.
2. Local belief
The main religion here is Buddhism. Therefore, people often go to the pagoda and pray on 30th and 14th of every lunar month. That time, the old town seems to be so nice with all colorful hanging cloth and paper lanterns. Furthermore, it's easy for you to see people preparing altars with candles, cakes, incense and wine in front of their shops, restaurants and houses to pray for all the unlucky ghosts who are wandering on the streets at night with the hope that they won't disturb their business, their happiness and their normal life. That is also the reason why you can see the local people here they burn incense and cinnamon in the morning- the time they start a new day with the hope that the good smell of incense and cinnamon will bring them good luck all day and help them chase bad spirits.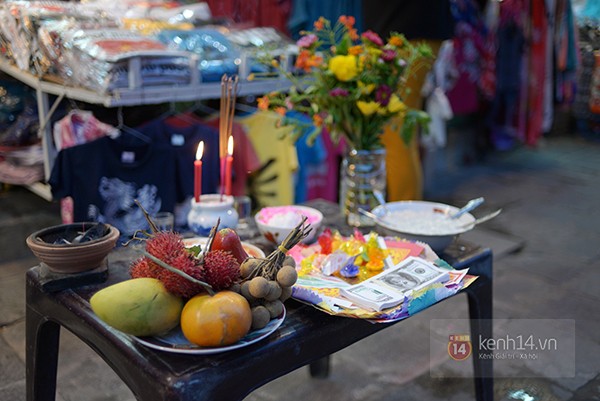 Special note: When you come to some shops in Hoi An in the morning, you can get good price – morning price. Because sellers want to sell fast – buy fast so they can get good luck for the whole day. However, you should not visit a shop early in the morning without buying anything because you may be their first customer of the day which means that it's not good if you don't buy anything. First customer of the day is considered to bring the owner of the shop good luck and good business during the day, so you need to buy something even it's small. You'd better go shopping after 9 a.m
3. Local food
When you come to Hoi An, you should not miss some specialties here: Cao Lau, Quang Noodle , White Rose, coffee with condensed milk and many local food that are not available on your guide book. You will have wonderful feelings when enjoying them. It is greater when you have a local guide who take you on a motorbike and explore Hoi An food. Not just eating, with a guide by your side, you can get many useful information about local food, have chance to talk to local people and have sight – seeing included on the tour. Come and enjoy with us at Hoi An street food tour by motorbike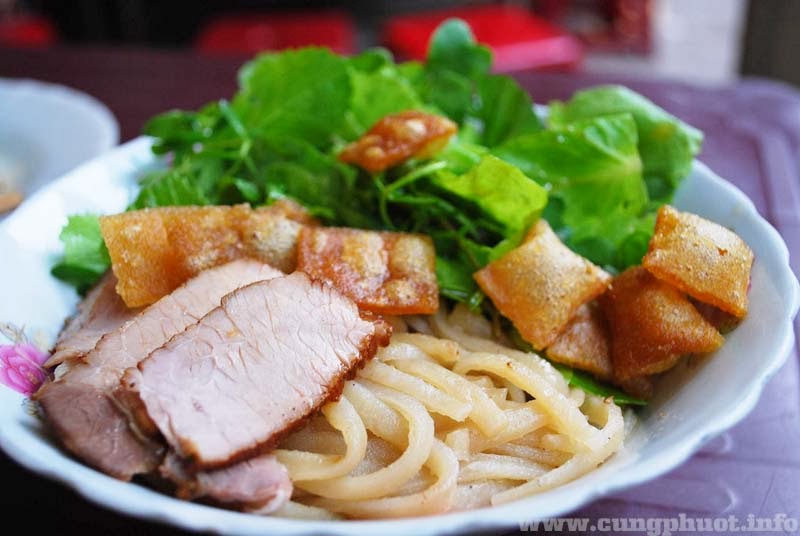 Special note: This tour is available in the morning at 8.00 A.M or in the afternoon at 3.00 P.M. You can choose motorbike as the way you discover local food here. If you don't like to go on a motorbike, you can choose the walking or cycling tour.
4. Cam Thanh coconut village
About 5 kilometers from the old town, Cam Thanh Village is where you can make your trip back to nature. This village is well- known as a very peaceful and relaxed place for tourists with the water coconut forests. One of the most popular activities there is the Cooking Class and Eco Tour. Not just cooking, you can do some work as a real fisherman like fishing, riding basket boat, and chatting with local people here. More information about the tour at Hoi An cooking class and eco tour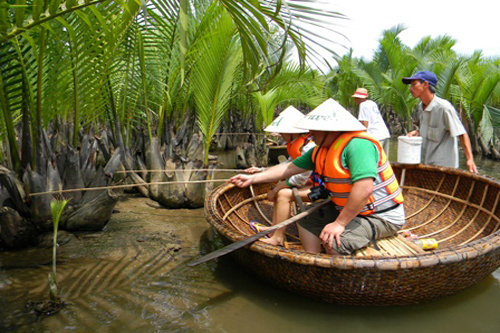 Special note: You should join the tour on sunny day or light rainy day so that you can enjoy more. It is too wet and not comfortable on rainy day.
5. Duy Hai fishing village
Close to Cam Thanh Village, Duy Hai fishing village which can be reached by boat is really famous for making fish sauce in Hoi An. Going to the fish market and a local house to learn the way people make fish sauce here is really interesting. Please read more at Duy Hai fishing village by tour half day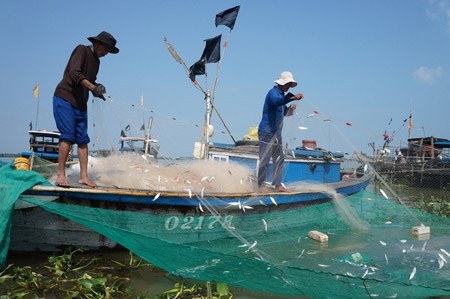 Special note: This tour is just available in the early morning 5.00 A.M. That time, the fish market is very busy because fishermen bring many fresh fish from previous night back home and sell for local people. You'd better join this tour on Dry Season when the weather is good so that you can have a safe and great trip on the boat.
6. Kim Bong Carpentry Vilage
Only 15 minutes by ferry from Hoi An Old Town, you can go to visit Kim Bong Carpentry Village. Here, you are seemed to be back to countryside of Vietnamese people with many rice paddies and buffalos. Coming here, you will have deep knowledge about how people make boats, Quang noodle and sleeping mats. In addition, you can listen to more stories about local people and local life here. Have a look at our tour at Kim Bong carpentry village at Kim Bong village bicycle half day tour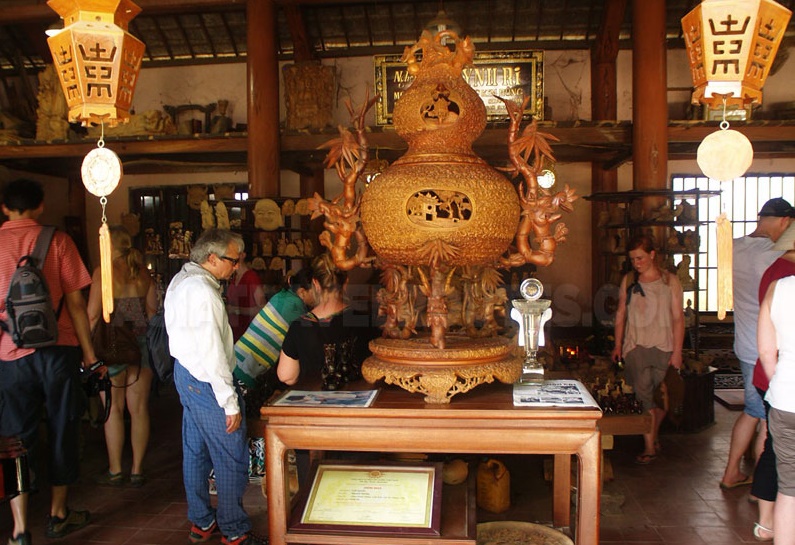 7. Tra Que Vegetable Village
Hoi An has been famous for vegetables a long time ago and Tra Que Vegetable Village is a wonderful place where people produce vegetables that you shouldn't miss. 15 minutes by cycling from the old town, you will arrive this veggies village. Farmers here – they prefer seaweed for fertilizing for veggies, not chemical fertilizer, so veggies is really clean (organic). More interesting, you can have experience like a farmer when you grow and water the veggies here. Visit Tra Que vegetables village bike tour for more information.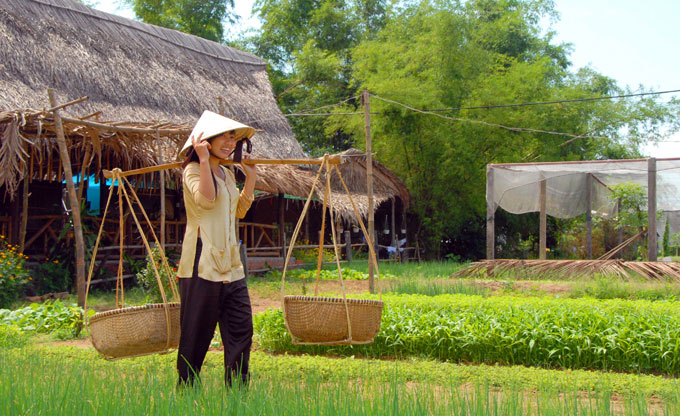 8. Thanh Ha Poterry Village
Once more village you should not miss in Hoi An is Thanh Ha Poterry Village which is famous for products that make from pottery. Coming here, you can understand more about character of the local people here: they are truly patient, skillful, careful and definitely talent. Come and learn how to make pottery products like a local. Visit Thanh Ha pottery village for more information.
Transfer Service
Hoi An has very good location: only 30 minutes by private transfer to Da Nang city – the biggest city in the Central and about 1 hour to My Son Holly Land or 3 hour to Hue city. If you want to have an easy and happy travel, have a look for our transfer services here Hoi An rental car
You are looking for transfer service in other places in Vietnam and other tours? Please have a look at our website https://hoianfoodtour.com