There are plenty of cooking classes in Hoi An which gives a difficult option for tourists who are interested in cookery. Countless restaurants, no matter what their size or location, offer courses lasting from an hour to a day, at varying prices. It is not hard to join one but hard to find one that offer choice for veggies.This article Hoi An Vegetarian cooking class will give you an overview about the cooking tour market.
The tips are you should think about the following before making your choice:
How much time do you want to devote to the class?
How much do you want to spend?
How important is location / the venue?
Do you want a one-to-one experience or are you happy in a big class?
What do you want to cook? Do you want to go on a market visit?
These are some vegan cooking class in Hoi An for you to choose:
1. Mama Home Cooking Class
You will learn how to cook Vietnamese daily food in the cozy house with warm and fun Mama who had 20 years of experience of selling street food for a living. Mama Nở (Flower, 1954) who is not a professional chef but passionate and has a large knowledge of Vietnamese cuisine and culture. Born in Hue ( food capital of Vietnam) and she knows many recipe secrets that have handed down from her family generations. If you don't like to do a very touristic but a hand on cooking class with authentic food- try Hoian Mama Home Cooking Class.
No market tour. 19 USD/ 1 pax. Money back guarantee! 
More detail at Hoian Mama home cooking class
2. ThuanTinh island cookery class
ThuanTinh cooking class includes a few additional activities. Firstly, the guide will take you to the market to purchase some fresh, local herbs. Then, you have a trip on a river boat for a relaxing 30 minute ride to ThuanTinh Island, which is recognized by Hoi An as an official ecological zone.
You will have chance to visit the Local Village with a boat ride through the water coconut trees before join the class.
After being amazed by a table called"Magic Spinning Table" which turns on your command and is famous all over Vietnam, it's another relaxing boat ride on the Thu Bon River, savoring the tastes and knowledge of amazing Vietnamese food
The weak point of this tour is there are only four dishes in the menu.
Vegetarian Options Available upon request.
Duration: Nearly 5 hours form 8:45am to 1:30pm
Price: US$ 32/pax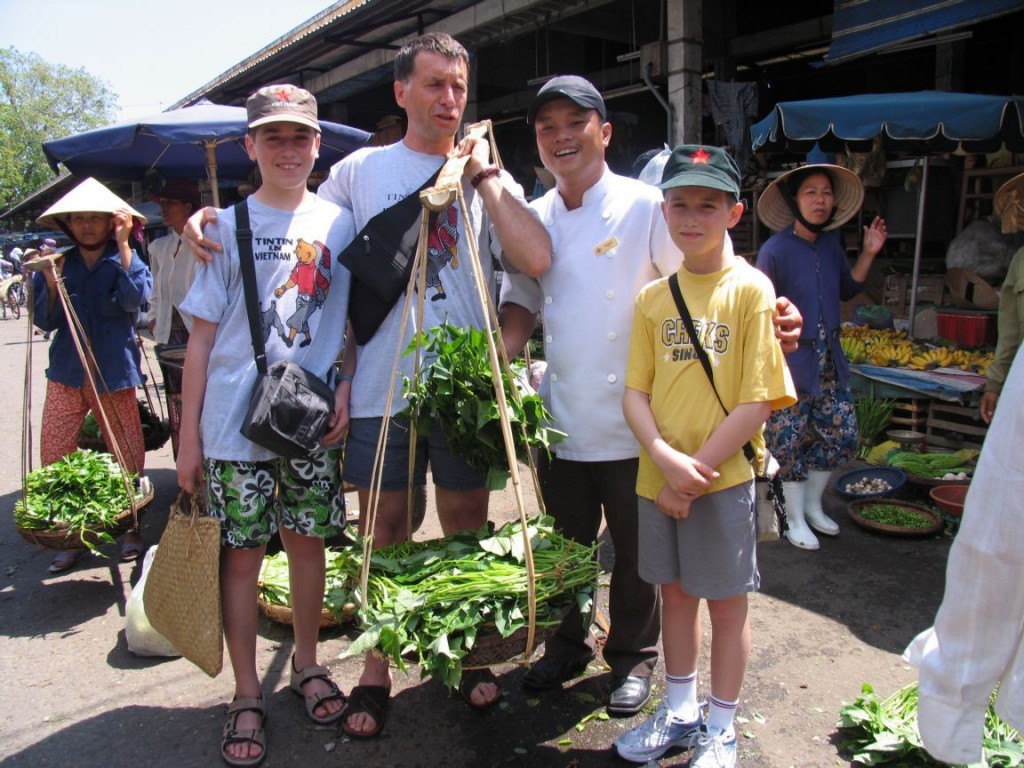 3. Red Bridge Cooking Class
Join the class, you will visit Hoi An's colorful market, have the opportunity to interact with the local sellers and learn about all the ingredients to be used in the cooking lesson.
You will be on the Red Bridge boat for a leisurely cruise (25 minutes) along the Hoi An River to the Red Bridge Cooking School. This is a chance to view local river life, so make sure your camera is handy.
On arrival, you explore the cooking school's herb garden, before learning about some of Hoi An's and Vietnam's well-known dishes.
One thing special in this cooking school is that they offer free use of a 20-meter swimming pool. Hence, remember to bring your swimsuit and enjoy it after the cooking tour.
The menu includes 6 dishes.
Duration: Nearly 5 hours from 8h15 to 1 p.m
Price: US $30/pax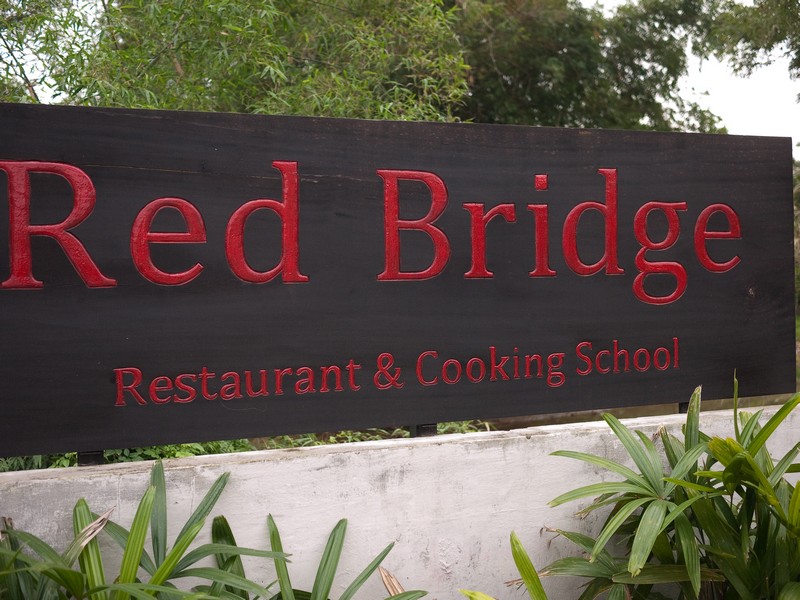 4. Hai Café Cooking Class
Located in a landmark building, in the heart of 'Old Hoi An', Hai Cafe Bar & Grill is an impressive setting to enjoy breakfast, lunch, dinner or a drink.Hai Cafe also offers evening cooking classes as part of its Red Bridge Cooking School.
Your chef will introduce you to the local ingredients, take you through the preparation, and explain the Hoi An style of cooking. Then it is your turn to chop, grate, crush, slice, roll and cook the ingredients into a delicious meal.
Your 5 course dinner also includes 2 additional Hoi An specialties* – White Rose and Fried Wonton. These secret recipes are made by only 1 family in Hoi An, and are included in the meal, but are not part of the cooking class.
The menu includes 3 dishes.
Duration: 2 hours from 6 p.m to 8 p.m
Price: US $19/pax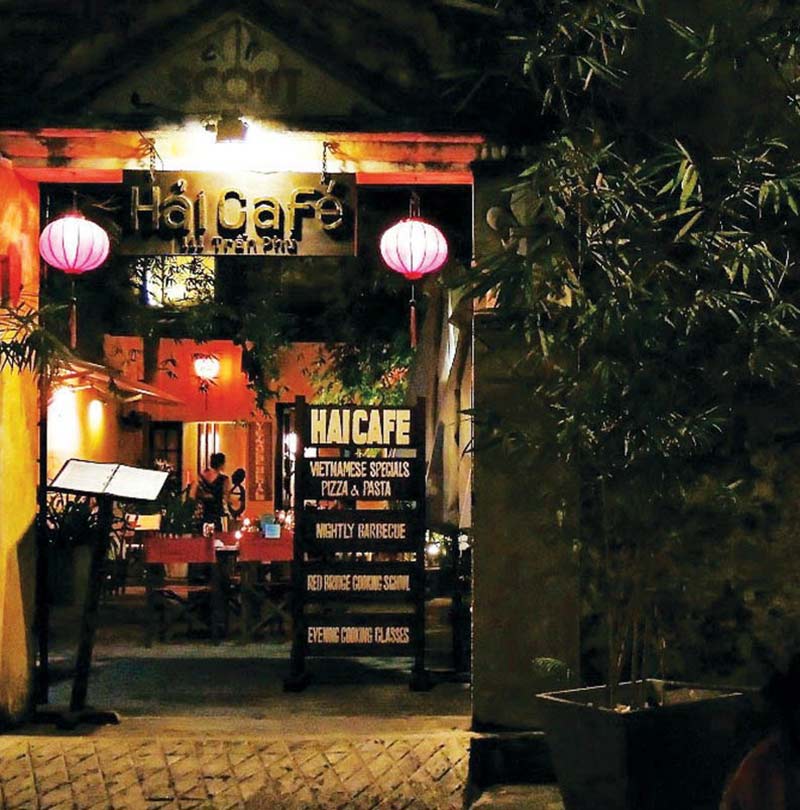 5. Morning Glory Cooking Class
It's directed by Vy, owner of several restaurants in town, founder of  Mermaid Restaurant, an authority on Vietnamese cuisine and author of TasteVietnam. She offers four courses: Vietnamese Street Food; Herb Garden Bicycle Tour and Cooking Class; Hoi An Market Tour and Cooking Class; and Gourmet Class with Ms.Vy. All the classes are informative, incorporating a talk as well as the practical session
You will learn to cook in a very professionally organized, school-room-style environment. However, note that classes can have up to 30 people and some people feel the whole experience is perhaps just a little too slick and organized.
Duration: 4 hours from 8h30 to 12h30
Price: US $32/pax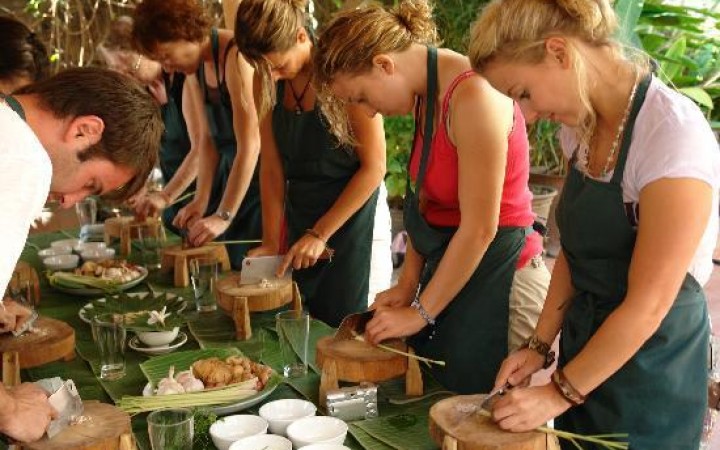 6. The Lighthouse restaurant and cooking class
Lighthouse cooking class is one of the higher-end places that doesn't do collective group classes — they run intimate classes for individuals or small groups.Lighthouse Restaurant, located on Cam Nam island, the other side of the river from Hoi An's old town. The course started with a tour of the local market, experience the hustle and bustle of a traditional Vietnamese market place and gain a wonderful insight into the daily lives of Hoi An people. Then you walk along the busy riverfront area before boarding their private boat for a short transfer across the river to the Lighthouse Restaurant. They try to use ingredients that Westerners would be able to buy back home, so it is a very practical course. They also gave out printed copies of the recipes with detailed instructions to help you remember them.
They also run bicycle tours before the market tour, which are apparently a very good way to meet some true locals, off the tourist track.
Duration: 4  hours from 10 a.m to 2 p.m
Price: US$21/pax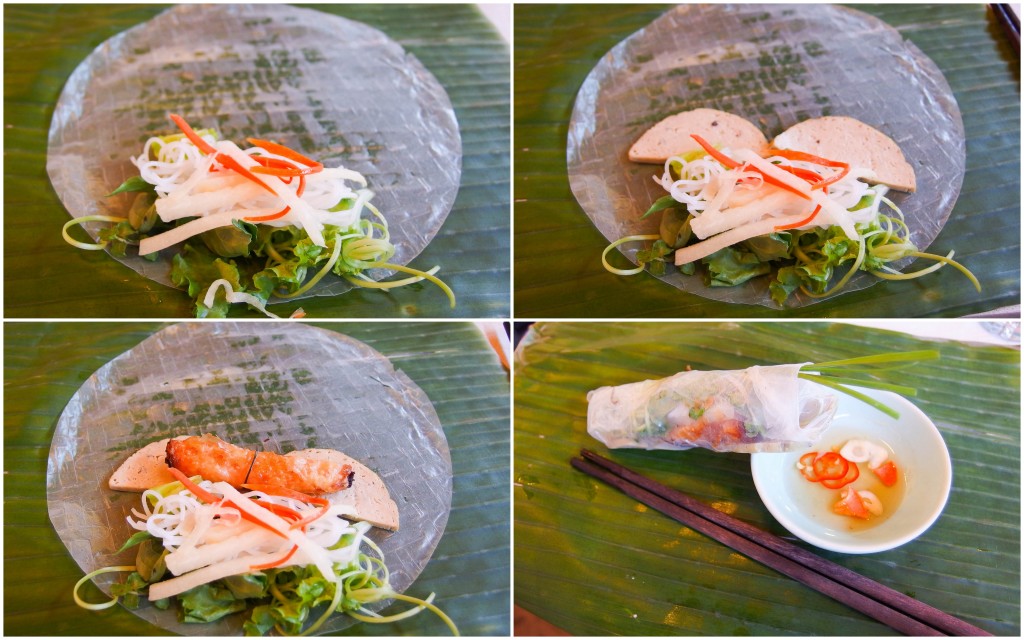 7. Green Bamboo Cooking School     
Green Bamboo Cooking School in Hoi An run by a multilingual Vietnamese chef named Van.This cooking school was opened in 2010 as a natural extension of the hospitality she has been offering visitors to Hoi An for years. Van is also a perfect hostess with a deep knowledge about Vietnam and what is most interesting for foreigners.
This course is suitable for both experienced cooks wanting to learn new techniques or amateur chefs who simply want a fun day out.
Unlike other tours which have a prescribed menu and itinerary, Van gives her guests a menu to choose a dish from before commencing tours. There are 53 dishes to choose from, 17 of which are vegetarian.You will then go around the local market with Van to buy ingredients and learn more about local products. Then you go back to Green Bamboo Cookery School to cook a variety of local dishes of your choice.
Small class size (2–10)
Duration: 7 hours from 8 am to 3 pm
Price: US$ 40/pax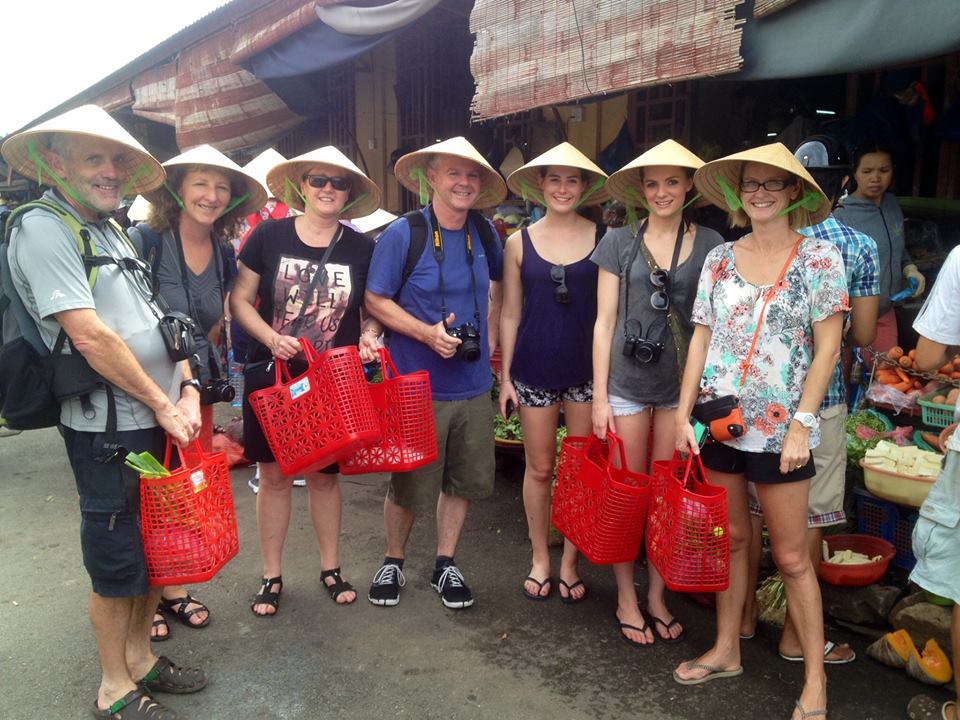 8. Kamawater cooking class
Kama water in Vietnam is a family owned and managed business by Paul and Duyen since 2005. All Karma Waters employees & owners are vegans who aim toprovide and promote a healthy organic vegan lifestyle.
Their vegan restaurants cuisine (100% pure vegetarian) includes International, Indian & Vietnamese.
You can reserve the dishes that you want to learn to cook & eat. The weak point is this cooking class does not offer additional activities such as visiting the market or purchasing stuffs like others.
Add: 213 Nguyen DuyHieu, Hoi An, Vietnam.
Start at 10 a.m or 4 p.m
Price:
One person: 3 dishes for US$40 or 5 dishes for US$60
Two – four persons: 3 dishes for US$30/ person or 5 dishes for US$50/ person
Maximum group size 4 persons.