Many vegetarian travelers worry about vegetarian food when they travelling. Our artical " Where to try Vegetarian Food in Hoian" will give you best local vegetarian restaurant address to try so  don't worry. Just travel!. Vegetarian in Hoi An is more and more popular. There is loads of Veggie food in Hoi An so finding vegetarian food is not a problem. At the new moon and full moon, many Hoianese don't eat flesh, and vegetarian restaurants are full. There is a wide variety of vegetarian cooking styles for you to choose from: ultimate vegan (no animal-related element), Buddhism vegetarian (still using milk, honey, anything that do not kill living creatures) and vegetarian with eggs.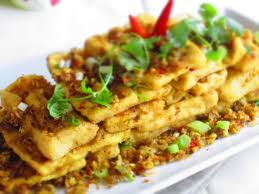 Fried tofu with chili is local favorite
Vegetarian Food in Hoi An
Hong An
Add: Alleyway 343 Cua Dai Street
It is run by a vegan family from their house. If you're looking to experience the more traditional side of Vietnam, this is for you. This is simple, tasty and super cheap. Meal cost around 90k Dong with some drinks for two people. Meals include tofu seasoning not commonly found in the area. Offers Hoi An local specialties, cau lau, rice with veg and tofu, noodles, vermicelli, and special Hoi An noodle. Seasonal selection of fruit shakes and offers non-alcoholic beer from Holland. Cash only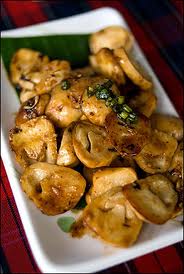 Mushroom
Karma Waters – Hoi An
Add: 213 Nguyen Duy Hieu
Karma Waters IS 100% vegetarian restaurant which serves breakfast (try the banana pancakes), lunch and dinner. They have great healthy fresh juices and shakes, amazing coffee, and soo much food to choose from. Salads, burgers, hot dogs, pizza, pancakes, Vietnamese food, rice dishes, Indian food, and soups, and some desert. Be sure to try the spicy mixed vegetables and the crispy tofu!
Karma Waters also offer cooking class. They have a chef and an interpreter for a 2 hour class, plus meals. No MSG or added sugar. Dishes from 40,000 VND. No alcohol or smoking. Accepts credit cards. Open Mon-Sun 10am-8.30pm.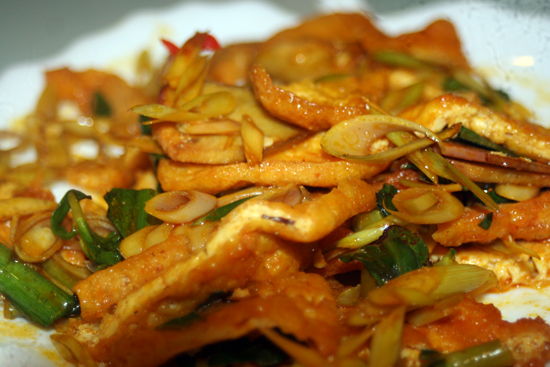 Tofu with lemongrass
Quan Chay Dam – Co Dam
Add: 71/20 Phan Chu Trinh
Family-run eatery where you choose from many veggies and soymeats dishes, rice, and noodle soup. This restaurant is situated in a small alley where between Le Loi and Hai Ba Trung so you have to look for it. Food is served during limited hours, so better get there on time. Limited English, but freshly cooked and very nice.really nice mix of vegetables such as spinach, roasted eggplant, spicy bamboo, okra and lots of tasty mockmeats like chicken fish and tofu, you also get a soup on the side! Cash only. Open Mon-Sun 7am-8pm.
Quan Chay Nhat Da
Add: 98 Phan Chu Trinh Street
Mockmeats and nice bamboo dishes, mostly daily buffet. Go when busy, morning and early lunch. Free green tea. Both noodles or rice cost 15000 dong each. Uses MSG. Directions: Located west of the town center. Take Hai Ba Trung (D Nhi Trung) away from the river and turn left onto Phan Chu Trinh (also written as Phan Chau Trinh). Number 98 is further west, past Nhi Trung. Cash only. Open daily 6am-7:30pm.
Carol's Raw Energy Cafe
Add: 45 Cua Da
Housed in old traditional Vietnamese architecture by the river, this raw food cafe offers raw meals, desserts, and beverages as well as raw food preparation classes and detox programs. Free wi-fi. May 2013 re-opened after short period of closure. Has outdoor seating. Wheelchair accessible. Cash only. Open Mon-Sun 7am-7pm.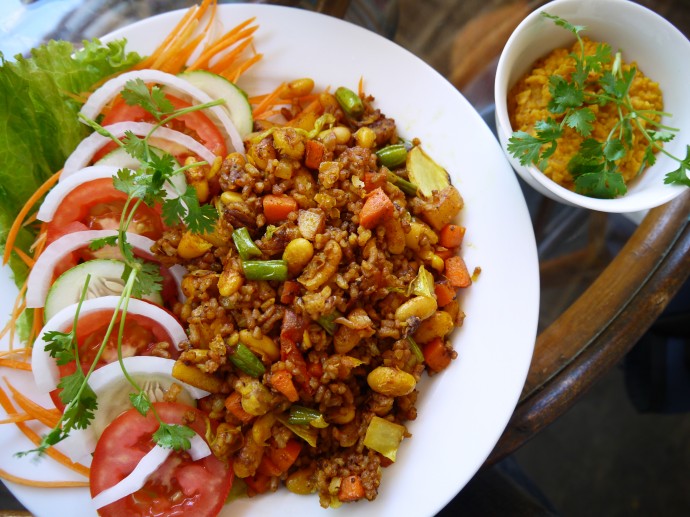 Hoi An Vegetarian food
Here are some tips to eat a vegan diet and eat healthy while on vacation without much hassle
Bring Food Along: It is always smart to pack snacks. bring along some vegan cheese, pine nuts or hemp seeds to sprinkle on a salad, or make some raw fruit treats for the road
Research before Travel: It gets more difficult the further you travel outside the cities and tourist towns. You should do some researches before you go. Keep some vegetarian restaurants address in hand and ask your hotel to double confirm the address. Show it to taxi driver and then go.
Learn the Language: it is helpful to learn a few phrases in the native language. Assemble a list of basic vocabulary words that relate to foods vegans typically eat.
Offer Ideas at Restaurants: Restaurants try to accommodate patrons, but many wait staff are not always familiar with the needs of a vegan diet. It may fall to the guest to ask questions and make suggestions to help inform the staff.
More detail at Vegetarian food in Hoi an and Vietnam.
We think that the list of Where to try Vegetarian Food in Hoian will be a useful tip for your trip here !