Steamed Pork Bun
Ingredients
For yeast mixture:
255ml luke warm milk (1 cup + 1 tbsp)
2 tsp dry instant yeast
1 tbsp sugar
1/2 tsp salt
For the flour mix:
500g (1.1 lb) all-purpose flour
2 tsp baking powder
100g (1/2 cup) sugar
2 tbsp vegetable oil
For the fillings:
250g (0.55 lb) minced pork/chicken
10g shitake mushroom (1/4 cup)
10g woodear mushroom (1/4 cup)
1 tbsp minced shallot
1 tbsp minced garlic
1 tbsp oyster sauce
1 tsp sesame oil
3 tbsp charsiu powder (red pork seasoning powder)
2 tbsp tapioca starch
1/4 tsp pepper
1/2 cup diced onion
1/2 cup diced carrot (or water chestnut)
4 hard-boil eggs
4 Chinese sausages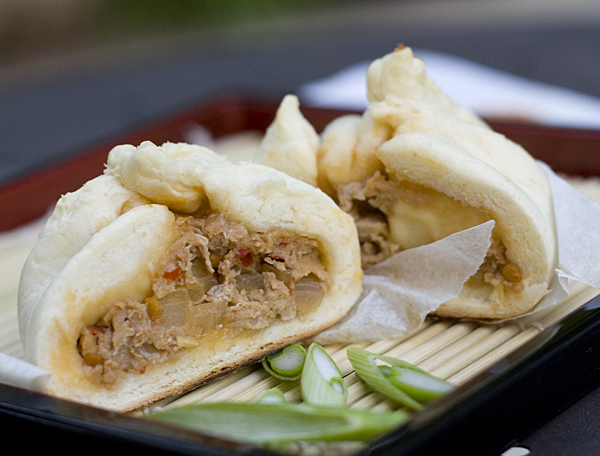 Directions
Soak dried mushroom in hot water for 15 minutes.
Mix all ingredients for yeast mixture: milk, yeast, sugar, salt. Stir well until yeast dissolved and set aside 5 minutes.
Mix all ingredients for flour mixture: flour, sugar, baking powder. Make a hole in the middle and add in vegetable oil, and the yeast mixture. Mix well with a spoon and knead into a soft non-sticky dough. Place dough in a large bowl, cover with a damp cloth and let dough rise in a warm place (37°C/99°F) for 1 hour or until the dough doubles in size.
Prepare the fillings: Rinse the soaked mushroom and mince or process (not too fine) in a food processor.
Combine all ingredients for fillings:  minced pork, minced mushroom, minced shallot, etc. Mix well and let marinate for 30 minutes. Divide in to 8 equal balls.
Hard boil eggs for about 10-12 minutes. Peel and halve lengthwise.
Cut Chinese sausages into thin slices diagonally.
After resting for 1 hour, the dough has doubled in size. Remove from the bowl and knead a few minutes to remove the gas inside. Drop a few drop lime juice to make the bun whiter in color. Divide dough into 8 pieces, shape into balls and cover with damp cloth, let them rest for 10 minutes before shaping.
To shape the bun, roll the dough into 1cm thick disk with the edges thinner than the center. Top up with the fillings and shape into a bun as demonstrated in the video.
Let the shaped bun rest for 10-15 more minutes in a warm place before steaming.
Wrap lid of steamer with kitchen towel to avoid water dropping into the bun. Steam 25 minutes.
The buns can be stored in the fridge up to a week and in freezer for months. Steam again (5-10 mins) or microwave (2 minutes) if to eat on the next days.