Vietnamese Banh My Que or Vietnamese BreadStick- a new style of Vietnamese Sandwich, become more and more popular nowaday. What do usually eat for breakfast? For me bread is one of my favorite dishes that I often eat in the morning before having a hard working day. I'm sure that Bread is not something new to you and you are so familiar to this dish, right? Bread is very popular not only in Vietnam but also in many countries in the world. And now I will tell you more details one kind of breads and I strongly believe that you will like it. It is called Breadstick.
You know, French is the kingdom of bread and bread was introduced to Vietnamese people in the late eighteen century when Vietnam fell under French's colonial rule. And after that bread is quickly popular in the whole Vietnam.
Typical ingredients to make breadsticks include wheat flour, water, salt, either oil or fat and dry yeast or a chemical raising agent. Breadsticks are easily made with simple bread dough: roll or cut the dough into strips and bake in a moderately hot oven until the color of dough turn into golden-brown. To have a crisp bread stick, the temperature of baking is very important. Larger breadstick, like baguettes or stirato, should be used as fresh bread.
The diameter of thin breadstick is about 2.5cm, are usually sold fully crisp. Like crackers, they can lose their crisp texture in storage, but can be re-crisped in a hot oven for a few minutes. If you buy some breadsticks and not feel hungry at all, you can store them in an airtight container to last the crispy of the cake.
Vietnamese Banh My Que
The shape of breadstick looks very attractive and eye-catching. The combination of the crispy of bread and fragrant pate make flavor characteristic for breadsticks, one of the favorite fast food today. The breadsticks are made from the best powder combined with the proprietary recipes and baking so that you always feel the characteristic crispiness when you enjoy.
In Vietnam you can see that bread is served in many stores in the streets and as a kind of snack. Breadstick is very famous because of the powder and the exclusive recipes. If you try one time you can realize the differences between breadstick and normal bread, especially when you put the breadstick overnight and bake on the next morning, it still remains the crispiness.
The breadstick is very nutritious because the quality standard is very safe and hygiene. They have gone to the heart of Vietnamese people because the taste is not found anywhere else.
Let's try when you come to Vietnam to visit. I am sure this is one of experiences when you travel. Let's try and take photos to keep memories about the trip in Vietnam.
I will recommend some famous places in Da Nang City that you can drop by when you come here to visit: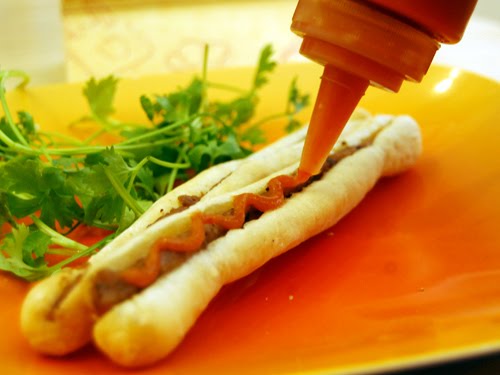 Vietnamese Banh My Que
74 Lê Duẩn street, Hải Châu district.
Phan Chu Trinh street, Hải Châu district.
107 Trần Phú street, Hải Châu district.
767 Trần Cao Vân street, Thanh Khê district.
Hope that you will have unforgettable days in Vietnam and enjoy a lot of new dishes before you visit other beautiful countries.
You, guys take care and have a great day.
http://en.wikipedia.org/wiki/Breadstick