What to eat for breakfast in Hoi An
Unlike Western people, Vietnamese people in general and Hoi An people in particular prefer to go out for breakfast rather than prepare it at home. It is easy to see many small areas selling different kinds of breakfast when wandering around Hoi An in the morning. The residents of Hoi An ancient town simply want to save their morning time by doing that. Moreover, they would like to go out to meet other people, have a talk with them or just to say Good morning. That is all!
So, what to eat for breakfast in Hoi An?
There is a variety of dishes for breakfast there.
1. Quang noodle – MiQuang
MiQuang – Quang noodle is known as one of the most famous dishes of Danang. The soul of a Quang noodle bowl is created by the thick, hard and rough rice noodles as its features. There is no fixed recipe for making Quang noodle. It is diverse in styles: spare ribs Quang noodle, snakehead Quang noodle, eel Quang noodle, fried crab Quang noodle, etc. However, the traditional one is Quang noodle with shrimp, chicken, egg or pork. Especially, roasted peanuts and toasted sesame rice paper are indispensable components of Quang noodle. Unlike the other kinds of Vietnamese noodles, Quang noodle is served with just a little broth.
Where you can try Quang noodle in Hoi An:
Mr Hai restaurant at 6A Truong Minh Luong
Ms. Bich restaurant at 272 Hung Vuong
Street vendors in Thai Phien Street
Price: VND 20,000-25,000/bowl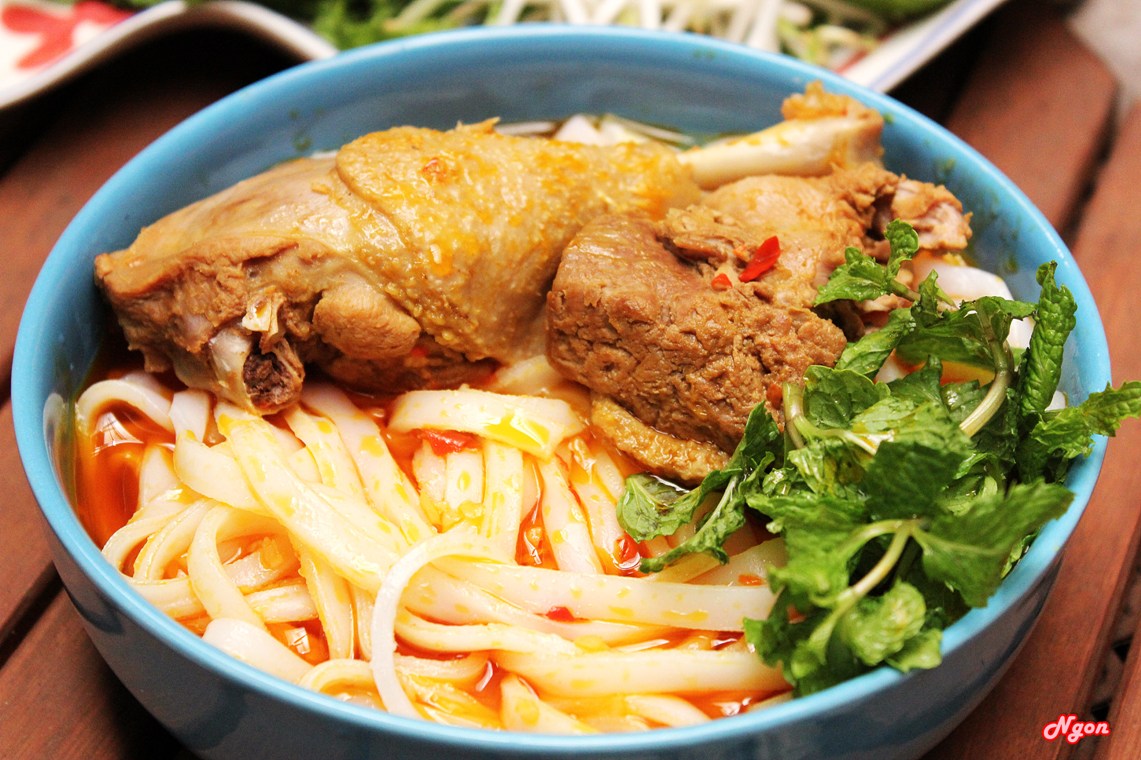 2. Bread – Banh mi
Bread is the most famous breakfast for not only Hoi An but also Vietnamese people. Banh mi is the term people here use for all kinds of bread. Vietnamese bread is more airy with thinner crust than the French one, which accounts for a large amount of ingredients they can put into it. A banh mi can contains a variety of ingredients inside such as pan-roasted pork belly, pork floss, liver pâté grilled pork, chicken floss, canned sardines in tomato sauce, Vietnamese sausage, handmade mayonnaise, fried egg,…combined with pickled papaya, carrot, sliced tomato, cucumber and some herbs like cilantro, spring onion, basil,…
There is also banh mi with only tofu and salad for vegetarians.
The best banh mi in town is at 2B Phan Chu Trinh street, the Madam Phuong's bread shop opening from 6 a.m -10 p.m
Other place where you can find a banh mi:
Madam Khanh at 115 Tran Cao Van Street or any street food carts along roadside.
Price: VND 20,000/loaf
3. Sticky rice – Xoi
Vietnamese sticky rice or xoi can be a sweet or savory dish made from sticky rice and other ingredients. Xoi is a common on-the-go breakfast item of Vietnamese people, also a kind of snacks nationwide.There are many kinds of xoi including xoi bap (sticky rice with corn, sugar, fried onion and smashed cooked mung beans), xoidauphung (sticky rice with peanut), xoiga (sticky rice with shredded chicken), xoi dam bong (sticky rice with pork floss or chicken floss), xoithap cam (subgum), xoigac (sticky rice with the aril and seeds of the gac fruit),..
You can have xoiat a street vendor cart in front of PhapBao pagoda or a food stall opposite Ms. Ty chicken rice shop (27 Phan Chu Trinh St.)
Price: VND 8,000-15,000/dish
4. Hue beef noodle – Bun bo
Hue beef noodle soup is no longer strange to foodies all around the world. A bowl of noodle soup contain rice vermicelli with rare beef, or beef brisket, pork leg, coagulated pork blood, lemon grass, and other ingredients. The dish has the balance of spicy, sour, salty and sweet flavors bringing eaters unforgettable feeling.
You can have a bowl of bun bo Hue at the courtyard of a small tailor shop in Tran Hung Dao Street from 6 a.m to 8:30 a.m
Price: VND 25,000/bowl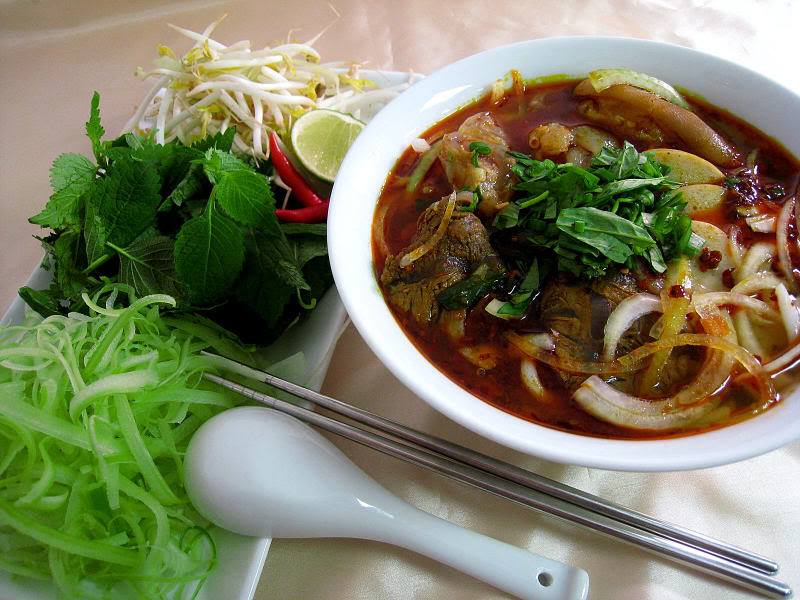 5.Caolau
"Cao" means delicacy and "lau" means upstairs, so "caolau" means delicacy eaten upstairs. In the past, caolau is a delicacy of international merchants eaten at high position in Hoi An restaurants. Nowadays, it is Hoi Anspeciality which cannot be found in anywhere else outside of Hoi An. The caolau with brown color noodle, char siu (Chinese barbecued pork) and fresh TraQue vegetables is a must-try for anyone visiting Hoi An.
You can find caolau at 26 Thai Phien (Cao lau Thanh) or some street vendors along Phan Chu Trinh Street.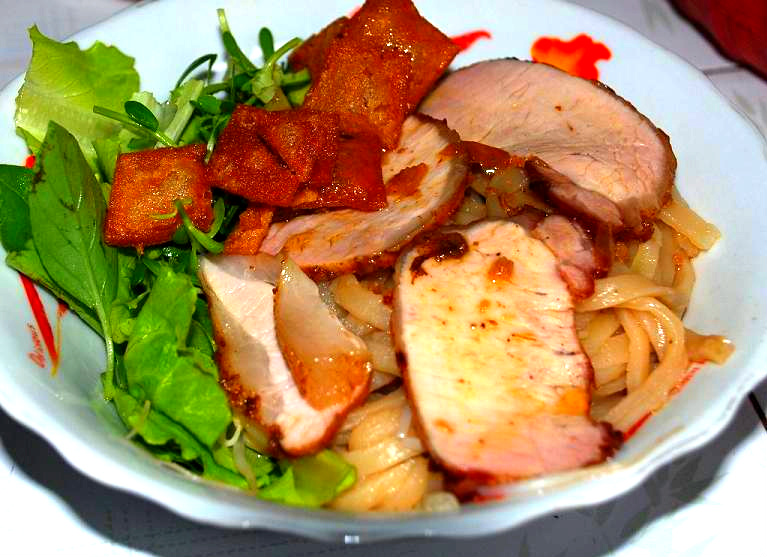 6. Pho
Vietnamese symbol noodle soup now appears in lots of restaurants in not only Vietnam but worldwide such as America, Australia, England. With the main ingredients including rice noodles, beef or chicken, Pho is an irresistible dish of anyone coming to Vietnam. In Hoi An, you can try pho at these addresses:
Pho Lien at 25 Le Loi St., Hoi An
Pho Tung at 51/7 Phan Chau Trinh St, Hoi An
Pho Xua at 35A Phan Chau Trinh St., Hoi An
Hoi An Market
Price: VND 20,000 – 30,000/bowl
It is so much easier now to find out the places to have your favorite food in Hoi An thanks to the advance of Internet. However, if you want to have large knowledge about the history of the food, how to make them as well as their origins and have more fun while enjoying the food, you should join a foodie tour. Hoi An Food Tour offers many types of food tours including the tours starting in the morning called Food on Foot tour and Morning Hoi An. For more information, visit Hoi An Food Tour at www.hoianfoodtour.com or email them at hoianfoodtour@gmail.com
Add: 567 Hai Ba Trung St, Hoi An, Quang Nam, Vietnam ( Near by Viet A Bank )
Tel: (+ 84) 976 128 977 (Vietnam)