Hoi An is not only famous for its old houses, small alleys, historic sites, good food but also for traditional craft villages such us Kim Bong Capentry Village, Duy Hai Fishing Village, Thanh Ha Pottery Village, Phuc Kieu Bronze Casting Village, Tra Que Vegetables Village,… It is a big mistake if you miss Tra Que village when you come to Hoi An. Although it is a small village, Tra Que supplies organic veggies for the whole Hoi An and nearby areas.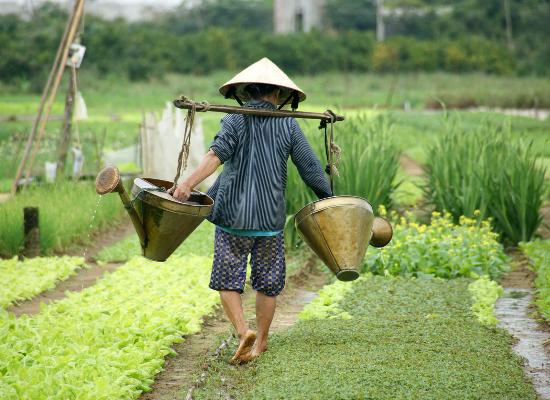 Escape from the bustling city just about 15 minutes by cycling from Hoi An old quarter, you will enjoy a farming area with nice weather and lovely people, a green area called Tra Que vegetables village.
What makes the vegetables here different from the other villages is the way people grow vegetables. In Tra Que, farmers use neither manure nor chemical fertilizers but a kind of algae found only in a lagoon in this village. The vegetables, hence, look green and beautiful naturally in their fields as well as possess outstanding tastes and flavors. Vegetables in Tra Que are loved and highly appreciated throughout Hoi An and nearby areas due to its freshness, good quality and safety.
>>> Explore more: schegen block travel insurance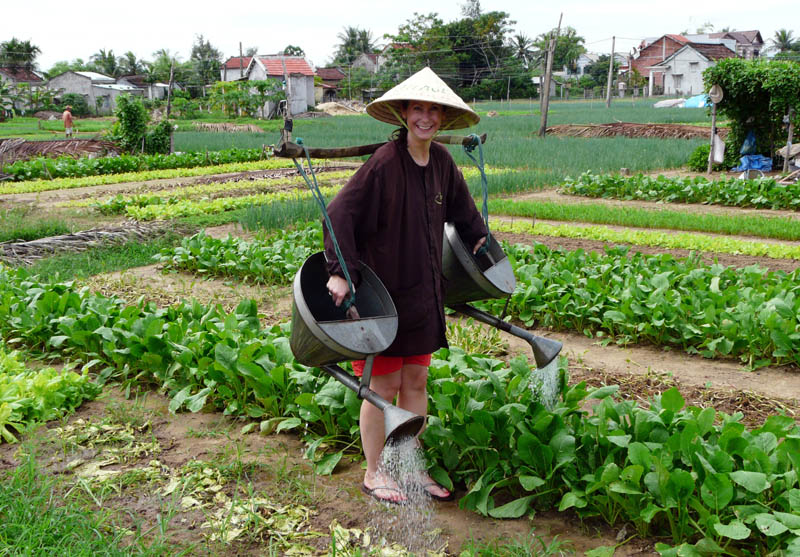 This village is famous for over 20 different kinds of vegetables and herbs such as basil, lettuce, spring onion, perilla, Vietnamese mint, cilantro,…In Hoi An as well as many other areas of Vietnam, people prefer to have meals with fresh vegetables. There are several dishes that need to combine with fresh vegetables when eating like banh xeo (pancake), spring roll, Quang noodle, cao lau, noodle soup…When several vegetables are mixed together, they will give you five flavors: spicy, sour, sweet, bitter, acrid which can make your mouth dances with satisfaction.
There are now about 220 households work on agriculture in this village, among those there are 130 households crop rotative vegetables intercropping on an area of 40 ha. Growing vegetables just can help them earning from 100,000 VND to 150,000 VND per day while they have to work despite the weather conditions. However, thanks to the development of tourism, the farmers here have chances to improve their life by offering service to tourists who want to visit their village as well as want to experience farmers' life. Therefore, visiting Tra Que village is not just an interesting way to spend your holiday in Hoi An and discover more about the local life here but also chance to help local people improve their living condition.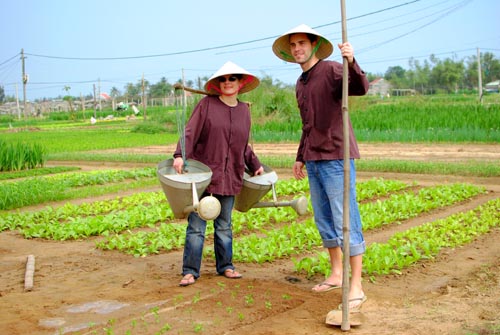 Tips:
– If you go by yourself, you can rent a bike (just 20,000 VND/bike/day) and cycle to the village. – To enter the village, you need to buy the entrance ticket which just costs 20,000 VND/ 1 ticket to look around and explore by yourself.
– Remember to bring hat, sun lotion and water with you during hot weather.
If you want to meet local people and understand more about local life, Tra Que Bike Tour Half Day is a good choice. Please have a look at Tra Que Bike Tour Half Day
With this tour, you can take a bike from your hotel to Tra Que Village, then you will have a chance to become a real farmer. Wearing farming clothes as locals, raking the ground, sowing, watering greens, picking greens and many more gardening activities will make you have lots of fun and interesting moments when being in this village. This is a great way to see how locals here live and how they love their job. With our young, lovely, enthusiastic guides and local buddies, we will definitely bring a great tour for you.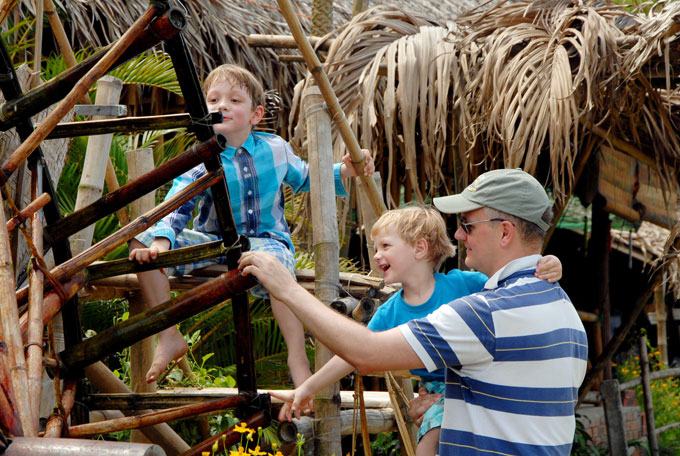 Start the tour by visiting local market to choose ingredients for your dishes then cycle directly to this village. To make your meal more delicious, you will go to the veggies garden to pick some veggies for your cooking. Please have a look at Hoi An Countryside Cooking Class
After cooking, you will have nice lunch made by yourself to enjoy. What's more, you will enjoy a herbal foot massage at the end which will give you relaxing moment after having a great cooking class.
>>> See also: European travel insurance Bao Viet