Ingredients  1kg pork belly 1 tsp five-spice powder salt, sugar, pepper We need 2 separate bowls for marinade
– Mix #1 to marinade the meat:
1 tsp salt
2 tsp sugar
1 tsp five-spice powder
1/2 tsp pepper
– Mix #2 to marinade the skin:
2 tsp salt together with 1 tsp vinegar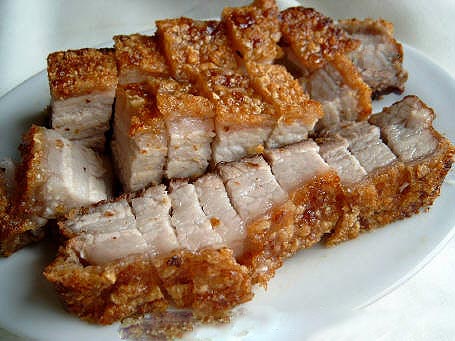 Thit heo nuong
– 1 kg pork belly with skin, wash well and pat very dry.
On the meat side, make shallow cuts (about 1 cm deep and 2 cm thick) across the length of the meat
Rub mix #1 all over the meat of the pork. Also rub the sides but don't rub on the skin.
Place pork belly meat up side down, pat the skin very dry and spread a layer of mix #2 all over the skin
Spread mix #2 all over the skin.
Place in the refrigerator for at least 3 hrs or overnight.
To roast, preheat oven to 200 degrees Celcius or about 400 degrees Fahrenheit.
Place pork belly into the oven for 20mins with the skin facing DOWN.
After that, take out and turn the pork over, the skin facing up. Use kitchen towel to clean the skin, pat it really dry. Brush mix 2 onto the skin again. This salt and vinegar mixture will make pork skin crunchy.
After another 20 minutes, you can see some part of the skin has become crispy. The skin is crackling and puffing up with little bubbles. Take out, pat the skin dry and spread mix 2 once more time.
20mins later… it is done!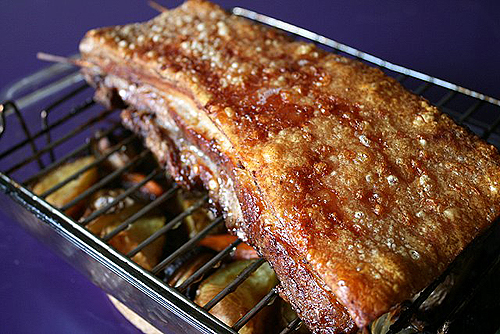 Thit heo nuong