Hoi An has been a favourite destination for art collectors. Many painters have moved to Hoi An Town to live, draw and open art galleries. You can see a hundred galleries selling painters around Hoi An. Most revolve around traditional Vietnamese life including nature, people and costumes; many depict a bygone era. Beside art exhibitions, the city also offers many art services like making portraits and copying masterworks.
TOP 7 GALLERIES IN HOI AN
1. COULEURS D'ASIE GALLERY
If you are looking for a portrait or you want to find something authentic, new and different from other galleries, Couleurs d'Asie Gallery will be your best choice. Couleurs d'Asie Gallery is owned by Réhahn – a French expat who has always lived with his passion for travel and photography. In December 2014, Réhahn was listed as the fourth best portrait photographer in the world by Boredpanda.com. His portraits will show you not just the art but stories behind emotional faces. All of his products has its own soul which words couldn't tell. His first photo-book "Vietnam – Mosaic of Contrasts" which shares the world his view and stories of Vietnam has been well known in many countries in the world. Stop at his gallery and have a look. It definitely a must visit gallery!
Address: 07 Nguyen Hue St.
Tel: +84 93 526 01 76
Find Réhahn's fanpage on facebook at Réhahn Photography
Website of the photographer: Rehahn photographer
2. HUNG LONG ART GALLERY
Walking to Hoi An downtown then encountering ahead of a little shop, it must be familiar to feel these coziness the atmosphere out. Located at 105 Nguyen Thai Hoc, Hoi An, Hung Long Art Gallery is to show a evidence of talented artist Nguyen Trung Viet.
His shop owns an array of painting works exhibited. With taken lacquer material primarily, he blows his soul to each picture describing Vietnamese girls in charming "ao dai".
Like a visitor on Tripadvisor said this shop was like a bunch of peaceful artworks. He found out "art is peace" here. Please visit it!
Address : 105 Nguyen Thai Hoc, Hoi An
Tel: (0510) 3 861 02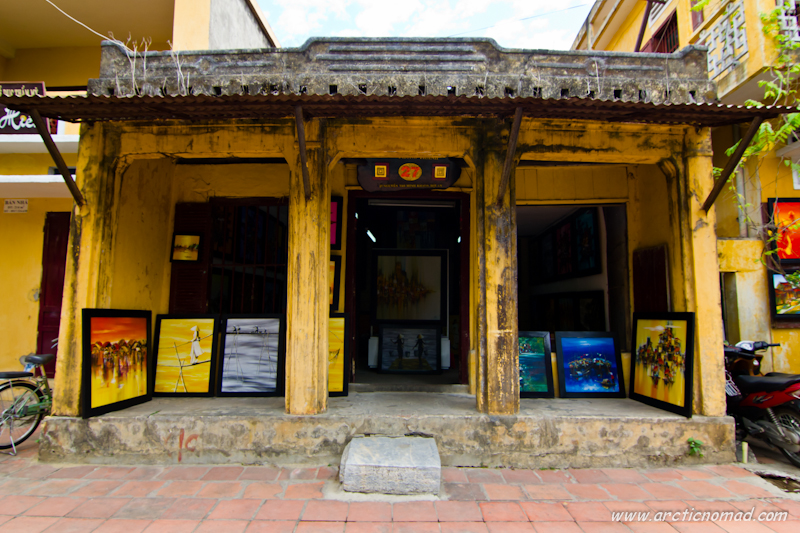 3. ART GALLERY 39
This shop boasts the simpleness at once but uniqueness with the girl on boat relaxing on lotus'lake. It is quite impressive with a great deal of colorful pictures. Specially, it is very close to Japanese Bridge then easy to walk through down. Like lots of shop in Hoi An, Art gallery 39 features particular beauty for those to feel. Highly recommend it!
Address : 39 Nguyen Thị Minh Khai, Hoi An
Tel : (0510) 3 862817
4. ART GALLERY 31
Taken an idea it would be set shop's name is the same with street's number. Art gallery 31 is truly introduced in list top by attraction of pics to artists. It is absolutely vague to normal people that is hardly to understand what does it mean.French architecture house is a also plus point to you be pushed into shop. The staff is definitely lovely, great price, good transfer make sure that it is safe to bring back home.
P/S : Art gallery 27, 23 (same street).
Address: 31 Nguyen Thi Minh Khai
5.HOI AN FINE ART GALLERY
Formerly French quarter of Hoi An, in a hub of old town risen a shop offers a wide range of photography prints.
You will be attracted at the first sight about Western architecture house, a baby pic smiled in shy appearance led you inside to take a look. It is really nice with great arrangement of artful photos.
Hoi An Photo Gallery officially opened in April 2013, to display Etienne's best travel photographs and also to be used as the office of the famous Hoi An Photo Tour & Workshop.
Add: 42 Phan Boi Chau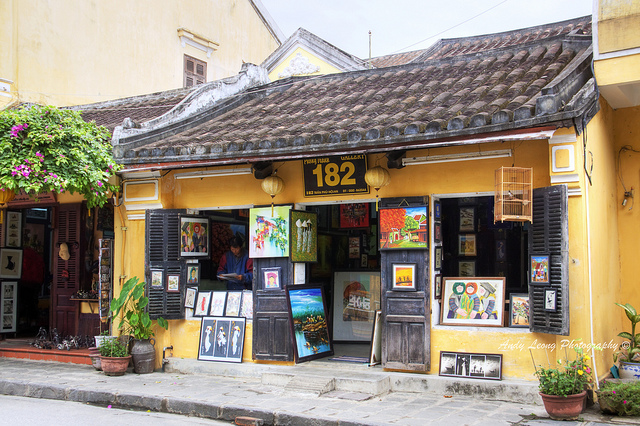 6. LY LY ART GALLERY
Add: 68 Phan Boi Chau, Hoi An
Near the Cam Nam Bridge, it is not hard to find out this shop. It is "easy-to-see" with nice space to take look. The theme describes lots of life affairs like women street vendors, or baby, rice paddies that close to people. This shop lies on former French street make you feel back to history. Near here have many spas, restaurants, bars, so give you options.
7. ART GALLERY PHAP
Address : 05 Phan Boi Chau, Hoi An
The house in white welcome you to visit by catchy colorful pics. Was a pic of market meeting selling goods, or appearance of surprise of lady ahead of blooming flowers. Along the street forward to beach, this shop is a good site to stop for visiting.