Top 11 Hoi An Activities at Night- It is not a coincidence that Hoi An ancient town is dearly called as one of the most stunning 20 cities of nightlife in the world. It is because Hoi An is not only beautiful during the daytime but also very sparkling at nighttime that more and more tourists coming to Hoi An to admire its beauty. The charming beauty of this small peaceful town immersed in nightfall makes the perfect reason for such reputation. How to best admire Hoi An at night?
Here's top 11 Hoi An Activities at Night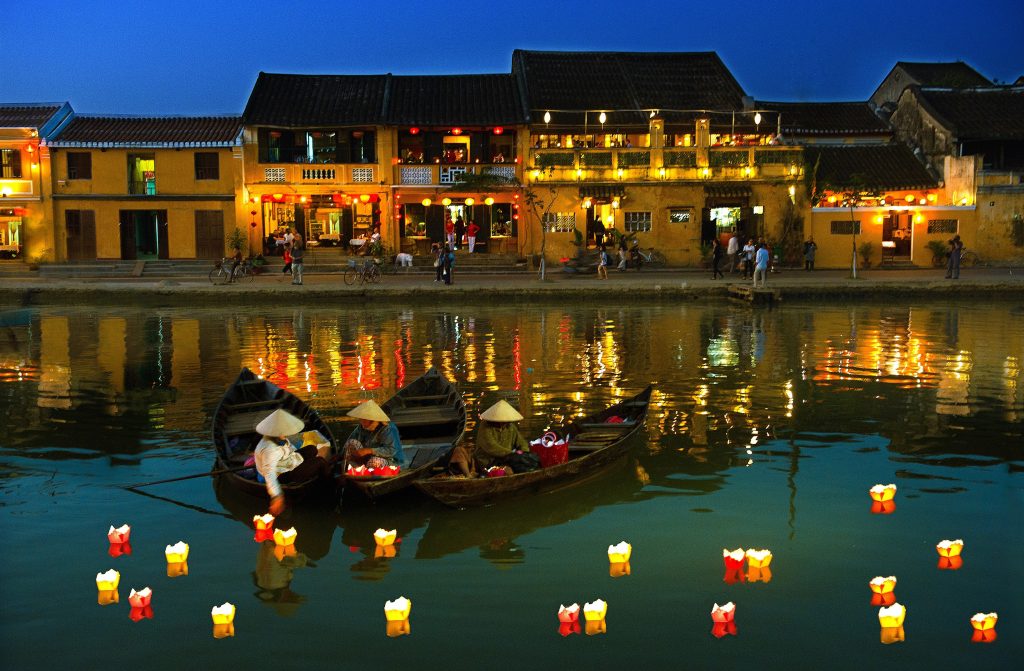 1. Watch the sunset from rooftop cafe – Hoi An at night
Grab a drink and let your soul dance across the tiled roofs of the ancient town. Make your way to these rooftops to discover Hoi An from another perspective, because sometimes, you should stand back and take a look at the whole picture to find out how each and every single piece plays its part in the mosaic. Knockout colonial buildings. Lanterns and gardens. Hidden rooftop bar overlooking the old town. It will be your best moment and you will witness the sun setting over the town, a truly once in a lifetime experience.
Join our Hoi An by night tour with home host meal to find out more about Rooftop cafe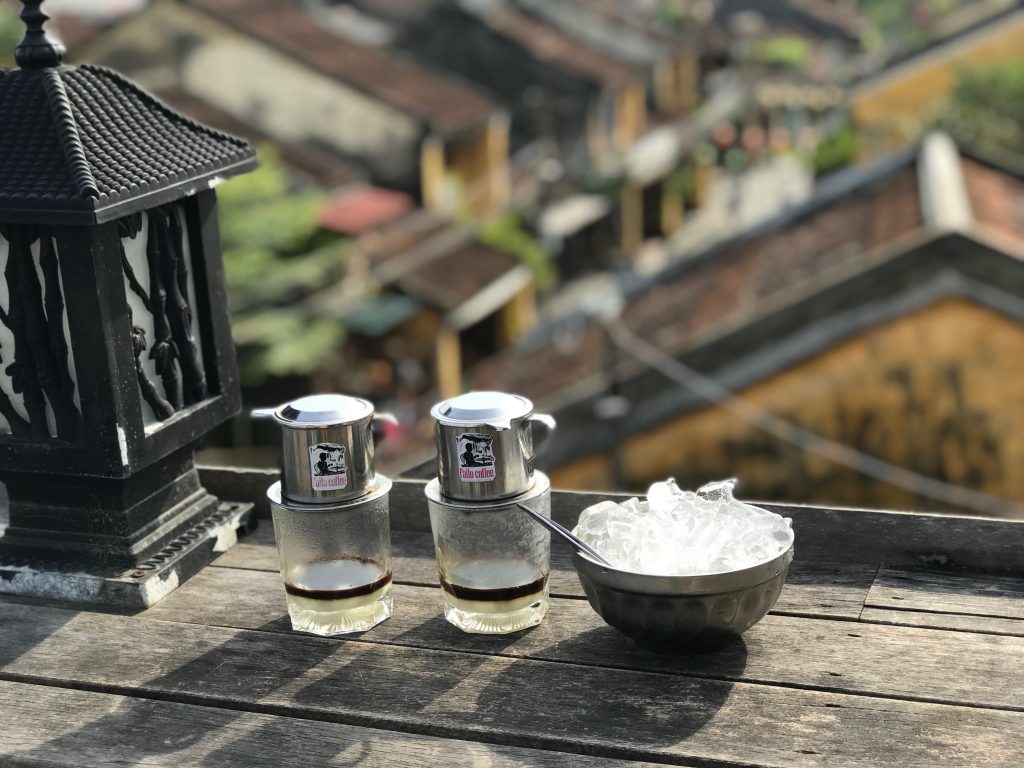 Roof top view
2. Discover Street Foods Paradise in old town – Hoi An at night
Another crowded and bustling destination near the Japanese covered bridge is the night food market. It is busy in the evening though it's deserted in the morning. How can you ignore the mouth-watering extensive collection of local cuisines here? Hawkers sitting along the bank of the Hoai river with their simply stuff, a couple of tables and chairs will make you feel like you are back to the old Hoi An ancient town.
Food sidewalk vendors sitting along Hoai riversides, along the narrow nostalgic street corners offer you a great opportunity to enjoy the authentic Hoi An taste while you can contemplate the old town's night elegance. You will be immersed in the glorious era of this port city back to 3 centuries ago.
A lengthy food list is waiting for you to break your own record of a huge supper include Cao Lau, Spring rolls, Wonton, Chicken rice, Quang Noodles, Xi Ma, Kem Ong, Che, Bun Thit Nuong, etc. The sparkling river slowly flows right next to your eating place. About the food price, you actually need not care much because most of the food here is made locally with regional ingredients, cheap and fresh. You can both eat and enjoy the view of the Hoai river which is very interesting.
Tips:
– Always ask the price before sitting down at vendors' stalls.
– Find the stalls where lots of locals come or there are lots of paper on the ground which mean that that the food there is very good.
– Don't pay too much attention about the cleanliness. Come on. You are trying street food. Everybody there is alive after eating street food day by day.
>>> Link auto: Travel insurance europe travel insurance, Schegen block travel insurance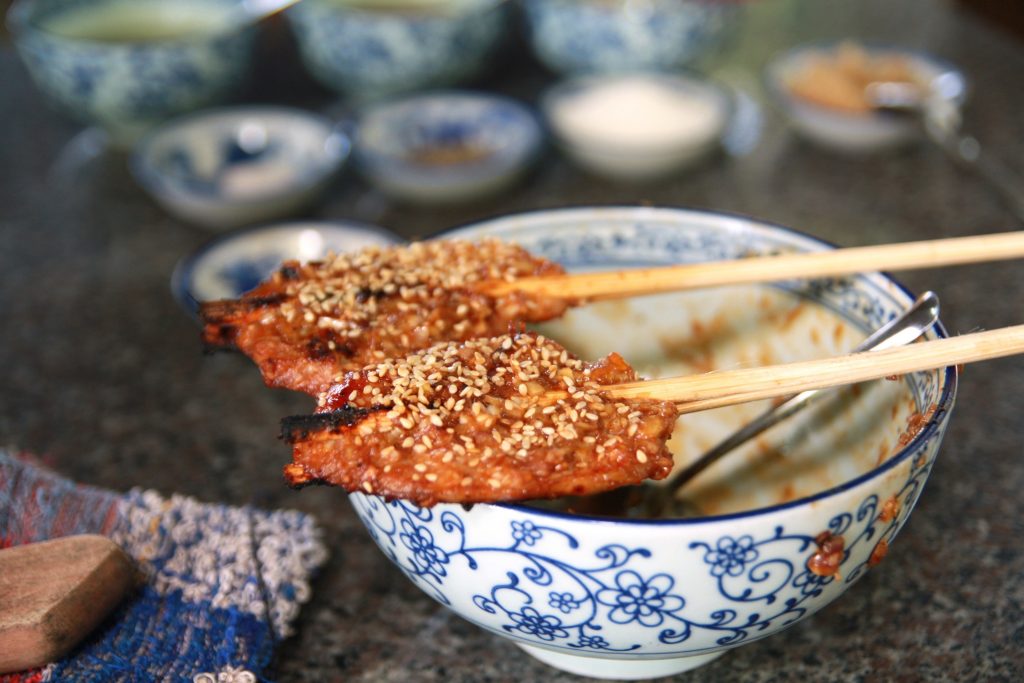 3. Stop for a stunning photo – Hoi An at night
As usual, after 6 pm every night, the whole city will be dipped into the warm honey color of thousands of lanterns magically lit and twinkling floating lotus candlelight paper lanterns floating along Hoai River.
Part of Hoi An which is on Bach Dang street is sparkling at night by the yellow lights from the ancient houses. It is the reason why Hoi An is considered Venice of Vietnam. Lots of opportunities to take photos here with the colorful Hoi An ancient walls. Some shoots with the Japanese bridge is great from An Hoi island or on Bach Dang street. You shouldn't miss the chance to take photos of hundreds of lanterns hung up in the shops nearby the night market as well.
Bring a fully- charged camera with you and the chance to become the world-famous photographer definitely lies in your hands. Why so? Because all over the old town, from streets to shops, restaurants, and pubs, local people persistently keep a tradition dating back to 17th century: lighting the lanterns, turning off artificial white bulbs and other modern things. You now can completely contemplate the exquisite beauty of a fairytale city.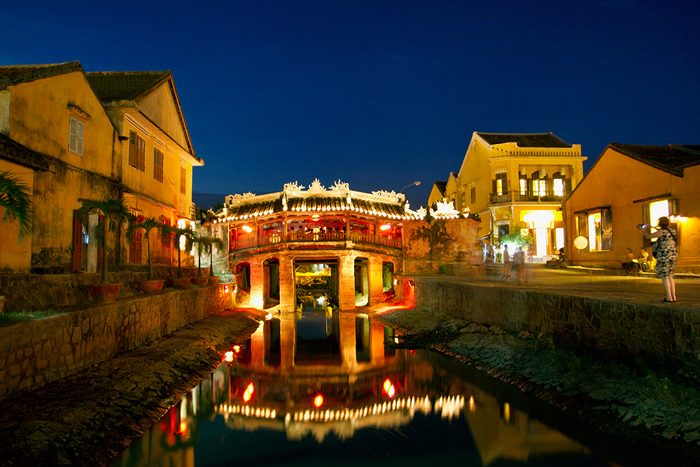 Your first destination to visit when coming to Hoi An at nighttime is the Japanese covered bridge – Chua Cau which is situated in the heart of the old Japanese town on Tran Phu street. This bridge was built in 17th century and became the unique symbol of Hoi An. As the darkness falls, the bridge is illuminated by many colorful lights which can change its colors constantly. You can come across many couples taking their wedding photographs here and the little children selling small paper lanterns with candles inside. The same bridge at the daytime but much more sparkling at night.
4. Join Hoi An By Night tour with home host meal and boat trip – Hoi An at night
You'd better had local friends taking you around, showing you how to enjoy local food as well as to have the insight of the local life here. Hoi An is a most vibrant and lovely city in Vietnam, especially at night. When the sun goes down, the lights ignite and the old town turns into an almost romantic …Enjoy authentic home cook at the local house, drink Vietnamese coffee and watch the beautiful sunset from the horizon. Next, take a boat trip on Hoai River, you will have a great chance to see the hoi an town with gorgeous views of landscapes on small boats. Then, walking around the streets, you will see the atmosphere is completely different. Head to Hoi an night market, you can admire the beauty of more than a thousand lanterns and delicious street food here. Joining hoi an by night tour, you will have the most memorable night ever.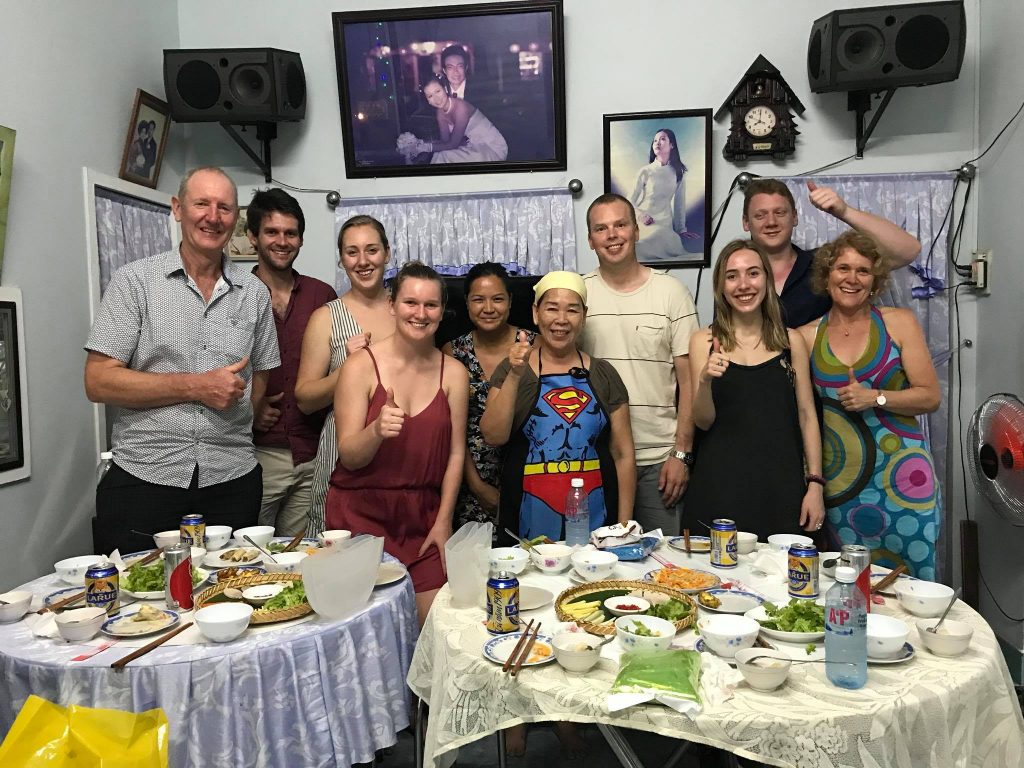 Tip: Join Hoi An By night tour at your first day in Hoi An so that you can have an excellent insight into Hoi An food, culture and history and enjoy it better.
Book Hoi An by night here
5. Hoi An night market
On the other side of the Hoai river is An Hoi island. Are you interested in local street food and cute handicrafts? If you say yes, then mingle with the vibrant crowd in Hoi An night market. When the night falls, street vendors will arrange their products on simple roofed-trolleys or tiny tables along the sidewalks.

You can find a variety of specialty food to sample like Cao Lau, Grilled pork noodles, Chicken rice, Water fern cakes (Banh Beo), sweet mango cakes, stick ice cream, Banh Mi or even Thai crepe, barbecued snacks, etc. Are all of those delicious cuisines persuasive enough to pull yourself out of your boredom?
This area focuses on restaurants, bars and roadside shops. You can come here to enjoy Hoi An cuisine, drink beers or get some handmade souvenirs for your friends and relatives at the night market on Nguyen Hoang street: jewelry, bags, bracelets, necklaces, lanterns,…There are also lots of pictures about Hoi An and the other nearby areas sold on this island.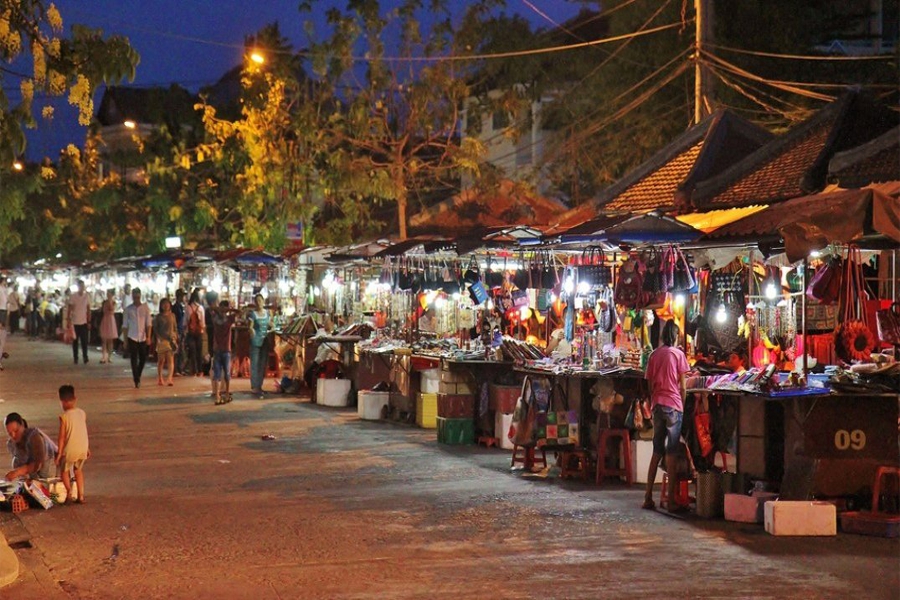 Tips:
– Though Hoi An is quite safe, you should be aware of your bag when going around in the crowd.
– Don't hesitate to negotiate the price there. Locals like to bargain. Normally, we pay about 75 % of the price they give us. If you don't agree with the price they give you, just say "No, thank you" and go. Sometimes, the sellers will call you back and give you a better price.
The market opens from 5 pm to 11 pm. The experience this night corner brings about is bet to give you unforgettable memories of a dynamic Hoi An night market in the past.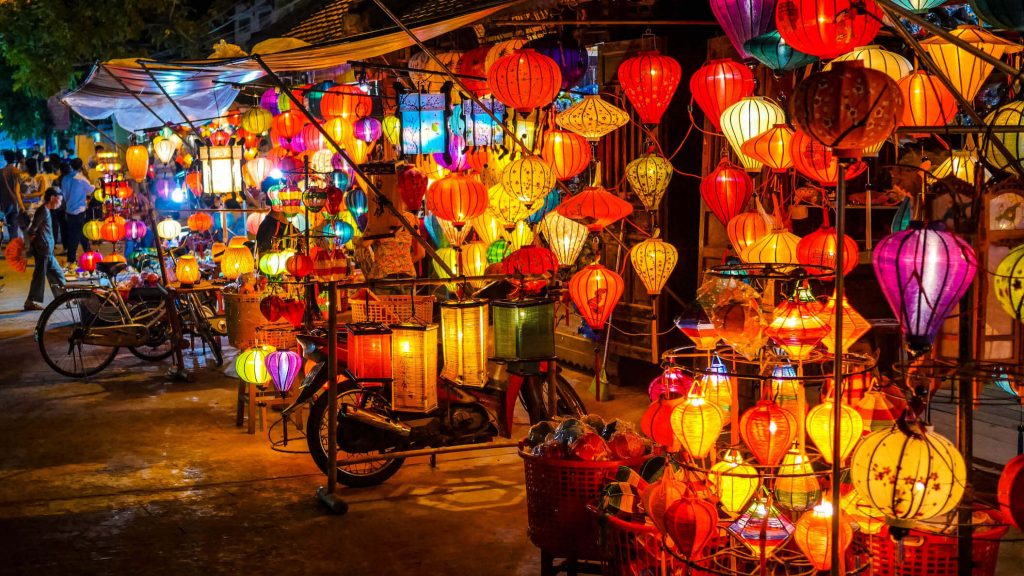 6. Drink some glasses of Bia Hoi (local draft beer) – hoi an at night
The typical tropical weather in Hoi An may make you feel a little hot while walking around the mysterious lantern maze. How about a mug of cold draft beer authentically sold by local vendors along Hoai riverside?
It is not difficult at all to recognize a Bia Hoi stall among other sidewalk eateries. There is no specific billboard but full yellow glasses of beer invitingly put on small plastic tables and surrounded by local men chatting with each other will attract you to pull over and gulp down the whole mug of Bia Hoi.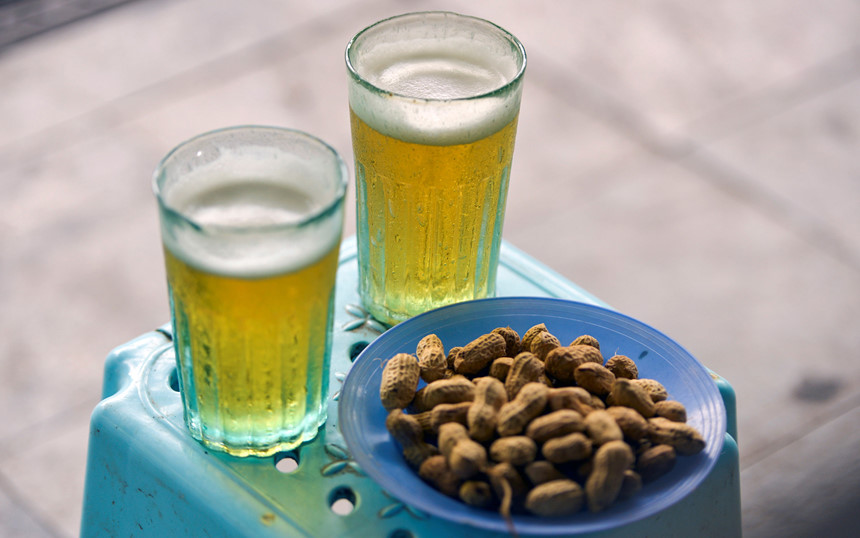 Bia hoi is like any other kinds of draft beer or fresh beer you have ever tried: when the beer has just been produced and just fermented, still fresh, then the yellow liquid will be served directly from barrels. Don't be afraid of getting drunk out of a few mugs, Bia Hoi has a super low alcohol content, just less than 0.5%.

More appealingly, 1 glass of cold Bia Hoi costs only 5,000 to 6,000 Vietnam dong (about 22 to 26 cents), which means with only 1 USD, you can have 3 to 4 glasses at once. And served with this local drink are many types of authentic snacks such as roasted peanuts, grilled dry fish or squids and rice crackers.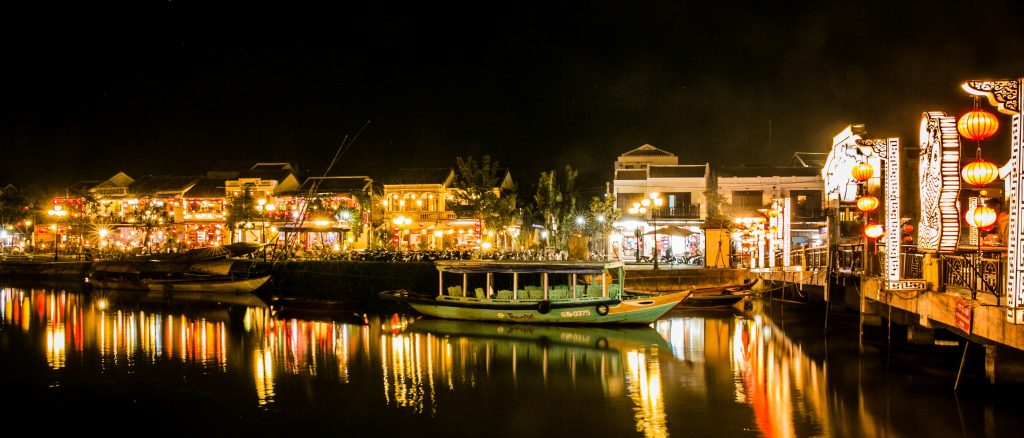 Sitting on a tiny plastic stool and enjoying the cool fresh wind from the photogenic river, you can also contemplate some of the best river views in town: slowly flowing Hoai River reflecting colorful twinkling lights of lanterns, small wooden boats and a bustling crowd of night beauty seekers. Why hesitate to give it a try to be a real local with your travel mates?
7. Dinner on the boat – Hoi an at night
If you are in the mood for a more relaxing experience, then get on a wooden cruise and have dinner on board while enjoying the stunning view of the setting sun reflecting its last rays of light of the day on the river.

From this distinctive point of view, the rustic lives of people along the river will be showcased in front of you authentically and ordinarily. A two-hour Romantic Sunset Dinner Cruise on the river is an amazing way to experience the beautiful landscape here as well as the fishing culture of the local fishing fold.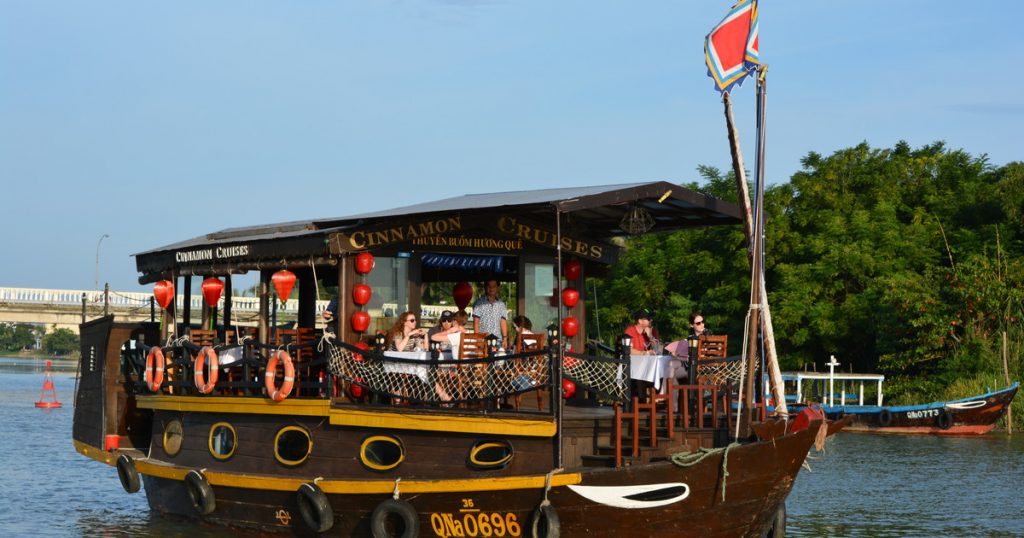 The dinner courses are freshly prepared by local chefs and served directly on board for your best interest. On the beautiful background music and dreamy scenery, you will be floating with the lotus-shaped candlelight lanterns on the river, enjoy your cocktail and quietly eyewitness a different Hoi An.
Important Information
Option 1: Sunset cruise. Time: 4.45 PM – 7.00 PM
Option 2: Relaxing Dinner Cruise. Time: 7.15 PM- 9.30 PM
Price: 35 USD/ 1 pax
Include: 2 hours dinner cruise; Private table with view; Welcome Cocktail; Pre-dinner finger food; 5 courses set menu dinner; Background music; Floating candle lanterns
Exclude: Pick up and drop off service
Book dinner on boat with Hoi An Food Tour
8. Stroll around the ancient town – Hoi an at night
Miss Hoi An changes her outfits many times a day, she wears fresh and cool colors in the early morning, warm and bright yellow silk during noontime, and especially when night falls, a gorgeous jet black dress spotted with colorful light dots will be put on. I bet you to resist that Asian elegance.

From wall to wall, street to street, alley to ally, we will face many lanterns hung all over. If you are hand in hand with your lover or walking around with your friends and family, or a wandering soul with curiosity, the perfect light in those narrow streets will give you a great sense of coziness and peace.

There is no vehicle to bother your discovery and enjoyment in the old town because all motorbikes are banned from 5 pm. Dropping by a small restaurant and tasting a cup of hot coffee or having a local dinner on a front table looking at the walking crowd under romantic lantern lights and enjoy the classical music, what can be nicer than this experience?
9. Play bai choi Bingo game – Hoi An at night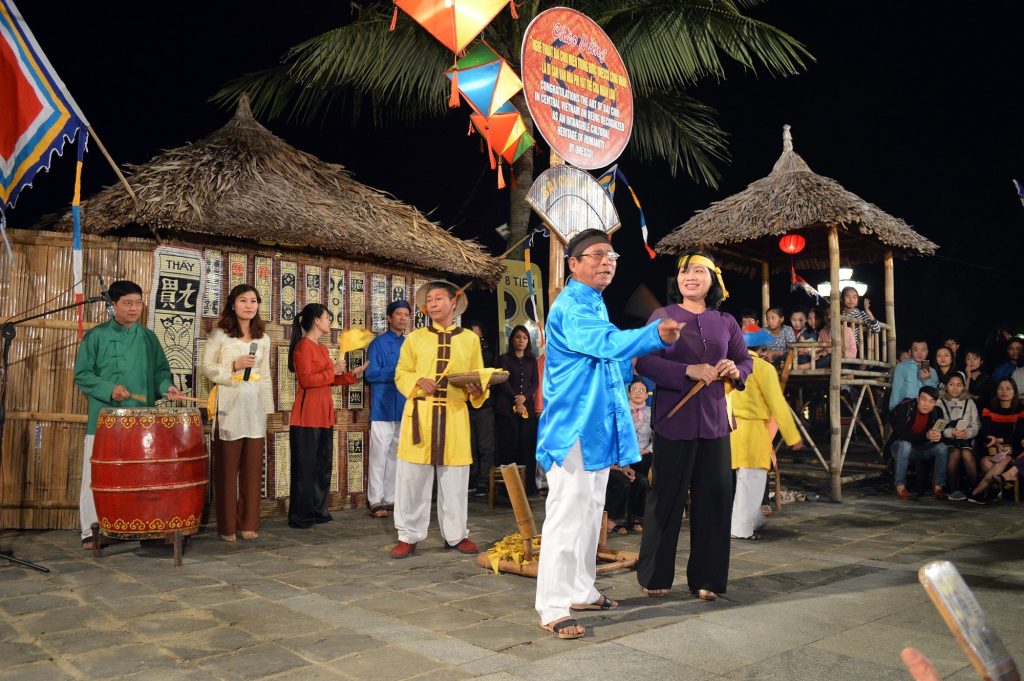 Bai choi – a traditional game in Hoi An is attractive to not only domestic tourists but also foreigners. The process to play it just like bingo games. Near the An Hoi bridge, there is a wide yard which is crowded with people at night playing "bai choi". Joining the game, you buy some playing cards then listen to the folk songs from the game masters. The end of each song is the name of one playing card. If you have three playing cards that have the ends of 3 songs, you are the winner and you get a gift.
10. Put paper lanterns down on the river – Hoi An at night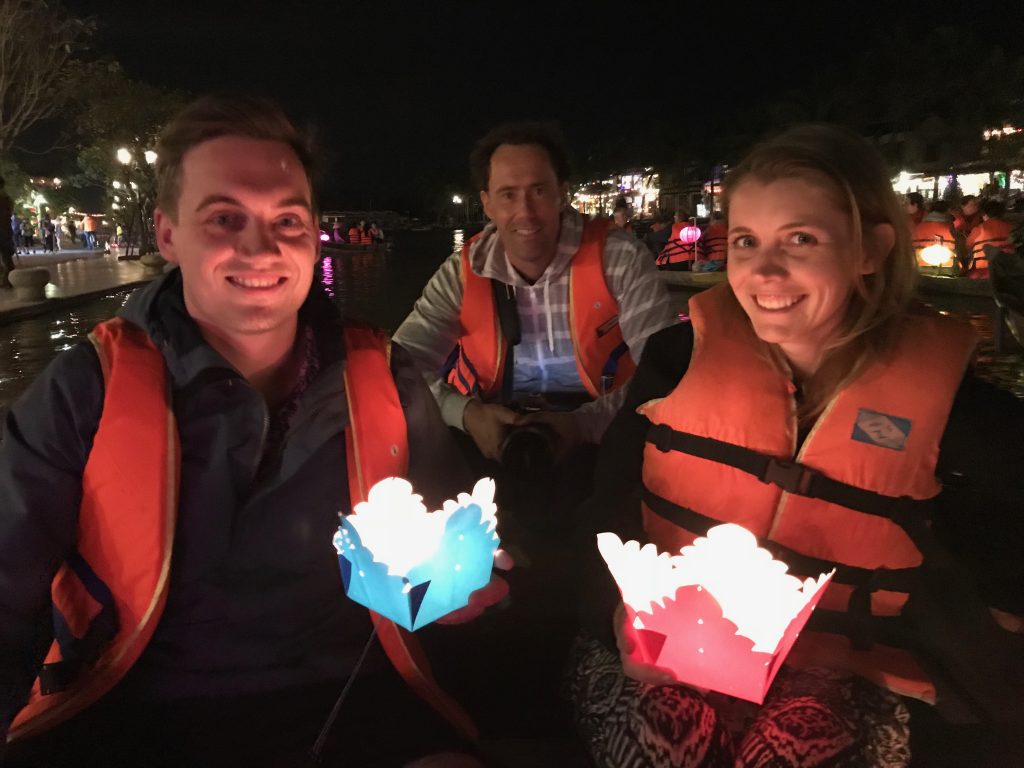 After 6 o'clock in the evening, as the old town lightened, it's the time for paper lanterns with small candles inside twinkle. Strolling along the bank of the Hoai river at night in the area between the Japanese covered bridge and the An Hoi bridge, you can easily see the little lovely girls in ao dai – Vietnamese traditional dress wearing conical hat and holding flat winnowing basket full of paper lanterns. Buy some and put them down on the river then make a wish. This is considered to bring you good luck and happiness.
Tips:
– Don't pay more than 10,000 VND/paper lantern. Its price is between 5,000 and 10,000/ lantern.
– You can also sit on a small boat paddling along the river to release the lanterns and admire Hoi An beauty at night with the price 20,000 VND/person.
11. Enjoy drinks and live music – Hoi an at night
Numerous bars and pubs offer attractive happy hour promos with local artists and international DJS playing a variety of music genres. Whether you prefer a relaxing evening or dancing until the sun rises, our list of Hoi An's most popular nightlife is below.
To holidaymakers seeking for other taste of late-night fun, there are plenty of bars and pubs that open till late night near An Bang beach as well as in the old town. A long list of choices of bars and pubs that serve fantastic food and great cocktails, wines and craft beer is ready for you here:
Addresses of Hoi An bars:
– Mango mango: 45 Nguyen Phuc Chu St
– White Marble: 98 Le Loi St
– Mango rooms: 111 Nguyen Thai Hoc St
– Q Bar Hoi An: 94 Nguyen Thai Hoc St
– Tadioto Hoi An: 54 Phan Boi Chau St
– The Hill Station: 321 Nguyen Duy Hieu St
– Dublin Gate Hoi An: 21 Nguyen Phuc Chu St, An Hoi Islet
Addresses of An Bang beach bars:
– Soul kitchen: lot 9B, An Bang beach
– Salt pub and restaurant: Nguyen Phan Vinh St, An Bang beach
– Shangri La Bar
– The H'Mong sisters
– Sound of silence coffee
– Bunker Hoi An: Lot 5
– The deckhouse An Bang beach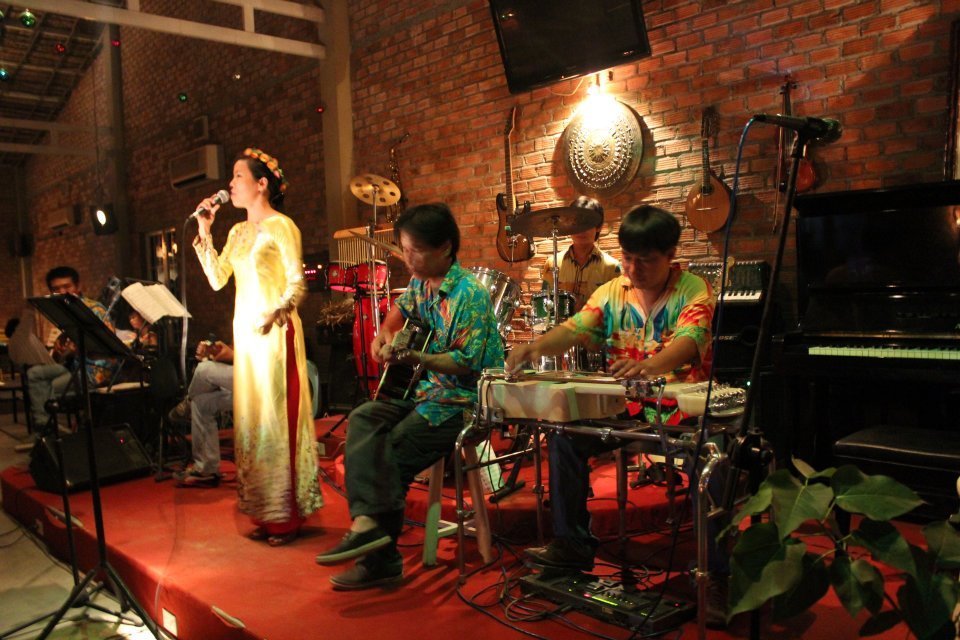 The two locations offer you the two very different experiences. In old town bars, the inside space is narrower, quite cozy and intimate with classic designed furniture. While beachside bars in An Bang beach are much larger, cool and open air thanks to the fresh breeze from the beach. Head for a night out freely!
Hoi An ancient town is very pretty at night. However, it is the most beautiful when there is no tourists or food stalls on the roads. At that time, the old town is at its best just like it used to be. To admire Hoi An's beauty then, you need to stay up to 1 a.m or 2 a.m. Even so, not many people can feel the whole beauty of Hoi An – one of the 50 cities you should visit once in your lifetime.
Hoi An Evening Walking Food Tour: