Some people say Hoi An has nothing to do apart from going shopping, eating, and sightseeing, which are generally similar to many other tourism cities all over the world . However, it is the fact that a large number of travelers decide to come back to this small ancient city and enjoy their vacation. Why do people spend their precious time traveling to Hoi An, not only once but twice or even more than that? The very friendly locals, great traditional cuisines, and laid-back atmosphere are some of the reasons to explain this question.
Today, let us show you 16 experiences that, we think, will be worthwhile visiting Hoi An. Hopefully, through this article, we can help you save your time when searching about things to do when travelling to Hoi An.
Bookmark this list, share it with your friends if you think they are helpful.
1. Night walk in the old town
That's a very simple experience. You just need to go out of your hotel/hostel and contemplate it. The moment you step out to the street watching the gentle pace of night life gone by in Hoi An, a night with the ancient houses and the colorful lantern streets, the thought that whether you have strayed to a dinner party of the light may keep obsessing your mind. Nights in Hoi An looks like a picture blended between the peace of the ancient architecture with its rustic beauty in its appearance and the dynamism of the modern life. The most beautiful scene is undoubtedly along the Hoai River bank, where color streaks alternately sparkle on the water. Hoi An is more beautiful when there is no tourists and stores opened. It is time the Old Town returned to its antiquity and quietness. This is truly the Venice of Vietnam.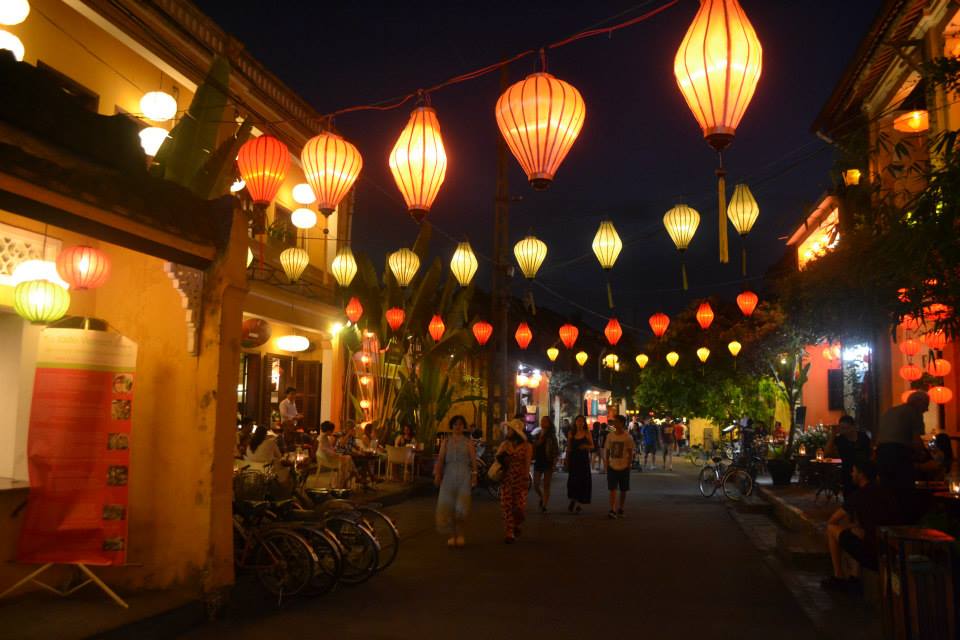 2. Releasing flower garlands
In the evening, besides watching Hoi An's beauty, you can take part in decorating the party of light in the river bank. A wonderful experience that a lot of tourists like to do is dropping flower garlands onto the Hoai River. You yourself will release those small sparkling flower garlands on the river, with the hope that they can bring good lucks to your family and relatives. In addition to the colored lanterns, flower garlands are becoming the typical feature of backpacking in Hoi An.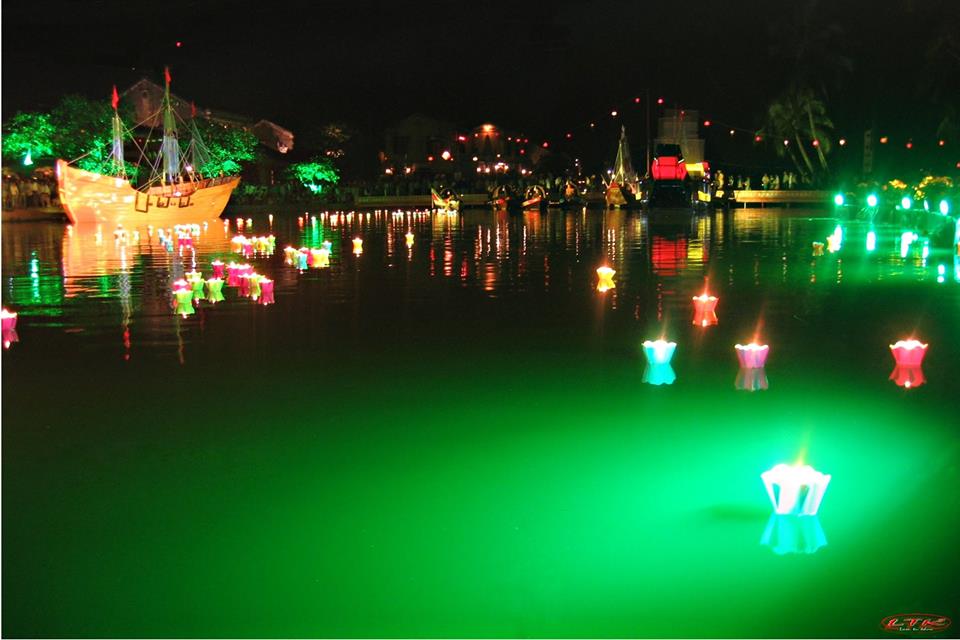 Photo by Tứ Khoa Lâm
3. Enjoying Cao Lau
Cao Lau is a specialty which anyone should try on their visit in Hoi An. The origin of the name "Cao lau" also evokes curiosity of customers. "Cao" means "high and "lau" means "upstairs". Read more about cao lau at Cao lau Hoi An. Cao lau's recipe is apparently unchangeable: noodles, char siu (bbq pork), and local greens which are taken only from Tra Que vegetable village in Hoi An.
Locals no longer enjoy Cao Lau on the high floors but in the streets. Some famous Cao Lau stores in Hoi An are Ms. Ha's cao lau at the central market in Tran Phu Street, a store in the front of the alley next to No.69 Phan Chau Trinh Street, or Hát store at the the crossroad of Tran Phu St. and Hoang Dieu St., etc. However, if you still want to enjoy Cao Lau on the high floors, you can go to some restaurants for foreign tourists along Bach Dang St., or many other big streets.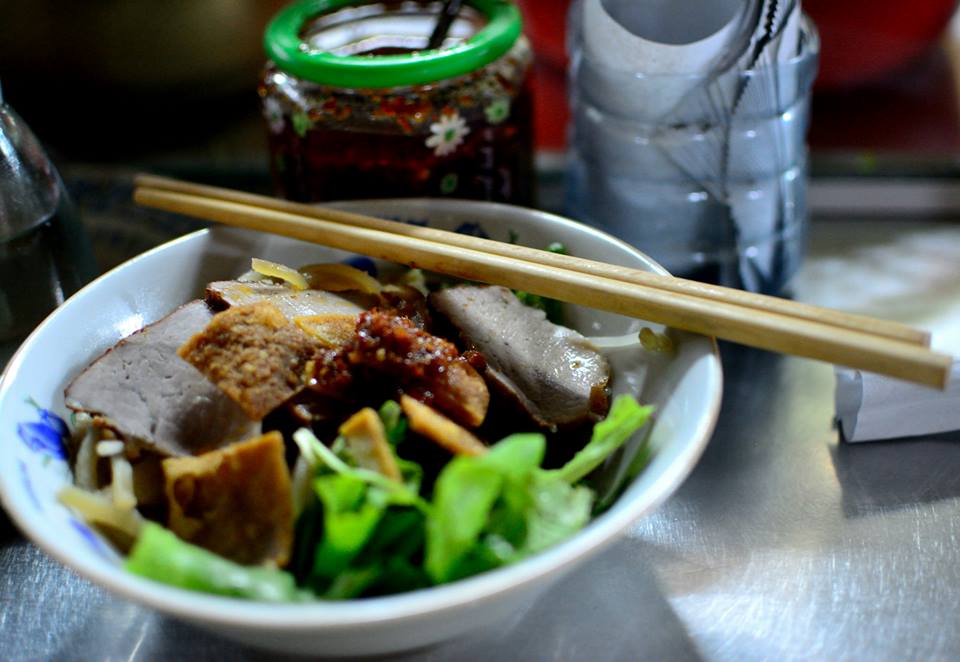 Cao lau, photo by Pieter De Richter
4. Enjoying "the best Banh Mi in the world"
Not long ago, David Farley, a BBC reporter specialized in Travel and Cuisine, in his article titled "Is Vietnamese Banh Mi the best sandwich in the world?", remarked that "Vietnamese Banh Mi is the most miraculous food in the world" after having eaten 15 loaves of Banh Mi at different stores nationwide. One of them is Banh Mi Hoi An. Frankly speaking, Hoi An has many well-known Banh Mi stores. They are Banh Mi Phuong (2B Phan Chau Trinh St.) which is consider the best Banh Mi in Vietnam, Banh Mi Queen/Madam Khanh (115 Tran Cao Van St.), and Banh Mi Madam Lanh (Cua Dai street). Banh Mi Hoi An is stuffed with slices of pork, pate, cucumber, basil, and typical pork sauce which is extremely tasty and attractive.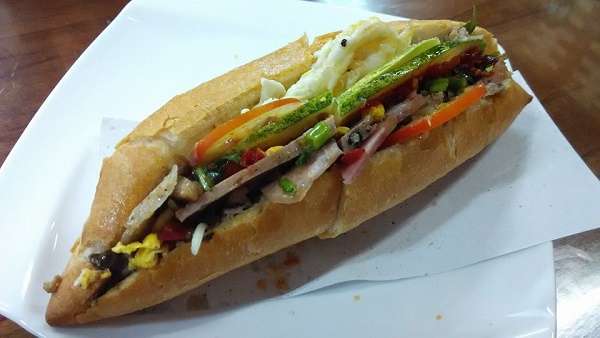 5. Coffee in Hoi An Old Town
Hoi An has 2 coffee shops overcrowded with people in the morning. One is Mrs. Thao's located in the turning point from the Japanese bridge to Bach Dang St. Guests there are mostly young people. The other one is located on the other side of the bridge which is packed with the middle-aged. Sitting at these coffee shops, we can see the Hoai River bank, the scene of people pulling up the fishing nets early in the morning. Having a fresh morning before the time motor vehicles are banned from the Old Town, enjoying a cup of coffee after having Banh Mi Phuong is a gentle start for a new day in the Old Town. What's more, there is a special teahouse in Hoi An named Reaching Out Tea House at 131 Tran Phu St. The waiters and waitresses there are the disabled. Coming to Reaching Out, you can enjoy a gentle and peaceful place which is great to sip a cup of coffee and read a pocket book.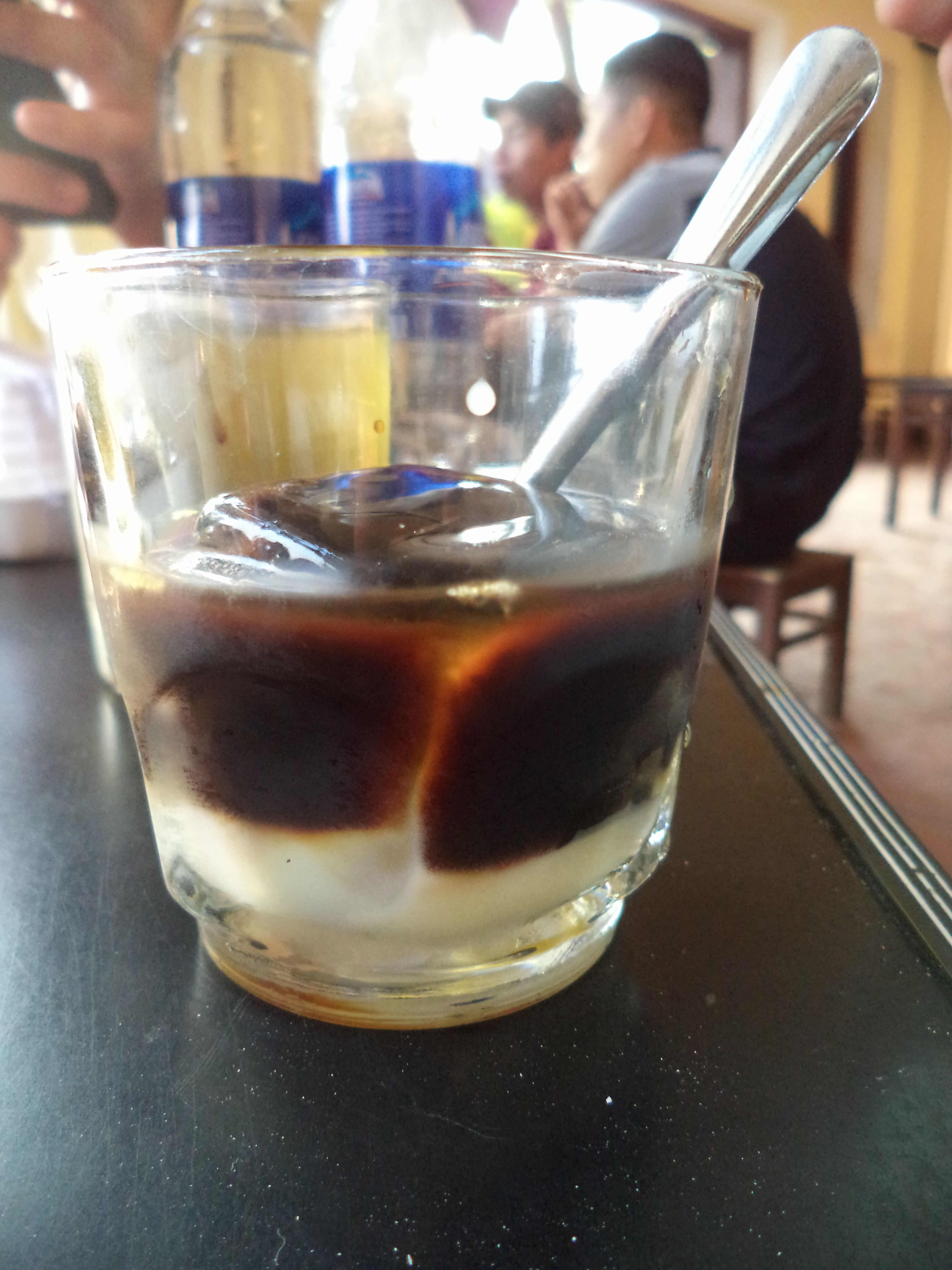 6. Having couture clothing made in the shortest time
Hoi An has a large number of things appealed to the domestic and international tourists, some of those are handbags, shoes, skirts, dresses,… taken in less than 24 hours. Forbes magazine has honored one of the "hottest" stores in Hoi An because of its unique and professional service. After only 4 hours or around that, you can receive what you have just ordered. The fashion style in Hoi An is absolutely unique, fashionable and its prices varies from only $15 to $100.
7. Sea bathing
Hoi An has world's renowned beaches due to the white sands, crystal clear water and golden sunshine. Cua Dai Beach with stretching white sands, coconut trees range and crystal clear water. Unfortunately, Cua Dai was eroded by the sea waves in mid-October, 2014. It is still in restored period at present. However, Hoi An also has An Bang Beach, which is ranked in top 50 of the most beautiful beaches worldwide. An Bang beach suits those who want to find a free and quiet space. You can enjoy yourself at a beach with no parasols, tables and chairs, only you and sea waves, crystal clear water. Expose yourself to the bright sunshine, read a book, enjoy a glass of light wine, or drink some cold beer, etc. on the beach. That's a very unique experience.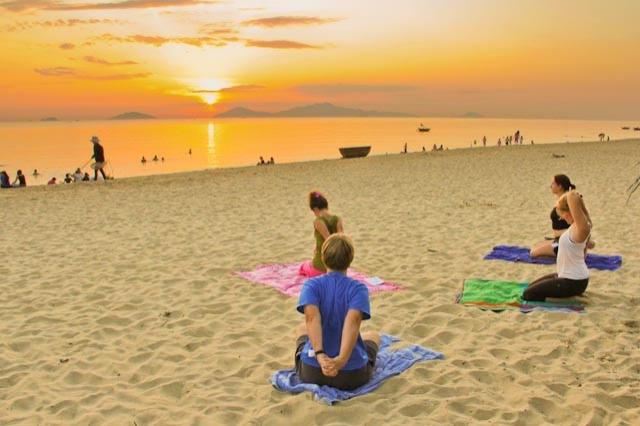 Image source: tnhvietnam, Hoi An Yoga
8. Scuba diving seeing corals in Cu Lao Cham
Cu Lao Cham Island which is about 18 kilometers from the Old Town is one of the unmissable places when visiting Hoi an. Tourism service in the island hasn't developed yet; however, thanks to it, Cu Lao Cham still keeps its primitive features. Coming to Cu Lao Cham, you can experience snorkeling tour to see coral reefs, have a campfire or stay at homestays, at the locals' houses and enjoy cheap, fresh, healthy and tasty seafood.
9. Going on a boat on the Hoai River at night
This is a very romantic thing to do apart from "dropping flower garlands". If you feel tired of walking around, you can experience floating on the sparkling and colorful water of the Hoai river at night. Going boating, watching a corner of the Old Town at night, and dropping flower garlands are the favorite activities of many couples, especially those who come to Hoi An to take their wedding photo albums. However, if you're still single, you can go along with your family, friends.
10. Going to the ancient houses
Ancient houses are priceless heritages that Hoi An has been preserving after many wars, urbanization and the destruction of the nature. Whenever flood season comes, Hoi An is flooded. There was a time when the flood sunk a house in water. Nevertheless, through various incidents, the ancient houses still remain its beauty like at the beginning – not only the architecture but also its soul. Tan Ki ancient house, which is first-recognized as a national historical vestige, is the most famous one. It is also the place where welcomed the heads of many countries and states. In addition to Tan Ky, there are Phung Hung, QuanThang ancient houses,… or Phuc Kien, Quang Dong assembly halls,… with Chinese architecture. They were built by Chinese businessmen to commemorate their hometown.
11. Playing folk games
A very fun experience is taking part in the folk games in the old town. At night, after hanging around, you can stop at the beginning of Nguyen Thai Hoc St., or Kazik park to immerse in the happy and lively atmosphere in a folk game called Bai Choi – Hoi An traditional game, or stop at a corner on Tran Phu street to play the game "blindfolded hit the pot". The games will bring you a lot of fun and help you know more about the way people here entertain themselves in a traditional way.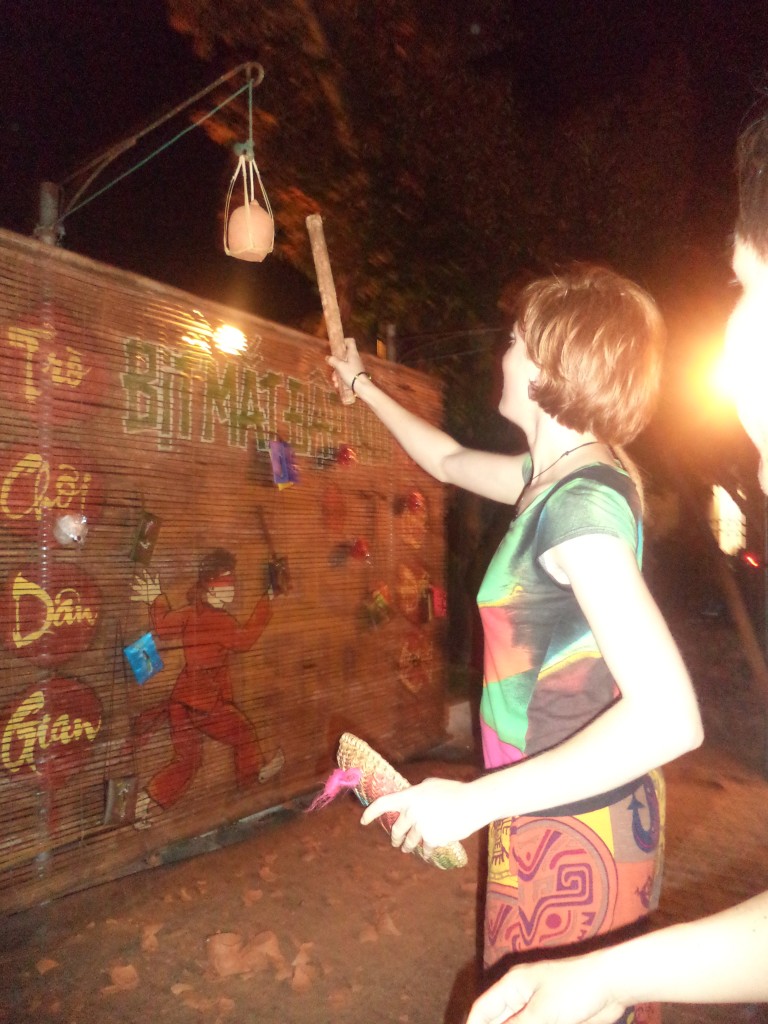 12. Taking a selfie in Hoi An
BuzzFeed Travel website ranked Hoi An in top 3 of the most stunning places in the world to take a selfie. Therefore, do not forget to take a selfie with Hoi An's famous spots such as the Japanese covered bridge, the An Hoi Bridge, the legend wall on Hoang Van Thu street, the well alley, the Hoai River bank, etc. when visiting Hoi An.
13. Going on a ferry to Cam Kim island
Once again, you can experience the feeling of being floated on the water. With only 10,000 VND a turn, you are able to sit on a local ferry to go to Cam Kim island. On the island, there is a famous village called Kim Bong carpentry village which is famous for its tradition of making furniture, boats and wood carving. Even though not many families do carpentry any more, sitting on a ferry and going over Cam Kim village, watching the Old Town from a far distance, breathing cool breezes on the Thu Bon river are a truly unique and personal experience.
14. Buying a lantern as a souvenir
The most popular and typical souvenir in Hoi An is perhaps lanterns. Choosing one lantern to give to your special people or hanging in your own house is ideal. Each time seeing the lantern, we can feel and recollect the great time when being in the Old Town.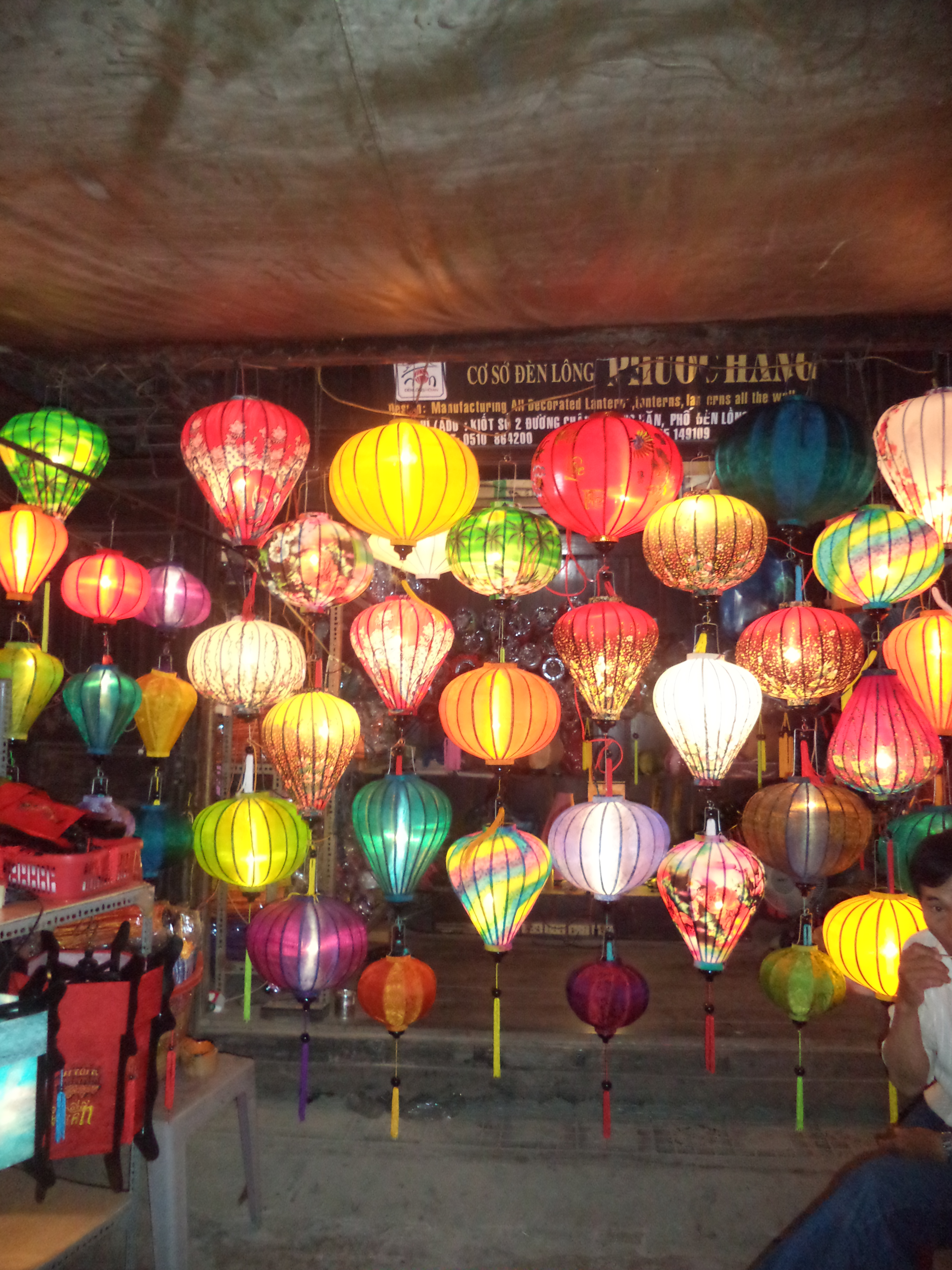 15. Visiting Hoi An on the full moon day
If you visit Hoi An on the full moon festival (the fourteenth of each lunar month), you are a really lucky person. On this day, Hoi An ancient city switches all the lights off and hangs the colorful lanterns up as well as many people will drop flower garlands to brighten the riverbank. This is truly a wonderful space for those who love quiet and peaceful beauty of Hoi An ancient city a16. Feeling the friendliness of the localsnd is also an interesting and meaningful experience.
16. Feeling the friendliness of the locals
In the eyes of many tourists, Hoi An people are very friendly. From the young to the elderly, whenever seeing any tourists, they always smile with you and are willing to show you the direction to any place you want. They even do not mind taking you to visit some beautiful landscapes in Hoi An and sharing with you as many thing about Hoi An as possible. They know that this is the best way for them to not only leave a good impression on the tourists but also enhance their English proficiency.
Translated from Dulichbui24