Hoi An ancient town not only is famous for its ancient architectures, local lifestyle, local people, and local food, but it is a heaven for shopping as well. What to buy when you come to Hoi an? And where to buy it? Besides clothes, you can also find good and beautiful shoes here. The special thing here is that you can have hand-made shoes with reasonable price while walking around, contemplating ancient architecture and enjoying the most mouth-watering cuisines. You are worrying about where you can get the most quality handmade items, where you are going to be treated like a VIP and where you are not fooled by unscrupulous shop owners are questions well worth being on your top list, aren't you?
You can find shoe shops everywhere in hoi an. They provide you with a massive catalogue and you would certainly feel confused. So, in order to make it easier, here are 7 tops shoe shops recommended:
1. Friendly shop
Address: 18 Tran Phu Street, Hoi An, Vietnam
Tel: (+84) 935211382
Website Friendly shoe shop 
Email: friendlyshophoian@gmail.com
One of the most famous shoes shop in Hoi An is the Friendly shop. It is a relative large shoe shop which provides a large selection of premade shoes located in the old town of Hoi An. The sell girls here are very friendly and comfortable, so is the price, that's why its name is Friendly. It also provides custom-made shoes service with almost every designs you ever desire. Friendly Shop is special because it's the only shop that refunds money if you are not satisfied with the shoes. You can choose design on internet, using the computer or browse the catalogues. In 12h, you will get your shoes to measure.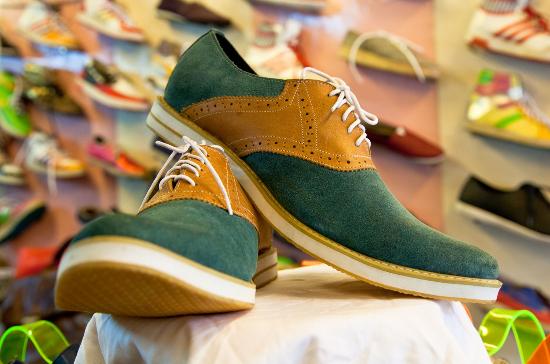 2. Linh shoe shop
Address: 16 tran phu street
Website Linh shoe shop
Telephone: 0510 3861 974
This is a small shop in the middle of the tourist street in hoi an. This is a great little shoe shop in Hoi An that tailor-makes custom shoes to your specifications overnight. Here you can make a bargain easily and the price is relative low while the quality is acceptable. Sole and stitching quality that surely you cannot find in the West with such price. It also sells slippers in real leather at a amusingly low price.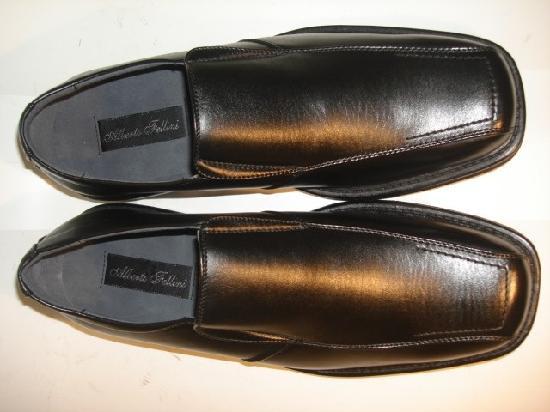 3. An Nam shoe shop
Address : 647 nhi trung street
Website An Nam shoe shop
Telephone : (+84) 97 614 36 96
Another recommended shoe shop is An Nam shoe shop. This shop is also popular to many tourists , they really like the service as well as the quality and the design of shoes here. This is one of their opinion on tripadvisor : "An Nam Shoes Shop is a small shoe shop ran by a very nice couple who speak English very well compared to other locals. The shoes are handmade from leathers you choose according to a design by your choice. Don't be afraid to insist on a better quality shoe sole and heel! It might cost a little more but your shoes will last longer. I've tried making shoes in several places in my various trips to Hoi An and this shop is the best – very nice people, good prices and great shoes" – Noa I from Israel.
With 10 years of experience in shoe making industry, and a staff of more than 10 skillful shoe-makers, they are readily to serve you with highest quality and in shortest time. Two lines of leather footwear are produced at our shop: 1. QUALITY SHOES: High quality and rapidly made within between 4 hours and 12 hours after your order. Competitive Price.2. SUPER SHOES: Super quality. Two days at least after your order. One-year warranty for adhesive problems.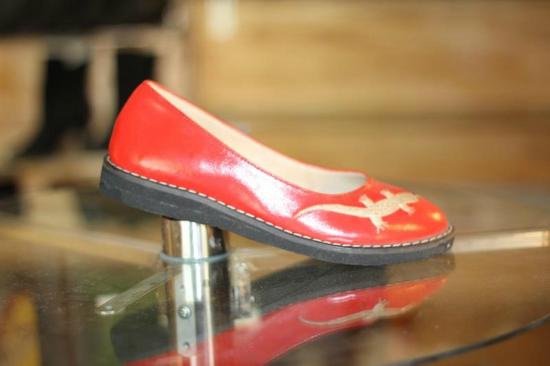 4. 09 shoe shop
Address: 65 tran hung dao street
Website 09 shoe shop
Telephone: 0510 3863 573
This shoe shop is run by a young girl named Lucky assisted by her Niece and her boyfriend. Lucky speaks good English and is extremely helpful. The reason this shoe shop is different to the many other in the Hoi An area is their honesty and customer service. They also gave you tips about site seeing in the Hoi an area and about various restaurants. When you visit them, bring along a print out of the style of shoes you would like to get made and they will tailor them for your – perfect fitting, great quality leather and good friendly service. What more would you want? The number 9 symbol for the happiness which is the reason for the shop name – not the address.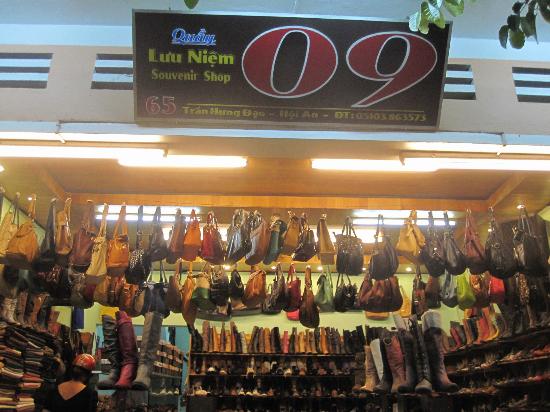 5. Yaly couture
Address : 385 nguyen duy hieu street
Website Yaly couture
Telephone : +84 510 2212 474
Yaly is one of the biggest tailor shop in hoi an. It is very wel-known not only for its clothes , but also its shoe. Each pair of customized shoes from Yaly Couture is hand-stitched and is of the best material. As with all of the customized clothing from this reputable Hoi an tailor, all work is done in-house to control the quality of the work. The people here are very good at what they do. That is why they are the biggest in Hoi An. But service is personal and never hurried. Yaly is a good place to go for items that require attention to detail: apparel with sequins, ruffles, multiple layers of fabric, etc. They do a decent job of replicating designer dresses, blouses, and pants, but make sure to bring them as many photos as you can of the desired item.

6. Loc Phuoc shoe shop
Address : 45 tran phu street
Website Loc Phuoc shoe shop
Telephone : 0510 391 1969
Loc Phuoc shoe shop makes a top quality shoes in a very reasonable price. Their service is really good and sell girls are very friendly and enthusiasm. The custom copied shoes are awesome, and seem to be holding up. Probably best to stick to simple designs without heels.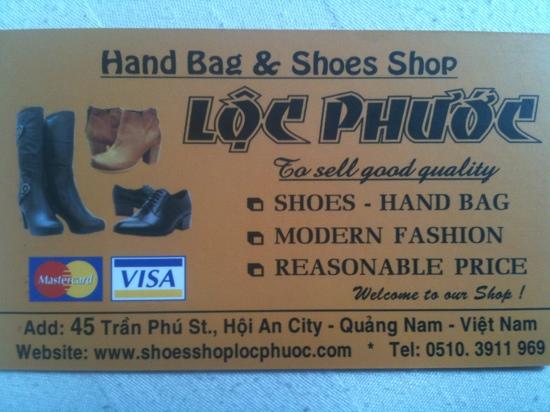 7. The First Shoes Shop
Address :275 Nguyen Duy Hieu Street
It is a bit out of the town centre but quite close to The Life resort. The shop assistants speak excellent English and have a keen sense of fashion. Services are excellent as they are obliging with alternation requests although most of the time, customers are happy with their shoes after the first fitting.
All the shoe shops in Hoi an will make custom shoes for you. The greatest concentration of shoe stores is along Hoang Dieu Street, where there are at least eight (small) stores in a row. You can ask them to make you a style that you see there, or one in a catalogue or picture. You can choose the material, color and type of base. While some shops may work from conventional sizing, most will simply trace an outline of your foot and take some measurements. As with the custom clothes, the fabrication is usually done a little outside of town, or at least in an area with lower rent costs.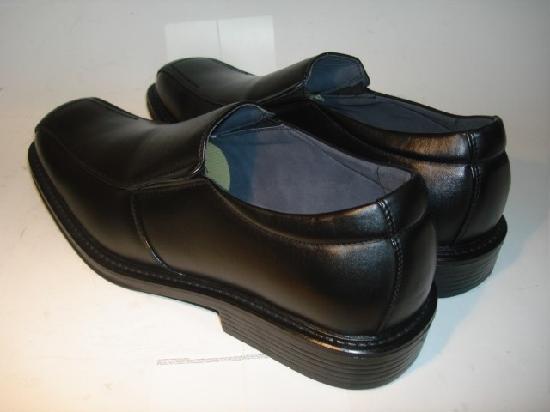 Are you looking for a cooking class in Hoi An? Try Hoi An Mama Home Cooking Class
You will learn how to cook Vietnamese daily food in the cozy house with warm and fun Mama who had 20 years of experience of selling street food for a living. Mama Nở (Flower, 1954) who is not a professional chef but passionate and has a large knowledge of Vietnamese cuisine and culture. Born in Hue ( food capital of Vietnam) and she knows many recipe secrets that have handed down from her family generations. If you don't like to do a very touristic but a hand on cooking class with authentic food- try Hoian Mama Home Cooking Class. No market tour. 19 USD/ 1 pax. Money back guarantee! 
More detail at Hoian Mama home cooking class